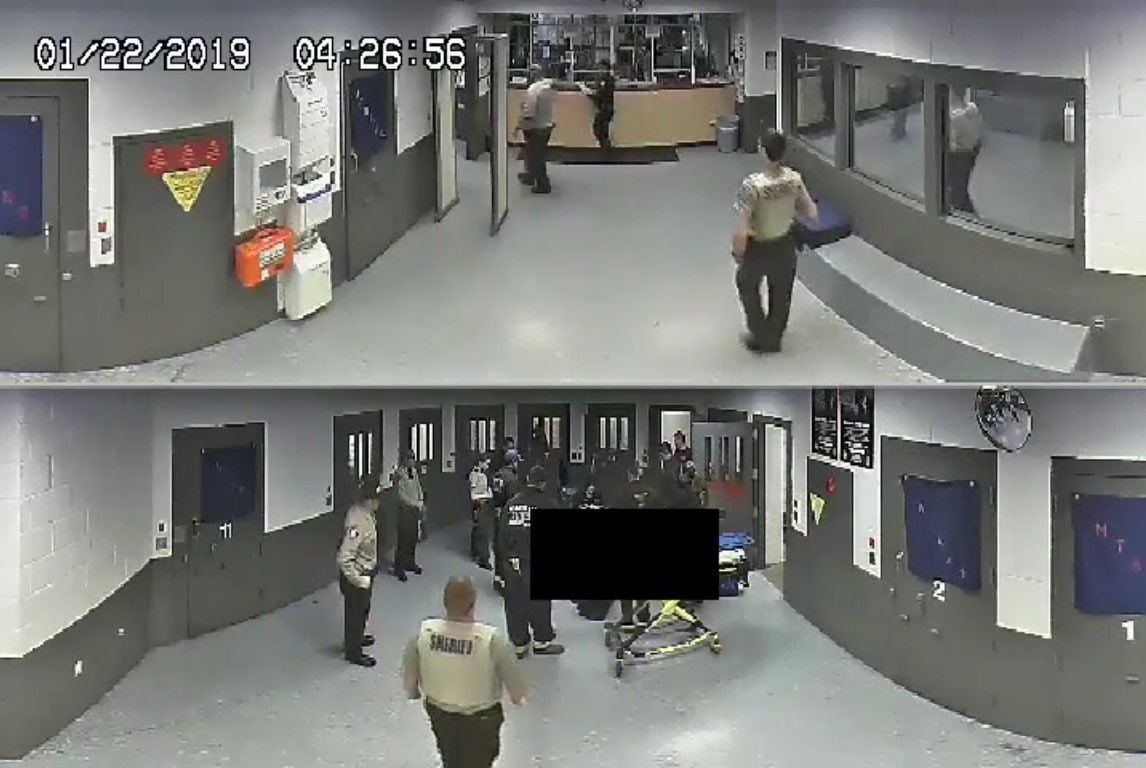 Kyle Martinson, 20, can be heard coughing and calling for help from his jail cell as detention facility officers stand in the hallway nearby hours before his death, caused by complications from pneumonia, according to Coconino County Detention Facility jail footage.
"There's nothing wrong with you. Drink some water" were the last words a detention facility officer told Martinson before she closed the door to his cell. Martinson would be found unresponsive over two hours later.
The 10 hours of jail video footage obtained by the Arizona Daily Sun show Martinson when he is first placed in his intake cell for closer supervision, and end after his body was taken to the medical examiner. The two cameras provide an almost 360-degree view of the multiple inmate cells and also show a section of hallway across from the cells. At different points, Martinson can be seen standing and heard walking around his cell and talking with detention facility officers from his cell door's small window.
After an article on Martinson's death was published by the Arizona Daily Sun, the Flagstaff City Council requested detention facility medical policies, citing concerns of inmates the city sends to the jail through the Flagstaff Police Department.
The Coconino County Medical Examiner found that Martinson died on January 22 with a gallon and a half of fluid in his lungs from pneumonia, which was caused by strep throat. Sheriff reports from the agency detail how medical staff and detention facility officers heard his health complaints and assessed Martinson's health on multiple occasions. Martinson was first placed in jail on January 4.
Martinson's death has raised questions from his family about whether the detention facility officers did enough to prevent the death of the 20-year-old. Matthew Figueroa, Coconino County Detention Facility Jail Commander, declined to answer questions for this article, citing anticipated litigation.
10 hours video
The footage begins documenting Martinson's placement into the intake facilities at 8:19 p.m. the night before he died. Martinson had requested being placed on medical watch, citing his multiple visits with medical staff and concerns about his health.
The date and time is marked at the top of the footage, passing one second at a time. The footage often shows large sections of time where not much occurs between different inmates being processed, detention officers speaking with each other or making their rounds.
Detention officers are mandated to make regular checks on the people held inside the intake cells. They examine each inmate, write notes if needed and move on to the next cell.
At 9:53 p.m., Martinson checks in with an officer if she knows why he was placed in intake. When the officer reminds him that it was because he asked to be watched, Martinson makes a request for a sleeping mat.
"Nope. Welcome to intake," the officer says.
"Please?" Martinson asks.
"No, this is how intake works," the officer says. She then shuts the service hatch through which the two were speaking.
Later, detention officers continue to make their rounds. The same officer speaks with Martinson again. Different inmates are admitted into different cells. People are standing and talking in the hallway.
At 1:10 a.m., Martinson can be seen standing in his cell. He can be heard coughing and yelling for help on multiple occasions.
None of the officers respond to his cries for help.
During the same female officer's rounds, Martinson speaks to an officer and asked for assistance. She grabs medical equipment and enters the cell to check on him at 1:32 a.m. Four minutes later, the detention officer completes her check.
"There's nothing wrong with you," the officer says. "Drink some water."
Two detention officers peer into Martinson's cell for extended periods of time on their rounds. Later, an officer opens the door to Martinson's cell at 4:13 a.m. He stands, staring at Martinson in the cell, for three minutes before entering.
After looking at Martinson for another minute, he walks away from the cell and makes a call.
The female officer walks into the cell. "Wake up," she says while bending over Martinson.
At 4:16 a.m., three officers are standing at the door to Martinson's cell. Three other officers walk toward the cell. It is not clear if any life-saving measures have taken place at this point.
"Kyle. Can you hear me? Kyle," an officer with latex gloves says while bending over Martinson's body. The female officer approaches with latex gloves on and appears to do some form of medical procedure at this point.
At 4:22 a.m., two medical personnel show up and pull Martinson out of the cell. (The Coconino County Sheriff's Office redacted the jail footage by placed a black box over Martinson's body.) Six more medical personnel, including some from the Flagstaff Fire Department, show up at 4:25 a.m.
One of the medical personnel details that Martinson was found 15 minutes before the additional medical personnel arrived, and said that chest compressions had been done at an earlier time. Most personnel leave by 4:38 a.m.
City Council report
The policy of the Coconino County Detention Facility is to conduct a formal medical screening 48 hours after an inmate arrives at the facility that includes taking down vital signs, according to the city council report. The responsibility for planning safe and timely transports of inmates falls on a decision of two positions.
"The nursing supervisor, in conjunction with the on-duty supervisor or sergeant, will coordinate the safe and timely transport of inmates for medical, mental health, and dental clinic appointments both inside and outside the facility," the city council report said.
Strep throat is highly contagious, but detention facility staff allege they did not deduce that Martinson had either strep throat or pneumonia. According to the facility policy, if they had "suspected" that Martinson had any contagious disease, he should have been quickly evaluated by medical staff and placed in isolation or in a cell with less airflow in the infirmary.
The policy also states that if a person in intake has an oxygen level of less than 90% and no nurse is on duty, the inmate will be sent to the hospital.
At last check, Martinson had an oxygen level of 91%. A doctor with the American Lung Association said oxygen saturation levels should be considered on a case-by-case basis. However, he said a healthy person of Martinson's age who is physically fit should not expect to see oxygen levels that low.
This article has been updated from its original version.