Two years ago, James Garcia III's health was not in the best shape.
After years as an alcoholic and time in jail, he had trouble getting on his feet, in both his career and health habits. It had been 10 years since he had worked and at 290 pounds, he avoided walking up any sort of stair. He would visit the gym, lift about 315 pounds and then go home, assuming he was healthy.
In comparison with his new lifestyle, though, he has realized this perspective was wrong.
Though the process to change was gradual and difficult at times, today, he has found his health groove, including a passion in hiking, often completing trails upwards of 10 miles long, with elevation changes of up to 2,500 feet.
"I always say prison saved my life and InSHAPE transformed my life," said James, one of the first participants in the Flagstaff program.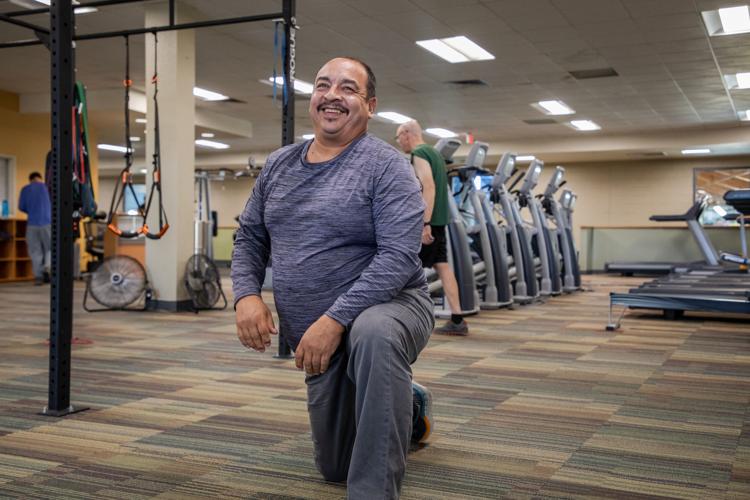 InSHAPE, a national program now offered at the Flagstaff Southwest Behavioral & Health Services (SB&H) outpatient clinic, pairs eligible clinic members with free health mentors to help them establish healthier lifestyles in the areas of physical activity, diet, smoking and community integration.
The two typically meet for an hour-long session once or twice a week for at least a year, with quarterly assessments of their weight, waist circumference and exercise capacity (with a six-minute walk test).
InSHAPE was founded in New Hampshire in 2003 and spread to 28 states after a study by Dartmouth College demonstrated its effectiveness in increasing activity, mood and social confidence, among improvements in physical health.
In Flagstaff, the program got its start in early 2017, when it began its two-year period as a participant in the ongoing Dartmuth research study. In order to join InSHAPE, people must have a serious mental health diagnosis, a body mass index of 25% or higher and/or be in the process of quitting smoking or tobacco use.
SB&H health mentors also host InSHAPE programs in Phoenix, Bullhead City and Kingman.
Local participants can often be seen at the Flagstaff Aquaplex, which partners with SB&H to allow InSHAPE participants and their mentor to use the pool and gym space for their sessions.
Darcy Sawdy is the health mentor at the Flagstaff location and currently sees about 15 InSHAPE participants. Now that the research study has ended, Darcy has been able to accept more participants who may not meet the full criteria, based on doctor recommendation.
Though individuals interested in participating must be members of SB&H, Darcy is certified to train new health mentors if other organizations are interested in launching their own InSHAPE programs.
The program -- more of a lifestyle change than weight loss program, though weight loss is often a result -- is based on frequent, achievable goals set by participants.
"Small weekly goals evolve into big huge changes," Darcy said.
James's goals were to be able to hike, but routines as simple as drinking more water also became a priority. With Darcy's guidance, he began walking regularly and doing simple exercises and stretches, especially in the pool, to build up his endurance. As he became more physically functional, he said he has been able to make better choices, which were not habitual for him in the past.
"My whole outlook on life has changed," James said. "I want to be healthy, I want to be around healthy people, I want to be around sober people, I want to be around people who are responsible -- stuff that I just neglected for 28 years."
His experiences with InSHAPE, paired with extensive volunteering in the jail, homeless center and more, also earned him the position as a Recovery Support Specialist at SB&H this year.
About 70 people have enrolled in Flagstaff's InSHAPE program since it was formed, and though many have left before graduating, those who have continued, like James, have seen tremendous improvements, even in areas others might take for granted.
Megan Travis lost 150 pounds through InSHAPE, completely restructuring her diet to do so.
Darcy's first local participant, the two began their time together at the grocery store together so that Darcy could point out healthier alternatives to the foods that filled Megan's shopping cart.
Every day, Megan now works to ensure her meals are comprised of one-half non-starchy vegetables (those with fewer carbs, unlike potatoes and corn) and fruits, one-quarter lean proteins, and another quarter starchy vegetables and whole grains. Since starting InSHAPE, Megan has experimented in the creation of dishes like vegetable soup and taco salads without the tortilla.
She said the switch was not as difficult as it seems, and not all about depriving oneself of pleasurable foods, just focusing on eating them in moderation.
In the areas of both fitness and nutrition, she said the key was starting small and building up to more significant changes, like her new love of both dance workouts and hiking.
As a student at Northern Arizona University, Megan once attempted to complete the Boynton Canyon Trail in Sedona with the university hiking club, but was unable to make it to the endpoint. A year later, though, she returned to the spot and completed the 6.1-mile excursion.
"Each accomplishment that I've made has increased my self-confidence even more because those are things I haven't been able to do since I was a teenager," Megan said, looking right at ease in the center of the Aquaplex fitness center Tuesday afternoon.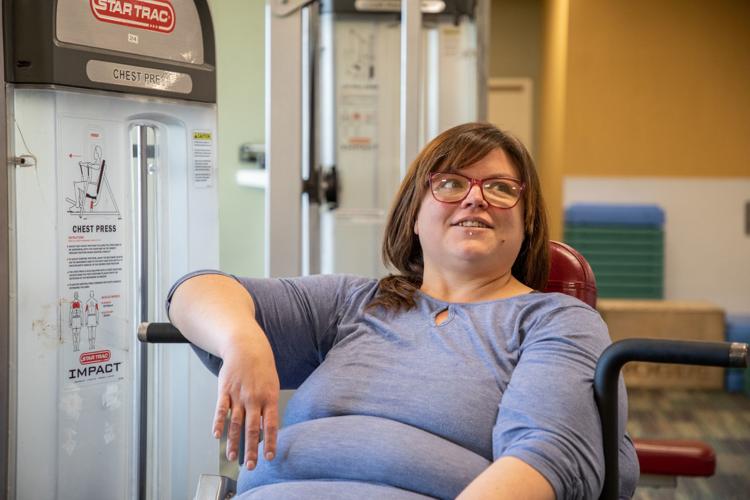 Like James, her health improvement also opened up new career opportunities. After spending several years in and out of the Aquaplex for her InSHAPE sessions, Megan was hired as a rec assistant.
"I felt that it was a way to give back and share my experiences with everybody else," Megan said. "When a patron comes in and asks about the facility or about classes, because I've done them, I'm able to share that I enjoy them and recommend them to other people."
Just before Megan's session Tuesday, Darcy met with another client, Iona Padilla-Vallejos, who had been searching for "the holy grail to get weight off" throughout her life -- but especially a few years ago, when she became the legal guardian of her 10-year-old grandson, Malachi, when his mother died.
At 65 years old and with both lung disease and sclerosis, Iona was struggling to keep up with Malachi and wanted to make a change.
"I've got to take care of me so I can take care of him. I've got to live to see that baby graduate," she said. "My daughter didn't get to live to see it, so, my god, I'm going to try."
It was a challenge for Iona to overcome what she calls her "cabeza de cemento" -- hardheadedness (like concrete) -- and commit to putting effort into the program.
"For the first year, I'm not going to lie, I just goofed around and blew it off, but after noticing that without trying I was losing a little bit [of weight], I thought, I better put effort into this," Iona said.
She said it was daily mindfulness exercises that allowed her to make this breakthrough, changing her attitude so that she now happily drives to the Aquaplex from Winslow twice a week for her sessions as well as visits her neighborhood pool for daily workouts on her own.
Although at the beginning it was difficult to move without her walker or even bend down, she is now able to walk short distances without support, nimbly roll and stretch on the floor, and carry her oxygen tank without placing it on the walker. Her next goal is to abandon the walker completely.
And though participants like Iona have had to make significant commitments to the program to see changes, they are not alone in their new habits and perspectives. Even Darcy, as a health mentor, had to adjust to InSHAPE. A former trainer for athletes, she was used to pushing her clients harder and harder with each session.
"I had to let go of everything that was part of how I trained people," Darcy said. "The goal is to have them come every single time they can because, a lot of times, if it's not fun, they're not going to come back."
With each session, she aims to draw out participants' strengths and focus on what they can do, modifying everything so it fits the individual.
"Change is very very hard and people want to change so badly, but we all have different barriers and resistance to change," Darcy said. "I try to encourage participants to think about exercise not as something to just do for now, but something that has to be done for the rest of our lives, no matter what. We have to move every day."
Be the first to know
Get local news delivered to your inbox!