I am a sucker for lists, both a pleasure and bane of our online existence. In fact, let me tick off my top five reasons for loving such facile, reductive rankings of all things important and trivial.
But two months ago, when my news feed was graced with a Runner's World magazine piece titled "These are 25 of the Best Running Trails in the U.S.," I knew if I clicked that I'd be inundated with spam, targeted ads and maybe invaded by Russian bots.
And I'm pleased to report the Flagstaff is, indeed, represented on the list, which is not ranked numerically so as not to incite regional conflict among trail runners and scores of flaming online comments.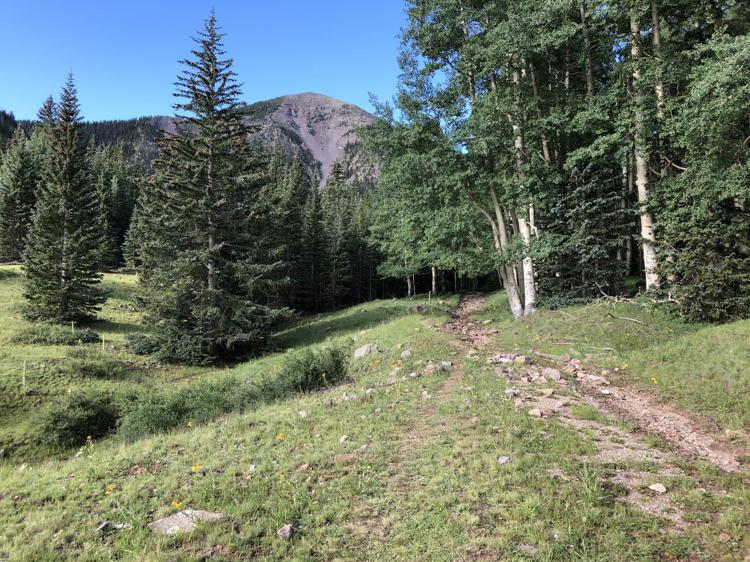 As you might have guessed, it was the Inner Basin Trail that had Runner's World so smitten.
Was it chosen because of lush groves of a certain white barked arboristic eye-candy formally called Populus tremuloides?
Locals, as well as autumnal leaf-peepers from the Valley and beyond, flock to the Inner Basin Trail each October to populate their Instagram accounts with photographs of quaking aspens whose coin-like leaves have transformed from green to gold as if through magic (or a natural breakdown in chlorophyll).
So popular are the quaking aspens that forest officials restrict entry the first two weekends on October, letting in only 100 cars at a time. At times during the fall rush, it might be better to put Inner Basin on a list of trails to avoid, since it's hard to silently commune with nature when you're part of a conga line of camera-toting leaf-lovers.
Therefore, may I suggest that early September may be a preferred time to make the trip up the eastern slopes of the San Francisco Peaks for some high-altitude, sub-alpine meanderings? The aspens are still there, of course, and though the leaves are green and not really quaking (or even rustling in the light breeze), the views remain sublime.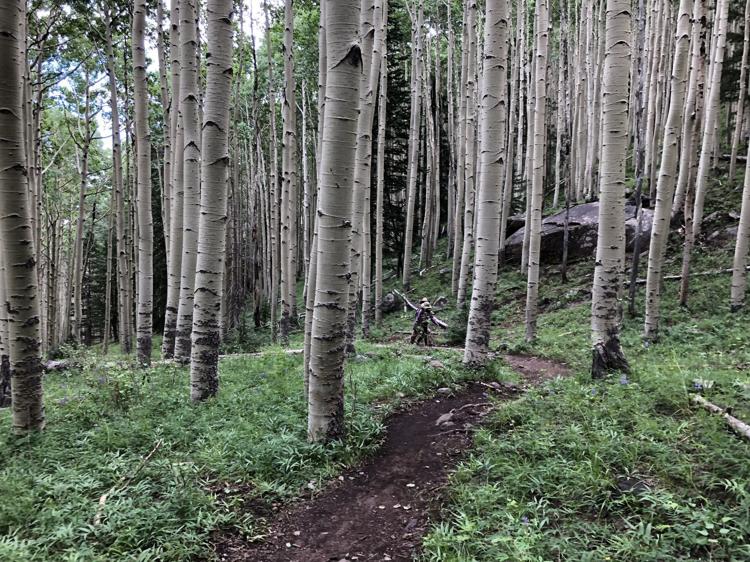 You have free articles remaining.
The fall version of the golden aspens perhaps overshadow the less obvious merits of the 4.3-mile (one-way) trail traversing the inner portion of the volcano.
The stately ponderosa pines and Douglas firs? The verdant fields farmed by looming peaks above the treeline? That challenging rocky ascent to the high-elevation (10,900 feet) junction with the Weatherford Trail?
Yeah, OK, fine. Great stuff. But give us the white-trunked aspens shimmering like gold coins, and make sure they're quaking on cue, buddy.
Those familiar with the Inner Basin Trail know that the aspens make up only about a quarter of the trail. First sightings come about a half-mile from the trailhead at Lockett Meadow, and they proliferate after about a mile, when runners and hikers feel enveloped by them on a series of switchbacks.
But at 1.8 miles, when you hit Water Line Road, the show's mostly over. It can feel like a comedown for some — and, frankly, many choose to end their Inner Basin trek right there, and retrace steps back to the trailhead — but if you stick with it, the final 2.4 miles of the trail will keep you engaged. After you veer slightly left at several forest service sheds, the forest opens up into a lush meadow that might make you feel the urge to dress in lederhosen, blow an alphorn and yodel. There are still aspens about, not to mention plenty of pines, but you aren't wending your way through them; they, instead, serve as a boundary as you ascend toward the peaks looming ahead.
If you hear rushing water on this section of the Inner Basin Trail, but can't find its source on a bone-dry morning, it's probably coming from a pump house from a well drilled in the early 1970s to supply the city with water. You follow the partially exposed pipe for a little ways (not exactly aesthetically pleasing) but it eventually is buried underground.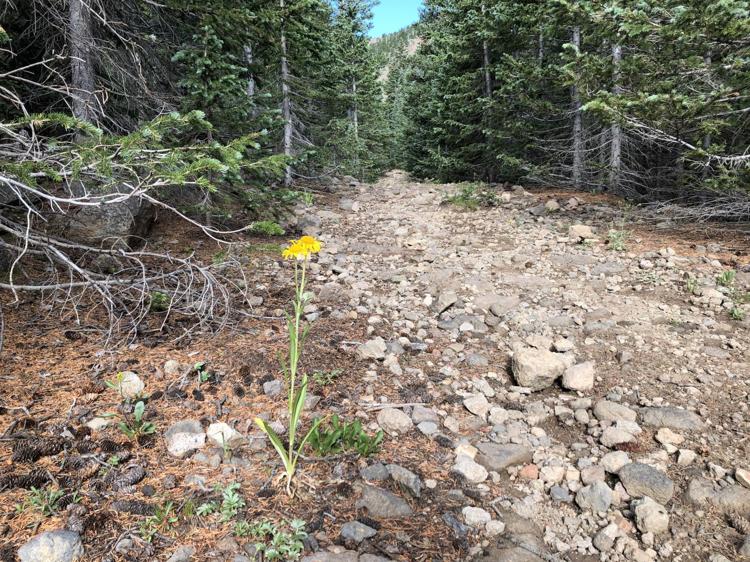 Those to whom climbing and rock gardens are anathema might want to turn back here. There's about 1,500 feet of elevation gain in the final 2-mile climb to Weatherford, and parts of it can be a slog of loose boulders and jagged rock in exposed sun. But there's a certain sense of accomplishment when the rocks recede the close you get to the ridge. The final 0.3 of a mile climb is a shaded, duff covered respite — though lung-bustingly steep.
None of that difficulty is mentioned in the Runner's World "listicle" — doesn't fit the quaking-aspen narrative, perhaps. But at Weatherford, you have the option to wander farther afield -- another 3.6 miles to Humphreys Peak, if you dare. Most, however, use this as the turnaround point.
The aspens await you once more on the trip back downhill. As does the narrow, 3-mile drive on a dirt road back to Highway 89.
A note about the drive: Do not listen to online alarmists on websites such as www.alltrails.com who claim that passenger cars cannot make the steep, rutted drive. I saw many sedans chugging along just fine. The potholes were manageable and motorists were polite in yielding right of way on curvy stretches.
That just goes to show that you should not always take online pronouncements at face value — though I can confirm that Runner's World was right; the Inner Basin Trail deserves its plaudits.