Across South San Francisco Street, the usual sounds of evening reverie from the bars spill over to the front porch of the far more sedate, yet no less active, Grand Canyon International Hostel.
Katie Gaul, working the front desk, has ambient music wafting throughout the common room, modulated by the mellow intonations of waves lapping at the shore. A traveler from South Africa retreats to his dorm bed to watch a documentary on his laptop. Two German tourists, tired from trekking, fork into omelettes they whipped up and chase it with swigs of Corona. Another guest, nestled in an upstairs window seat, teaches himself guitar chords, while a woman from Connecticut glides down the hallway, holding the crumpled map of a downtown happy-hour beer trail.
It's just an average night at Flagstaff's one true hostel, where travelers on a budget and with a sense of adventure — many hailing from far-flung locales — encamp for a few days as a home base to see the sights, most zeroing on that iconic geologic wonder and tourist magnet, the Grand Canyon.
As evening descends, most guests are spent from the day's activities, though some vow to muster energy later to check out the Southside bar-hopping scene. But then in walks three guests — two from the U.S., Michelle and Max — and a positively beaming woman from Adelaide, Australia, Leonie Hampton, all just back from a day trip to Sedona and still feeling that red-rock, New Age glow.
The collective pulse in the place suddenly quickens.
"Fabulous," says Hampton, with an infectious Aussie lilt. "And that sunset! I'm so happy I went there today."
Now Michelle whips out her smartphone and scrolls through her photographs of Sedona at dusk to show Gaul, who nods appreciatively, though Michelle insists the phone pics don't do the sights justice. Sensing a mood change, Gaul switches the music to something more up-tempo, bluegrass fingerpicking. Hampton, meanwhile, pours herself a cup of green tea and settles onto the communal couch, with a view of cocktail-sippers at Tinderbox out the window.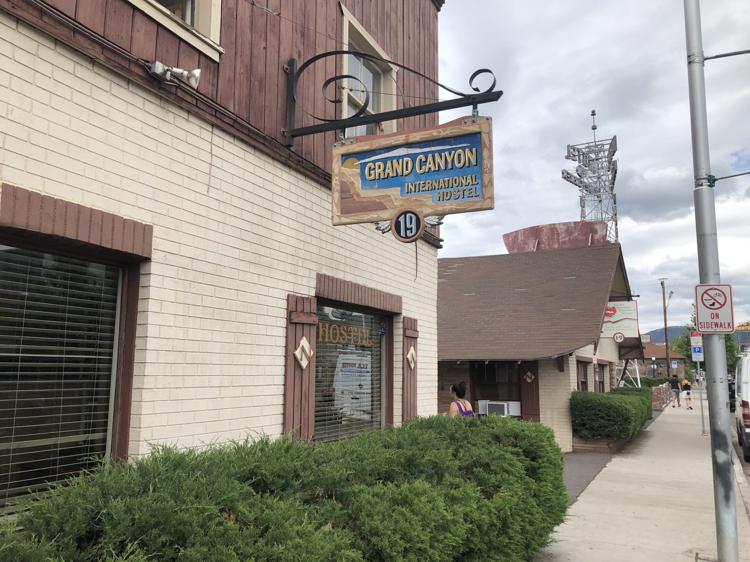 She looks around, face still aglow. She is 67 years old and has spent the past decade since retirement from the corporate world backpacking throughout the world. She finds herself in Flagstaff, in a charming but a bit cramped hostel when she could easily afford ritzier accommodations.
And she could not be happier.
"The instant I walked in, this felt like family," Hampton said. "It has an interesting energy. I feel comfortable and at home. I did all that five-star hotel stuff back in the 70s and 80s. It was lovely back then when I was younger, but now to stay in a fancy hotel and spend all that money to me is not a good thing. It doesn't do anything for me. You get to know a town by staying at a place like this."
International travelers do, indeed, get a feel for Flagstaff culture — Old West mixed with outdoors hipsterism, one described it — by staying in the heart of the city at only official hostel (the Motel DuBeau, a sister facility nearby, is a hybrid hotel-hostel run by the same owners).
For one thing, they learn that Flagstaff is more than just a weigh station on the way to the Grand Canyon or Sedona. There's a there there, to paraphrase Gertrude Stein.
"We knew nothing about Flagstaff," said Kelly Bui, visiting from France with friend Melanie Perennes. "We just wanted a town close to (the canyon). We were talking on the drive in that this is a real city. We thought it'd be a town with one road and not much else."
That's a common preconceived notion foreign visitors have about our fair northern Arizona city.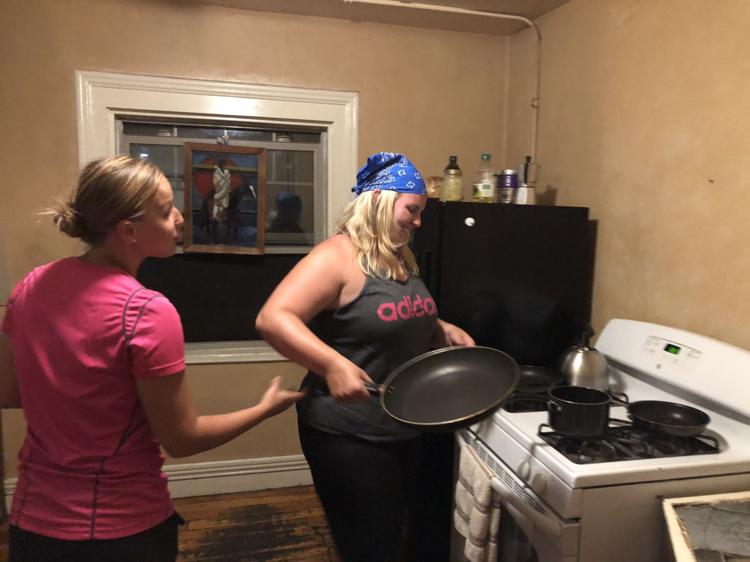 "Everybody's reaction is, 'it's cute,'" said Valerie DeHart, another hostel front-desk worker. "A lot of people stay longer than they planned because they end up liking the town. After a day or two, they come up and ask, 'What's fun to do around here?'"
For some international visitors, just the vibe of the hostel itself is attraction enough.
The two German tourists cooking omelettes, Johanna Bauer and Mirian Kretzschmar, both hailing from Cologne, are in the midst of an epic month-long road trip of the American West. They stopped in Olympia, Wash., Arcata, Calif., South Lake Tahoe, San Francisco, Anaheim (Disneyland, of course) and Death Valley. After the Flagstaff interlude, they would be off to Arches, Yellowstone and Glacier national parks, before finishing off in Seattle.
They stayed at hostels throughout — save Anaheim; "Oh my God," Bauer exclaimed, "a hostel at Disneyland would be wild!" — but they rate the Flagstaff experience as special.
"I really like the interior. You can tell this used to be an old hotel or something interesting," Bauer said.
Kretzschmar added, "There's a lot of wood in this town. Wood everywhere. The houses, trees, everything."
It helps that Gaul, who checked in the two German tourists, played up the history of the edifice. She points out that, among the tenants in the building's long history, were two sketchy enterprises — a brothel and an attorney's offices. Upstairs, Gaul always shows visitors the spot in the original wall next to a private room door, where a man named "Roy" etched his name "while waiting his turn" at the brothel.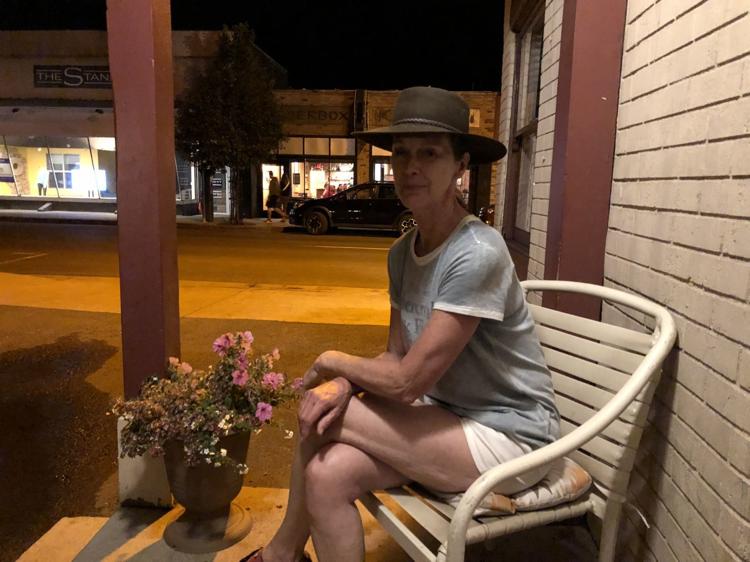 The Germans, like many international travelers, say that Flagstaff's downtown has an almost cinematic quality.
"I kind of like the train element here," Bauer said. "It's weird, because it seems like a scene from old movies. Usually, in old movies, when you hear the train, it's like an element of something scary happening. Danger is lurking. Film noir things. But it's actually quite nice. It's how I imagine an old American town in the west should be."
Hampton, the peripatetic Aussie, likes that Flagstaff is "down to earth" and does not go overboard on kitschy Route 66-Grand Canyon-Native American trinkets. She travels to collect experiences, not things. Yes, she may have ducked into a few downtown curio shops geared for tourists, but the only thing she bought was a single slender book about Sedona's history before her day trip there.
Instead, Hampton says her keepsakes from her time here revolve around the people she has met. She raved about the hospitality at Natural Grocers, where she trekked daily to get food. She says she will forever remember her visit to the Museum of Northern Arizona the day after a weekend of mass shootings in the U.S.
"It was their Navajo festival, and there was a women who sang the most beautiful (indigenous) songs," Hampton said. "She spoke so eloquently about the shootings, and I actually had a tear drop falling down. It was a powerful experience. She had everybody's attention, saying we should come together as a community. It made me feel close to the people in the room."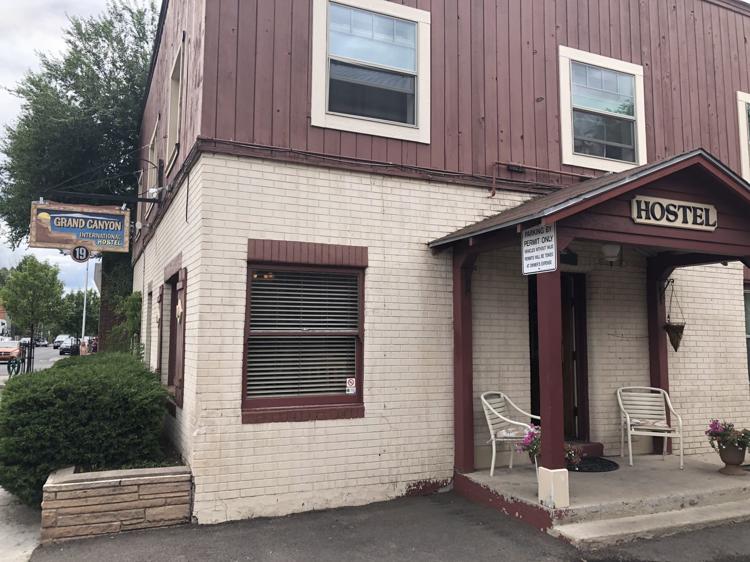 Not every international traveler's experience in Flagstaff features such transcendence. For some, the Grand Canyon International hostel is just a cheap place to crash ($26 for a dorm bed; $62 for a private room).
"I always prefer hostels," said traveler Elda Fortune, from Queensland, Australia. Basically, all you need (for shelter) is a bed and a shower. And it feels more personal, too."
Some, in fact, may find it hard to leave.
"I may stay another night, or two," Hampton says, sipping tea. "I could live in Flagstaff. Honestly, it's beautiful. I could live here."
She left town two days later.