Hundreds of shipping containers on trains pass through Flagstaff every day on their way across the country. But now, a local realtor is hoping to make one of those containers your home.
Local realtor Dave Price and his development partner Jake Gould are developing new home kits out of retired shipping containers with the goal of creating less expensive and quicker housing.
Price said he and Gould have been working on the project for about a year and a half, mostly designing the homes and working with a factory in China to get the first one built. But Price said they have finished the first home this month, installing and assembling it near Williams.
Shipping containers typically have a lifespan for international shipping of about 10 years before the boxes are retired. But even after that, they are still durable and can be used in other ways, according to Container Technology Inc.
And that's exactly what they're doing, Price said.
After picking out two shipping containers, a factory in China cuts out doors and windows and welds in some additional steel supports, then strips and repaints the box. Then the two boxes are filled with all the supplies someone would need to assemble it into a house before it is sent to northern Arizona, Price said, comparing it to something bought at Ikea.
"You're getting a house that just hasn't been assembled yet, but everything else is basically there for you," Price said. "We are even thinking of throwing in the drill that you need."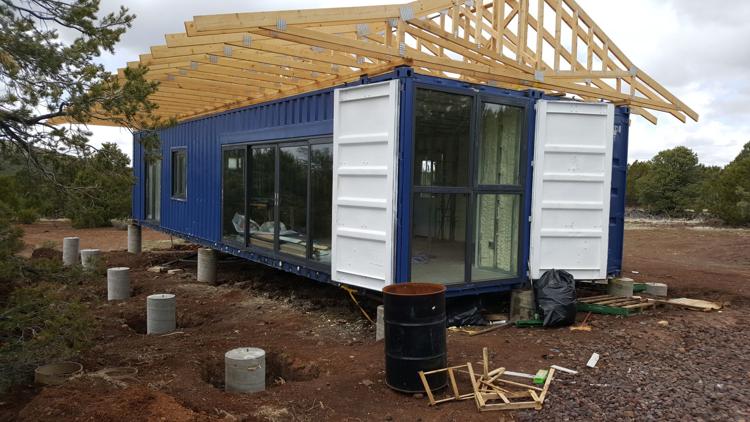 Price said the startup costs were fairly substantial, but now that the house is designed and the factory has the plans, they expect to sell the kits for about $65,000. But if they are able to order them in bulk, 10 or 12 at a time, that price could be reduced by about 10%, Price said.
Of course, the prospective homeowner would still need to own a piece of land.
Then, after the kit is delivered in the form of the two storage containers filled with goods, the prospective homeowner would only have to place it on a foundation, assemble the pieces and connect it to utilities.
Price said they have designed the kit for assembly to take about one month. Their first unit has taken about double that to assemble, but Price said that is because they were having trouble getting the contractors they had hired out to the site consistently.
You have free articles remaining.
Register for more free articles
Stay logged in to skip the surveys
For that, the kit creates a 720-square-foot, two-bedroom, one-bathroom home, although Price cautioned that the second bedroom is fairly small.
Price said he believes in a place like Flagstaff, the kit could be perfect as an alternative dwelling unit and for infill either in small lots or perhaps backyards, or as a kind of cabin in rural areas.
Price said they have had to design around some of the specific challenges presented by using something like a shipping container as a house.
For example, they are using spray-on insulation rather than cheaper fiberglass insulation because it doesn't leave any gaps. The containers are designed to be airtight, so when being used as homes they can run into condensation problems during winter when it is warm inside but cold outside.
Getting banks to help buyers finance the homes may also be a challenge.
"Banks are kind of leery of lending against something so atypical," Price said, but added he believes banks will begin seeing such homes as normal soon enough.
Before they were designing them as single family homes, Price said they originally planned to use containers to build an apartment-style building in Flagstaff.
To do that, Price said they would have assembled the building by stacking shipping containers in different ways four to five stories high.
But Price said they received pushback from city staff who believed the building may not comply with the aesthetic requirements the city has for such structures.
Price said there is still a possibility of doing that in the future if people become more familiar and accepting of how container homes look.
Updated for correction at 10:40 a.m. on November 4.