As Katharyn Duffy climbed the ladder for her bachelor's degree studies in geology at Portland State, then a master's in climate science and solutions and a doctorate in earth science from Northern Arizona University, she was surprised to find that as the computing and coding needed for the advanced degrees increased, her classes tended to have fewer and fewer females.
Duffy's dilemma isn't unique. While tech jobs are the fastest growing occupations in the US, only 18% of the 64,000 students who graduated with a computer science degree in 2016 were women, according to girlswhocode.org.
"I had to learn to code because I was working on the earth systems scale and the only way you can do it is through code. I beat my head against a brick wall for a year," Duffy said of learning Python, MATLAB, CSS, Markdown, Bash and other coding languages. "The more you work in tech the more languages you have to speak, and some are like Portuguese and Spanish -- [they are] related, but kind of confusing when you try and speak them together."
Now studying for her postdoc in ecoinformatics at NAU's School of Informatics, Computing and Cyber Systems, Duffy is part of the Phenocam team. Duffy uses code daily to collate and process millions of images of landscapes all over the world and determining their "greenness."
On her NASA grant, Duffy's title is an "open source software engineer." The open source aspect means that Duffy's codes are available online for anyone who wants to view and learn from them.
Being unstinting with her codes and knowing firsthand what it's like to be one of the only women in her field, Duffy was immediately drawn to Girls Who Code, a national nonprofit program that aims to close the gender gap in tech by teaching girls how to code for free, and she started northern Arizona's first Girls Who Code program at NAU in March.
"Anyone can come. We offer transportation funds, we offer food, we offer computers and it's completely free. So there are no barriers to participation," Duffy said.
Out of the six middle school girls who joined Duffy's first Girls Who Code group, Elizabeth Burakhovska, Abby Henderson and Maegan Glanville are all incoming eighth-graders at Pine Forest Academy on Fourth Street.
Historically, Pine Forest and other Waldorf schools are nature-based and don't include computing or technology in the curriculum. Pine Forest does not have computers in its classrooms, so if students want to learn anything about computers, they need to do so outside of school.
"The best way to [learn coding] is to join the club 'cause it's a little intimidating to just sit by yourself in front of a computer," Duffy said.
And middle school is the right time to get girls interested in computer programming, according to the official Girls Who Code website.
Experience of computing in their junior high years means that girls are 18% more likely to show interest in computing throughout their high school and college years, according to girlswhocode.org, which also shared that by high school, many factors negatively impact computing interest for girls, including not having friends in computing classes.
Duffy's Girls Who Code group created the "Plastic Pollution Solution," with each girl making a different type of animation project relating to the harms of plastics in the ocean, using Massachusetts Institute of Technology's free programming tool, Scratch.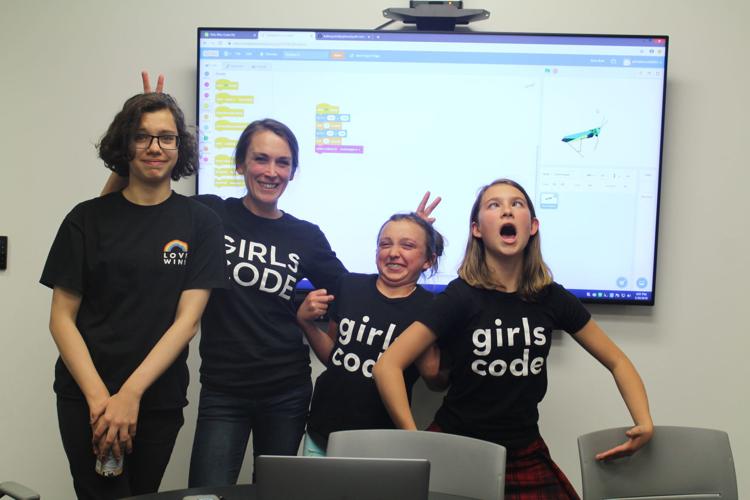 One of Duffy's students created a chat bot to ask users trivia questions about ocean pollution. An avatar of a cartoon girl was projected in front of a beach backdrop. Text appeared in a comic bubble by her mouth:
"Which items are a hazard to ocean life? A. Seashell, B. Trashbag, C. Seaweed, D. All of the Above," it read.
A box then popped up for the user to type in their answer. In typical middle school humor, typing in and entering with the right answer created a cheering sound effect; the wrong one triggered audio of a toilet flushing.
"I haven't coded anything for them, I haven't written anything for them. This is all theirs," Duffy said.
While Duffy's goal was for the girls to have fun learning the basic functions and code used for programming -- including loops, variables and conditionals -- the girls also learned about different women in tech and joined a "sisterhood" of other female peers and role models meant to produce confidence in being a girl in tech.
"It's important for girls to learn to code cause there are more boys coding than girls and girls can code too," Henderson said, adding that coding is "so fun and awesome."
In the future, Henderson said she wants to make more animations about things that are troubling the earth like endangered animals or air pollution.
"I'm proud that I learned how to make animation and I reached my goals," Glanville said.
In the fall, Duffy plans to have a class for grades 3-5 and a class for grades 6-12. 
Parents of those interested in joining the Girls Who Code fall programs at NAU can go to girlswhocodenau.weebly.com for more information.
Be the first to know
Get local news delivered to your inbox!