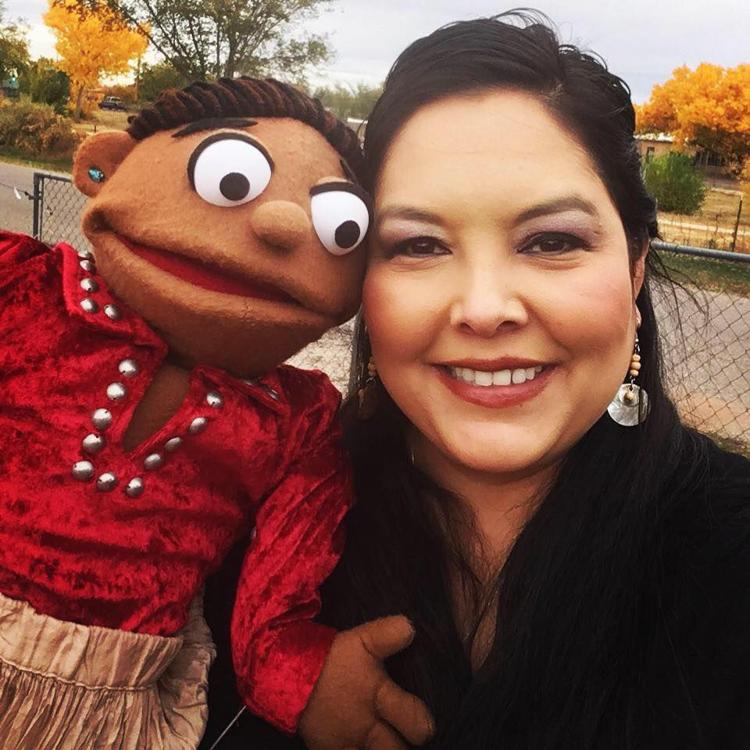 Charmaine mentioned that the goal with Navajo Movie Time is for the show to eventually become a Navajo version of Sesame Street. Can you speak about this?
It is a children's puppet show that is geared toward teaching preschool aged children how to speak Navajo and learn about the Navajo culture. Although my research is based on some of the tenants that Sesame Street has established with over 45 years of research, this show will be the first of its kind established for the sole reason to teach the Navajo language and culture to children. 
When did you first get the idea to use puppets for the show? Did it have anything to do with your thesis or studies?
I've always been intrigued with kids shows since I was a kid. I watched Mr. Rogers Neighborhood and Sesame Street as a child and always wondered, what if this show was teaching Navajo instead of English and Western learning objectives. One of the initiatives of Sesame Street that I found through my research was that the show was established with a money geared toward getting inner city children prepared for public schooling. Our show has very different learning objectives and cultural relevance. It is based on the Navajo Way of Knowing and learning objectives established through my doctoral research. My research was conducted on the Navajo Reservation with community members, leaders, educators, and cultural advisors. They informed what this show should look like when it is completed.
The GoFundMe page says the show will take place in Navajoland. Where will the show actually be filmed? Is there a set or are you guys really traveling throughout the Navajo nation, filming in different spots?
We are still in the pre-production phase of the show. The first thing we want to do is get puppeteers for the puppets so that we can have them come to life. The puppeteers will give the puppets character, a voice. We have limited funds at this time so we will try to use the most economical way to film. We do not have a set yet and we have not established places to film. But ideas are already forming in the screenwriting of the show. 
Do you think tech/media has changed traditions in the Navajo culture at all?
Very much. And in some ways for the worst. In my research I found that many people view mass media today as a detriment to society by the values they portray. Media can be seen as condoning violence, bullying, materialism, power, vulgarity, among other things. These are values that are not inherent to Navajo culture or Navajo way of knowing and being. But media that is out there is not geared toward a Navajo audience or even Navajo values, they are geared toward other populations and values. For instance, in my research it can be said that having talking animals in shows is taboo in our culture. The only time animals talked according to Navajo creations stories was in the worlds before this one. That would be the only acceptable way to allow animals to talk, when you're talking about them in a story that happened before, jinii. 
I read that you didn't learn Diné  until you were older. Was it hard to learn as an adult? Are you fluent now? Do you think there are things you missed by not learning it as a child?
I never learned how to speak navajo and still do not know. I know a lot of words but I am not able to converse. I do want to learn and I feel this show will not only give me the access, motivation, and experience, but it will also give me the opportunity to share this journey with the Navajo audience who also may not have learned the language for the many reasons that exist out there. 
In one article you said Diné  was sacred, given to the Navajo by the Holy people. Are you okay with people of non-Navajo backgrounds learning the language? 
There is a learning curve with the Navajo language. The learning objectives in the language for a pre-school aged child is going to be very different from the learning objectives of an elder or adult who may be sacred prayers, songs, or about medicine and the natural law. That knowledge is handed down with care. I don't see anything wrong with people learning the language to communicate and bond, because the language holds the culture and the philosophies and this way of knowing how the world works and how we can live in harmony, I think all cultures can benefit from the culture which is embedded in the language. 
Do you think it will take away from the sacredness of the language if it becomes spoken by all different cultures?
The language is already sacred and the only way that can be taken away is if we stop speaking it and we lose those precious words that hold meaning to the universe. 
 Is there anything now as far as any kind of Navajo icon for children? For example, the Latino community has Dora the Explorer, and I know pre-school shows end up getting a lot of commercially made toys, dolls, products etc. based on characters from their favorite shows. Can you see this happening with NMT?
That is the goal. We want not only have a show that will promote and motivate young (and old) learners alike. We want children to co-view the show with their parents and family members. We want the learning to continue to take place after the TV is shut off with learning apps on cell phones and tablets as well as books and educational toys. We want the show to be a tool for educators to use in the classroom and a tool for those who may not live on the reservation to have access to this educational content. 
What is your favorite word in Diné  and why?
Hozho. Because if we are not in balance with all things around us including the earth, the sky, the elements, the university, our community, our friends, our family, the animals, everything, then we are not in tune with happiness and putting good things out in the world.
Be the first to know
Get local news delivered to your inbox!