Former Flagstaff teacher Ted Komada stood before a judge Tuesday and pleaded guilty to one count sexual conduct with a minor and another count of attempted child molestation.
Komada has been in the Coconino County Detention Facility for nearly a year since his booking last January. The plea agreement Komada accepted included 25 years in jail for his first count of sexual conduct with a minor and lifetime probation for attempted child molestation.
The former 2016 teacher of the year from Killip Elementary School stood in a blue detention facility jumpsuit with grown-out hair in the courtroom of Judge Cathleen Brown Nichols Tuesday afternoon.
Komada pleaded down the five counts against him, including three counts of sexual assault, to the two counts in his plea agreement.
Komada's lawyer, David Bednar, explained that he thought Komada's decision to accept the plea was because his conscience was affected by his actions.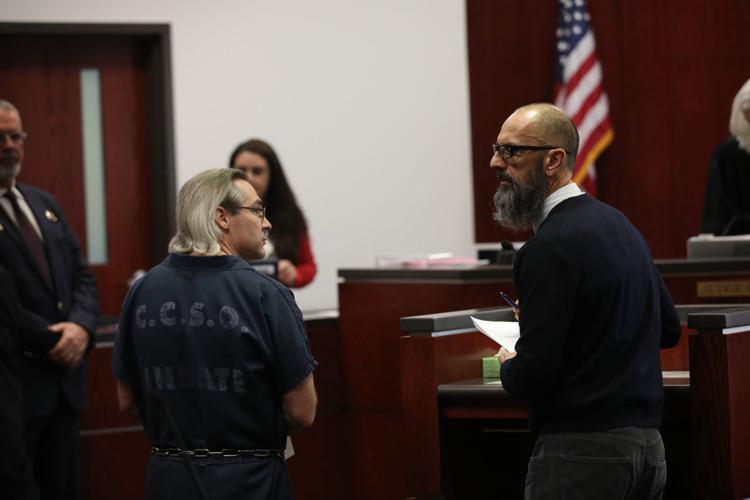 "He feels terribly remorseful for his conduct," Bednar said. "I think that's a huge part of why he has entered the plea, so as not to put the victims through any trauma."
Both sex crimes occurred with children under the age of 15 and happened off of school property. The victims had injuries consistent with the crimes, and had been frequently asked by Komada to perform sexual acts on him, according to a probable cause for arrest document.
An adult caught Komada molesting one of the victims and called the police. Komada's DNA was also found on multiple pieces of evidence.
When police arrived to arrest Komada he said that "I am disappointed in myself and the situation. My life is over."
Komada's first arrest happened almost a year ago on Jan. 14, 2018, according to the state's filed motions. He was first arrested on suspicion of sexual conduct with a minor, according to booking reports. After being released, he was booked a second time on a second charge of continuous sexual abuse of a child a week later.
A statement from the district and Flagstaff Police Department at the time indicated that Komada resigned from his position before the start of classes on Jan. 14, 2018.
"We are shocked and saddened to hear of the charges and the investigation into conduct occurring out of school by Mr. Komada," Flagstaff Superintendent Mike Penca wrote in a statement at the time.
Parents and teachers were notified at the time of the charges.
Komada was a chess coach for 14 years in addition to being a teacher. According to police reports, Komada told a witness that he never abused any of his students.