Three kindergarten classes packed into school buses on the morning of Friday, Sept. 13 and were driven 25 minutes from Kinsey Inquiry and Discovery School on bumpy, dusty roads to Northern Arizona University's Centennial Forest, past the Arboretum.
It was the first field trip for almost all of the kindergartners. For some, it was their first time riding a bus. Every other week, Kinsey kindergartners will participate in the Forest Friday program, with at least 10 more trips to the Centennial Forest.
When the kindergartners hopped off the buses and onto the pine-needle covered ground Friday, a peaceful sun shone down through the towering ponderosas. The kids were ushered to the picnic tables by forest manager Cheryl Miller.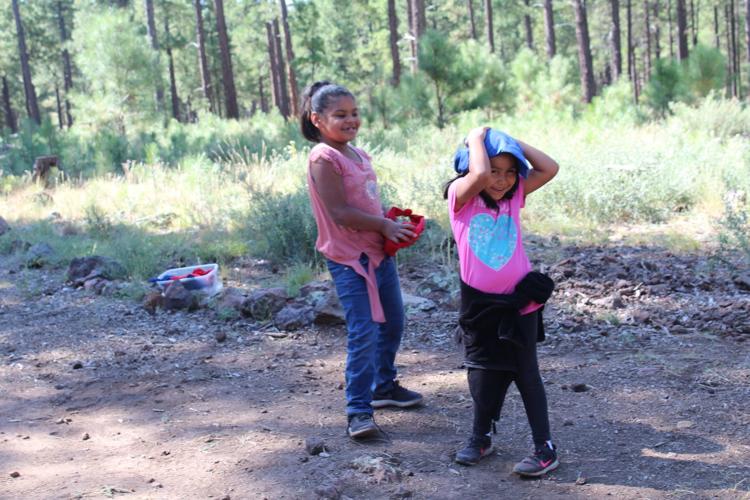 "When you come out here, we're going to do different things," Miller told them. "[Things like] activities and hikes, all to teach you about nature, the environment and also about each other."
That morning, the students would play three different games, eat lunch and then it would be time to go, Miller explained. Kids cheered loudly, but it wasn't clear if they were cheering because they were excited about the games or going home.
Miller led one class to play a bird call game while staff and chaperones led another class on a nature walk on the nearby Centennial Forest Discovery Trail. A third class went to uncover mystery boxes, climb on logs and play on see-saws made from trees.
The bird call game had the kindergartners circle up, get paired with another student, get blindfolded and then find their partner while listening to each other's bird calls. While some of the students jumped up and down or swung their arms with excitement, others started using sticks to dig into the dirt below them.
"It's so much fun 'cause part of what we wanted to do is nature play," Miller said. "Digging and drawing in the dirt – normally you'd be like 'stop that, pay attention,' and so it's so wonderful, [because we are allowing them to experience nature in their own way]."
Miller paired up with the teachers at Kinsey to start the Forest Friday program and ensure nature is also part of their curriculum throughout the week. While Kinsey kindergarten teachers are making sure nature, animals and trees are learned about throughout the year, forest staff went through Project Learning Tree training and learned how to incorporate their knowledge into fun activities.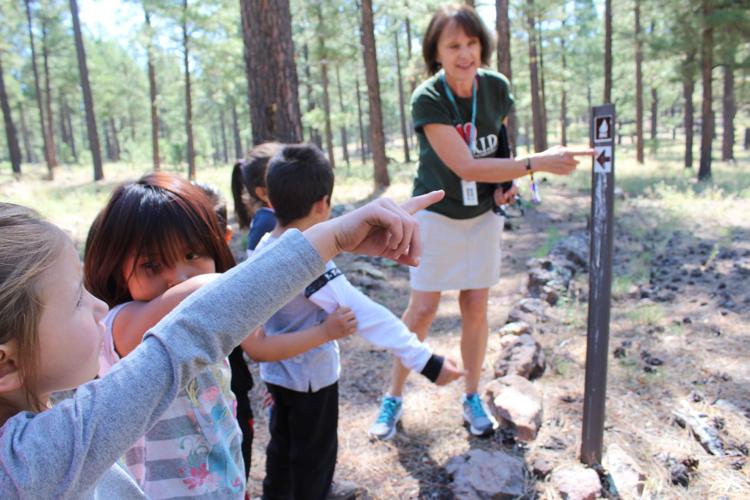 While Miller and Kinsey teachers knew kids learned important life lessons from nature, they realized many weren't getting exposure at home.
"[They] learn how to be careful, how to take care of themselves, what are sharp things, what are good things, what are soft things," Miller said. "Also you learn to be resilient. You learn to get back up when you fall down. You learn how to help out a friend. You learn about how the world works in terms of trees and bugs and lizards and they also form bonds together."
On the nature walk, veteran Kinsey teacher Nina Andersson asked the class to raise their hand if it was their first time in a forest. Nearly all of them did.
After going over the five senses, Andersson led them down the trail, asking them to be on the lookout for something yellow (some daisies), and then to stop, shut their eyes and listen to the sounds. Many said they heard birds, but it wasn't clear if these were real birds or the other class playing the bird call game.
After passing around a baby pine cone to touch, many students were excitedly pointing out flowers, rocks, sticks and other objects on the trail to their neighbors. One girl, however, wasn't joining in on the fun.
When Andersson noticed her crying, she used it as a class learning point.
"You know what? We have quite a few people that are scared of the forest," she said. "You know what we are going to experience? You are going to realize that the forest can be your friend. And you can feel kind of calm in the forest and get to learn new things."
In the other group, Andersson said while one student was afraid that bears might come out of the woods, another was scared that lions would approach.
NAU Forestry graduate student Jack Burnett, who is measuring the kindergartners' relationship with the forest, said he hopes students who are scared or hesitant to be in the forest will have more fun by the end of the year.
"[We'll see] if we can improve children's connection to nature by getting them outside a little bit more often and getting them learning about the world that they live in," Burnett said.
Burnett sent pre-surveys out to the teachers ahead of the first field trip to fill out with their students, and similar surveys will also be given out in winter to compare. At the end of the school year, parents will also be getting surveys to see if their children are going outside to play more.
The survey measures students' empathy and enjoyment with nature by asking yes or no questions such as, "I'm happy when I'm outside, being outside makes me peaceful, people shouldn't harm plants and animals," Burnett said.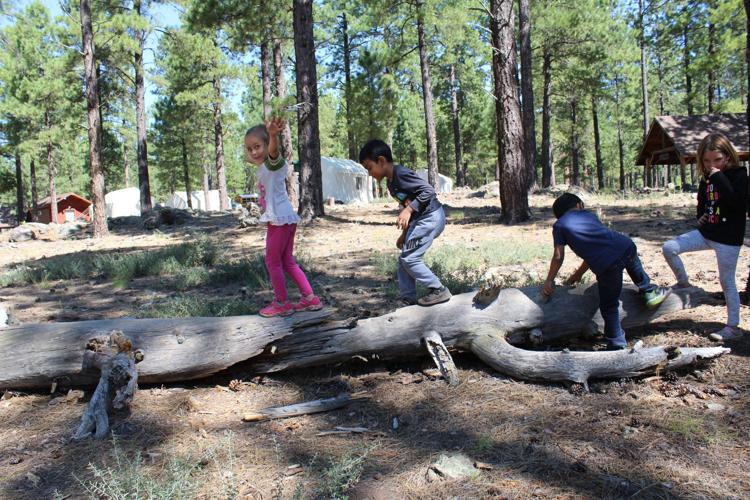 So far, Burnett's research shows that kids who have a stronger connection to nature have more environmentally friendly behaviors as adults, such as "being more conscious of their impact on the environment and drawing connections between their actions and impacts into the natural and wider world," he said.
Burnett will also be talking to teachers to see if attendance is better on Fridays this school year compared to last.
"That's a day when a lot of kids don't come because it's only a half day anyway. We're going to see if [Forest Friday] might entice them more," he said.
By lunchtime, Burnett said he didn't think any of the kindergartners looked scared anymore.
"I think they had a great time, [and learned that the forest] is not a scary place all the time," he said. "Yes, you have to be careful, but you can have a lot of fun being outside also."
Miller hopes in the near future, the Forest Friday program will take off with other Flagstaff Unified School District schools and the NAU Forestry program can welcome all local kindergartners to the Centennial Forest.
Be the first to know
Get local news delivered to your inbox!