Audrey Canyon pours silky smooth steaming milk over her espresso shots in just the right way, topping off her lattes and cappuccinos with a heart for delighted customers.
Canyon truly does love everything about working as a barista, from the aroma of the beans to being able to cheer up customers with her brew on a bad day.
While many tend to work at a café as a secondary job, Canyon's dream job was always to become a barista. She works at Peaks Assisted Living to help her pursuit of a full-time coffee career.
Canyon started working at Firecreek Coffee Company's Sedona location two years ago and now works at the downtown Flagstaff store. Café manager Jo Jaeger calls Canyon a great employee with a "thirst for knowledge."
Canyon's passion and dedication to her craft has now taken her across the country.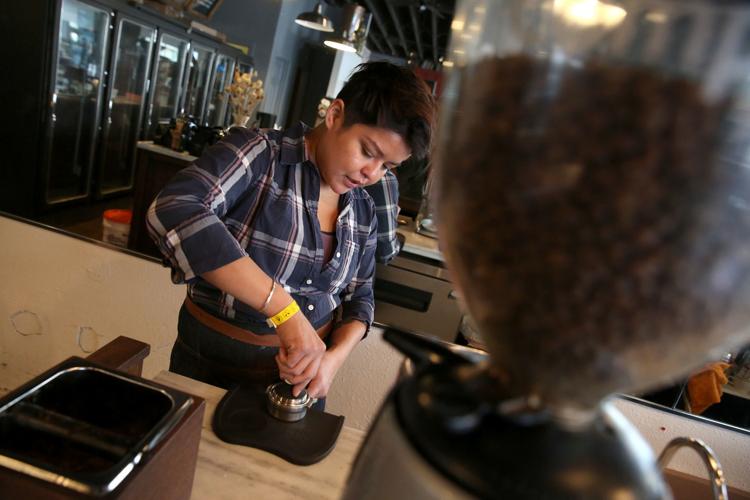 TRAVELING TO TRAIN
In October, Canyon flew to Philadelphia to attend Glitter Cat Barista Bootcamp. Canyon was one of ten hopefuls that Glitter Cat fully sponsored in order to train them for the United States Barista Championships (USBC).
Coffee industry leaders and world barista champions prepared baristas for the USBC qualifiers by leading workshops such as blind tasting, palate development, espresso theory, milk extraction and presentation.
Glitter Cat's goal is to provide coaching to members of marginalized communities, and increase representation and diversity on the national and international coffee competition stages. 
As a Diné woman, Canyon believes she is the first native woman of color to participate in a national coffee competition.
"I had never been more focused on anything as much as I had been focused for that competition," Canyon said of the Denver qualifiers that took place the first weekend in December.
"I was so excited to represent northern Arizona, Diné people, women of color and LGBTQ," Canyon said. "Of course there were nerves, keeping that in check and not losing it was key."
FINDING SOME SUPPORT
There to help Canyon keep track of her nerves and make sure she was staying healthy was Firecreek head roaster Matthew DuPont.
Canyon had asked DuPont to be her coach in early November.
"She asked, 'What coffees do we have available to be really stellar to show at the competition?'" DuPont said.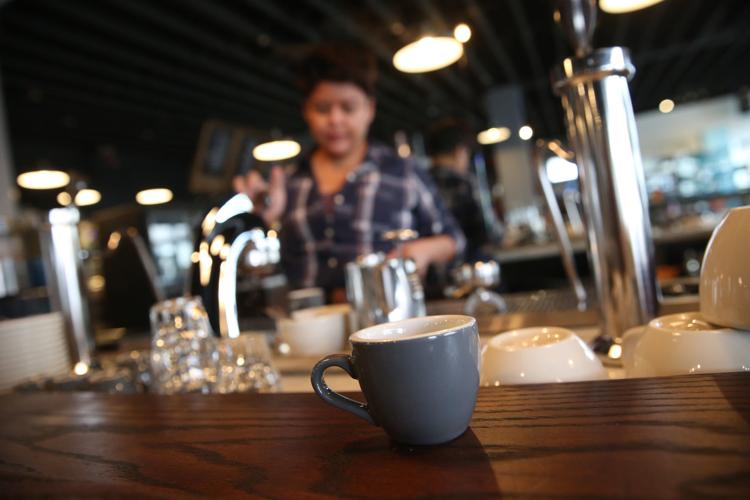 The two spent hours at The Roastery coming up with the perfect coffee for Canyon to present to the judges in Denver. DuPont said they had coffee tastings, smelled fragrances and tested for nuances of flavor. They then enlisted the help of other tasters, like Firecreek owner Mike Funk.
"One person's taste buds can be very biased," DuPont said. "If we can't all agree (on the taste), it starts to be more muddled and foggy to what's really there."
DuPont said that as a roaster, he is always looking for the truth of the flavor.   
The roast profile the group chose was "darker for what we do," DuPont said, adding that different roasters have different ideas of what constitutes as their dark and light roasts.
While Canyon's ticket to Denver was payed for, Funk decided to fly out DuPont to support Canyon at the competition. Besides the fact that Canyon would be representing Firecreek nationally, she was also representing a progressive shift in the coffee world.
DuPont, who has been a roaster for seven years, said that from what he's seen white males do tend to hold the highest positions at roasteries and are the major demographic in barista competitions.
CHEERING ON THE COMPETITION
Although Canyon rehearsed her presentation with DuPont numerous times with winning on her mind, when the USBC qualifiers began, Canyon couldn't help but cheer on the other 50 baristas from all over the country that were competing against her.
Since Canyon was among the "Glitter Cats" she had met at the Philadelphia boot camp, she said it didn't feel like a rivalry, because they all wanted each other to do their best.
"Traveling there, meeting other baristas and coffee professionals was such an incredible experience, magnified by competing itself," Canyon said.
For the presentation, Canyon and the other baristas had 15 minutes to prepare an espresso drink, cappuccino, and personally designed signature beverage and serve them to the four sensory judges.
Canyon described her coffee as a single origin Ethiopia Limu Gera.
"It had lovely tropical fruit notes of peach, guava, papaya and a citrus acidity," she said. "I wanted to highlight and unite that with flavors and aromas from my homeland of the Navajo reservation."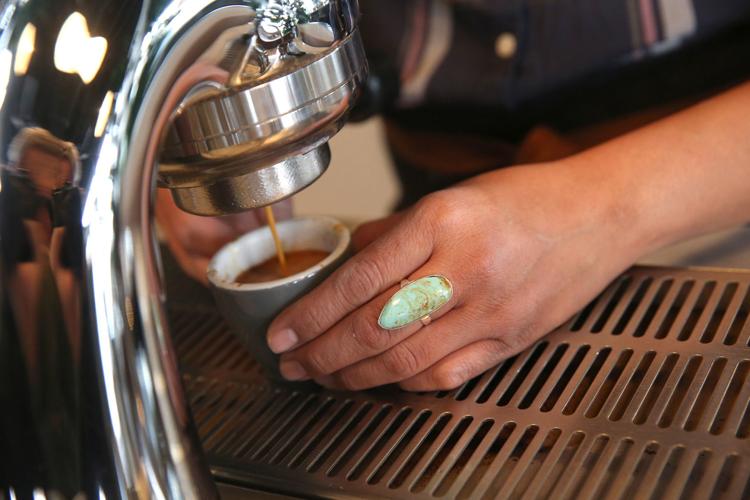 Pinenut milk, sage-infused water and a peach jam were the ingredients that Canyon decided to add to make her signature blend.
"The result was a very pleasant salty, creamy, nutty body with notes of cashew, raspberry and orange marmalade," Canyon said.
After the judges tried Canyon's blend, she shared her thesis with them: "Ethiopia is the birth place of coffee," she began. "Its ancestral people evolved alongside this plant. That knowledge inspired me when first tasting the espresso to unify the tasting notes that recalled experiences from my ancestral lands. Sage that blankets our land, peaches that grow on orchards in my family's farm and pinons we harvested for nutrition."
Canyon, who lived in Tuba City as a child, said that on the reservation the elders are always brewing coffee and it is something Navajo people rely on. Canyon recalled the negative history of the Navajo Nation's introduction to coffee when the U.S. gave it to them as a commodity during the Long Walk. Despite that, Canyon sees coffee as a positive in the Navajo Nation now, bringing family and friends together.
Although Canyon will not be moving on to the U.S. Barista Championships this year, she said she is now even more in love with coffee than before.
"Love makes us do things we never thought possible, challenges us in ways inconceivable and demands for us to be outside our comfort zone," Canyon said. "To be a part of a competition like that is amazing in itself and takes a lot of heart, and being there and showing up is a win it itself."
Canyon is already planning her return to the qualifiers next year.
"I left truly inspired by the passion of the specialty coffee community and hungry for more," she said.