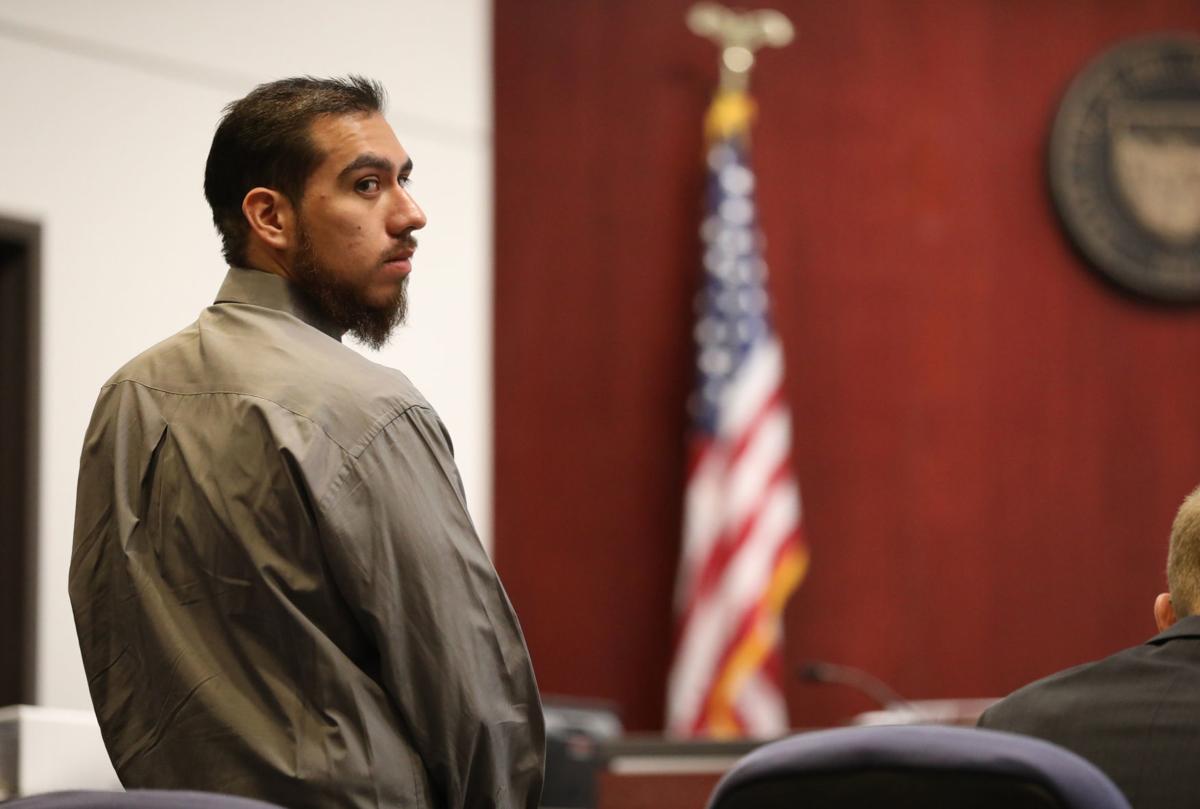 A cold-blooded monster. Abraham Puentes-Ortiz remembered the way a prosecutor described him during the trial, and in front of Judge Cathleen Brown Nichols last Friday, it was the description he most vehemently rejected.
"Throughout the trial you (the judge), prosecutors, even the jurors, rarely looked me in the eye. Rarely looked at me as a man," Puentes-Ortiz said. "I'm not some cold-blooded monster that the prosecutor painted me out to be."
Puentes-Ortiz was sentenced after his impassioned statement to a natural life in prison. After his trial, a jury found him guilty of a murder and kidnapping at Arrowhead Avenue and a separate drive-by shooting that all occurred on one night in 2018. He was sentenced after Brown Nichols listened to many of the victim's family members who came to her courtroom to share their pain and prayers for the killer of 19-year-old Kinsey Beebe.
Puentes-Ortiz's family was present, but did not enter any comments onto the record for the judge.
After Brown Nichols heard Puentes-Ortiz's characterization of his trial and her actions, she looked at him and tried to explain herself, describing how she is conscious of her conduct during trials to avoid any action that may give jurors an idea of how she may or may not have felt about the case.
Prosecutor Ammon Barker said he looked Puentes-Ortiz in the eyes when he asked the jury to come back with a guilty verdict. And he defended his characterization of Puentes-Ortiz as he spent time searching for a motive in this case.
"Many times we see with murder or homicide, revenge, drugs, rage, but that's not what this case was. There doesn't seem to be a [reason]," Barker said.
"This case stands above the rest," he added.
Despite opposing the way he was portrayed in trial, Puentes-Ortiz also made a point to apologize to his family and the victim's family for the pain they endured. Joesph Carver, legal defender for Puentes-Ortiz, said he and his client will pursue options to appeal the case.
You have free articles remaining.
"We respect everyone's opinions and comments at the sentencing, and appreciate everyone's input," Carver said.
The trial included testimony from Puentes-Ortiz's convicted accomplice Adonis Encinas-Velarde, who was friends with Puentes-Ortiz and dated the victim before she was killed. Encinas-Velarde agreed to a plea deal for kidnapping and a drive-by shooting related to his actions on the night of the crime.
When Puentes-Ortiz shot Kinsey Beebe from close range, she was on the phone asking her mother to take her away from the home on Arrowhead Avenue.
Brown Nichols said this is one of two "senseless" cases she has presided over where she couldn't understand a reason for the crime.
"Her mother and brother were on their way to get her and you murdered her by shooting her in the head and neck multiple times for absolutely no reason," Brown Nichols said.
The judge alleged she couldn't read Puentes-Ortiz, causing her to be concerned if he would commit a crime like this again. Beyond the natural life sentence for first degree murder, the judge gave Puentes-Ortiz 54 years for his other charges including assisting a criminal street gang, endangerment and aggravated assault. Puentes-Ortiz will also have to pay almost $4,000 in restitution.
Kinsey's many family members read words from her friends to the judge. Teresa Beebe, Kinsey's mother, said at first she didn't want to speak about her pain and loss, and attempted to focus on reading the words of her daughter's friends. However, as she progressed with her time in front of the judge, she eventually addressed Puentes-Ortiz directly.
"Abraham, you took away the brightest star in the sky. You took away something that could never, ever, ever be replaced," Teresa said. "She was special. God only makes one of each one of us, and he only made one of you. I pray that God has mercy on your soul, because today we have all lost. Your family has lost. My family has lost."
The judge commended Teresa at the sentencing for attending every hearing and every trial date since the case began in 2018. Teresa moved away from Flagstaff after the crime occurred. She said she appreciated the support from her friends and the community of Flagstaff, including those who let her stay at their home every time she came up to attend a hearing.
After the sentencing hearing, Teresa told the Arizona Daily Sun she and her family missed Kinsey, but were pleased with the outcome. She is now looking forward to having space to heal.
"This is justice for Kinsey," Teresa said.