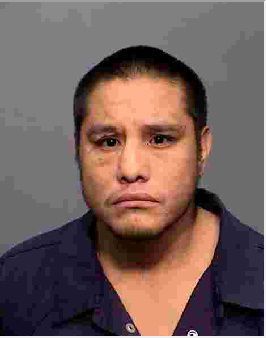 Flagstaff Police arrested a man on Christmas Day on suspicion of second-degree homicide after he allegedly beat his estranged girlfriend and left her outside in the cold in the 2200 block of East Cedar Avenue.
Vaughn Seumptewa is currently being held in the Coconino County Detention Facility on $1 million bail after Nicole Joe, 40, was found dead in Seumptewa's apartment.
According to police, the suspect admitted to police that he had been involved in a verbal and physical altercation with Joe on Sunday night. Joe reportedly left the apartment and returned, requesting that Seumptewa let her in because of the cold, according to Flagstaff Police Spokesman Cory Runge.
Seumptewa told police that he grabbed Joe, threw her onto the ground, jumped on top of her and struck her multiple times in the head with his fist.
Vaughn then went back inside the apartment and locked the door, while Joe was unconscious outside.
The woman was found at 3 a.m. Christmas morning after another resident of the apartment went outside to smoke a cigarette. He brought Joe inside and laid her on the floor of the living room.
None of the apartment's residents saw Joe conscious during the time they found her, according to Flagstaff Police.
Seumptewa has a long criminal history that consists of multiple assault charges, prescription drug possession and an aggravated DUI.
He spent one year in prison for an aggravated assault in 2011 and more than two years for a 2013 conviction for unlawful use of transportation and aggravated DUI.
This is the fifth recorded murder this year in Flagstaff. Police recorded zero homicides in 2016.
Be the first to know
Get local news delivered to your inbox!