Even second- and third-graders can help others in their times of need.
This was the message Kathy Marron hoped to communicate to her art students at Thomas Elementary School as they began creating "Helping Houses" to raise money for victims of the California wildfires who lost their homes.
So far, the students have created more than 100 of these paper house magnets that can be purchased with a donation at the school or district offices. All donations will be sent to the American Cross and the California Community Foundation's Wildfire Relief Fund.
"I was moved by the television and radio coverage of the plight of the people in California losing their homes," Marron said. "I wanted to help out and I'm always looking for ways to teach the children they have the power, even though they are young, to help other people."
The project ties into the schoolwide effort to help people and to make the world a better place and was partly inspired by local author Linda Kranz's book "Only One You," which reminds readers that everyone has the potential to improve the world around them. Earlier this month, the book inspired its own project when each of Marron's students – kindergarten through fifth grade – contributed to an art installation by painting rocks to match the book's main character, a fish named Adri.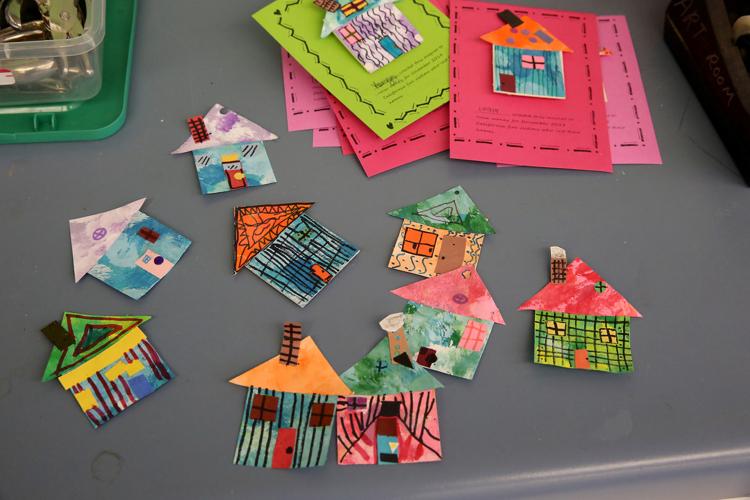 Marron credits the house magnet idea to Cassie Stephens, an art teacher from Nashville, Tenn. who shares her project ideas with other art teachers through her blog. This online collaboration between art teachers is an advantage for students and teachers throughout the country, Marron said.
"When a good project comes your way, you want to share it because it benefits the kids," she said of the collaboration.
Thomas Elementary is a member of the No Excuses University System of Schools, a program that asks schools to support at least one local or national cause annually. Achieving this goal has not been difficult, though, because the students have a desire to help others.
"Children are naturally compassionate. They love to help," Marron said. "When I approached some of my second- and third-grade classes with the Helping Houses project, they enthusiastically agreed to participate, and wanted to make as many house magnets as they could."
Jovani Ramirez, 7, and Aurivella Munoz, 6, are two of Marron's second-graders who participated in the creation of these Helping Houses. They enjoyed creating this project and are passionate about the cause and eager to share with anyone who asks about it. Like other students, the two have a desire to help wildfire victims who lost everything, even beloved pets.
"We are trying to save people's lives," Jovani said. "We are going to make money for people who lost their homes, puppies, everything."
Jovani has made three Helping Houses using vibrant colors like red, his favorite. He said the red door of one of his magnets matched that of his family's house.
You have free articles remaining.
Register for more free articles
Stay logged in to skip the surveys
Aurivella said these houses are important in ensuring the victims have appropriate shelter.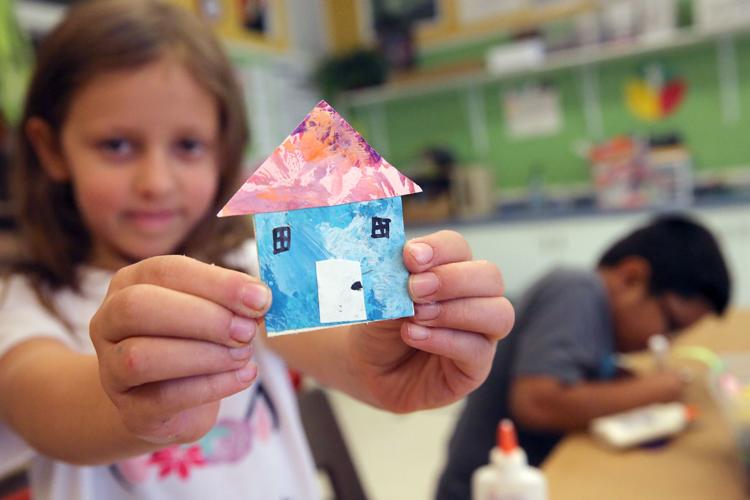 "We don't want them to get hurt, like in a storm," she said as she adorned one of her houses with hearts. "When I heard these people didn't have houses, I was a little sad…I wanted to make hearts for them to make them feel better."
These students do not want to provide for just wildfire victims, though -- they hope to make careers of helping others. Jovani wants to be a police officer when he grows up, while Aurivella wants to be a veterinarian.
Early in the school year, Marron's classes painted the various shapes that now form the houses. The students have the creative freedom to decorate the various components, glue them together and add any other desired elements – including windows, doors and chimneys – before reinforcing the backsides of the houses and attaching magnets.
The project is particularly relevant because it encourages the students to think of others while still meeting the educational standards of their art class, which include working collaboratively and learning the fundamentals of art, design and visual communication. If enough magnets are sold, Marron hopes to expand the project to other grade levels.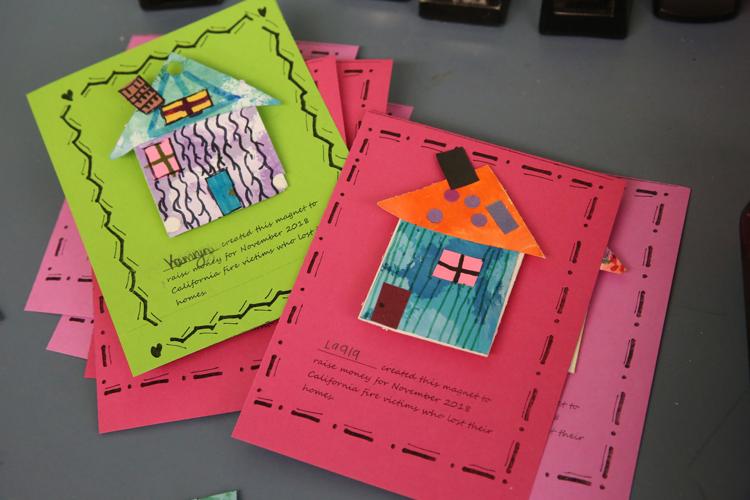 Principal Ginni Biggs said the students are learning the potential of art through this project. To the students, the mission behind the project is as important as the creations themselves.
"It's about recognizing they made a work of art and knowing that someone wants something they made. [It teaches them] the power of art and sharing it," Biggs said. "[Marron] does such a nice job of inspiring students to be their best selves and to do something greater than themselves."
This altruistic attitude is not just important for students, but also for the whole community this holiday season.
"At this time of year, it's so easy to get caught up with yourself," Marron said. "We're hoping that when people see [Helping Houses] on their refrigerator, they are reminded that they are making the world a better place by donating to the people in California."
Aurivella added that the magnets would make good presents for Christmas or upcoming birthdays, like her own.
Although the school is the only current venue for these magnets, faculty members are actively seeking out additional places to display them. Businesses interested in helping with this project can contact Thomas Elementary for more information.