You'll no doubt recall the children's fable, the Island of Misfit Toys, where flawed discards destined to be detritus are exiled, and it takes a special touch by a loving hand to reclaim their innate value before the obligatory happily-ever-after denouement.
On Saturday, the Joe C. Montoya Community Center transformed into the Oasis of Broken Stuff, sort of a triage center for all manner of faulty small appliances, frayed textiles, shorted-out lamps seeking re-illumination and vacuum cleaners wanting the power to suck (in the good and literal sense) once more.
The event was Flagstaff's periodic public effort to promote sustainability, the Fix-It Clinic, which, as its name implies, provides a venue for townsfolk to bring in their household goods moldering in the garage in hopes of making them useful again.
An armada of self-identified "gadgeteers," skilled local women and men who throw around terms like "thingamajig" and "doohickey" unironically, was enlisted by Maggie Twomey, the city's public works sustainability coordinator, to restore people's stuff to good-as-new status and keep them out of the landfill.
Call it a refuge for rescued refuse.
Tables encircled the community room, volunteers sitting with tool kits at the ready. Up front was Ward Davis, veteran of all 14 Fix-It Clinics, wielding a screwdriver and waiting for his first project. "Most people don't have the skills or the tools," he said, "but they know they shouldn't be throwing it away. It's not just the money; it's the waste of materials. There is a subset of the population who understands it. Wish we could get more."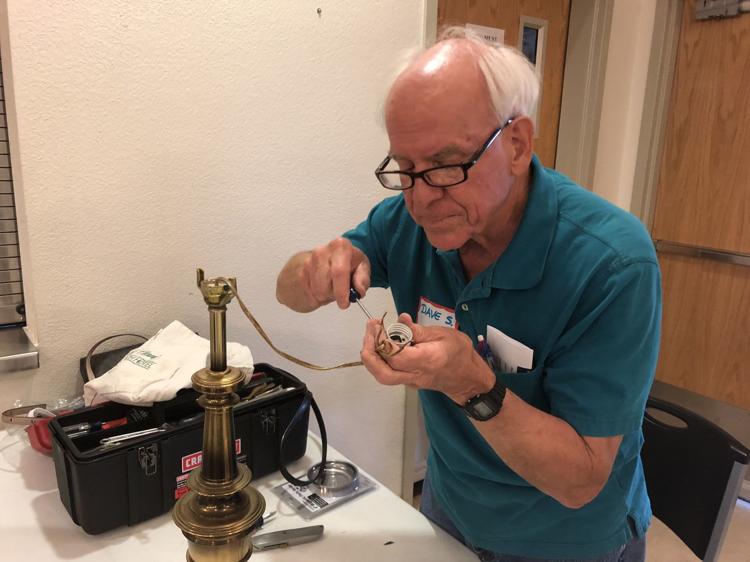 Once the doors opened, the tinkering began in earnest. Local resident Robert Blake hefted a queen-sized air mattress with a rip at the seam over to handyman Jake Tiegs. Brandishing an iron, Raquel Rotnes plopped down across from volunteer Nelson Hochberg and said, lugubriously, "It lights up but it doesn't heat."
And volunteer Dave Shaffer, astronomer by trade but fix-it maven by passion, couldn't wait for someone to approach. He trolled the lobby and spotted octogenarian Virginia Mounts lugging a heavy satchel with a two-foot brass lamp sticking out. He escorted her to his work station, chatting her up as she hoisted the lamp onto the table with a definitive thud.
"It doesn't work," she said.
Shaffer removed his glasses, peered in.
Diagnosis: "Oh, that switch is no good. Try turning that switch."
"We just happen to have all kinds of switches in our magic kit," he said, pointing to a table replete with spare parts.
"Wonderful," she said, pushing back her visor and craning her neck to see Shaffer rummaging through a plastic container of switches.
"First thing we do, let's take the harp off," he said, meaning the bowed metal component to which the lamp shade attaches.
"Oh, that's what that is called?" she asked.
Schaffer nodded. He said he likes to take people step-by-step through the fixing process, in hopes they may learn to make such repairs themselves.
"Now," he resumed, "there's a shaft there and this (wire) is supposed to thread on there, which it looks like it quit doing a long time ago."
"I'll say. It's about 40 years old. It was my mother's."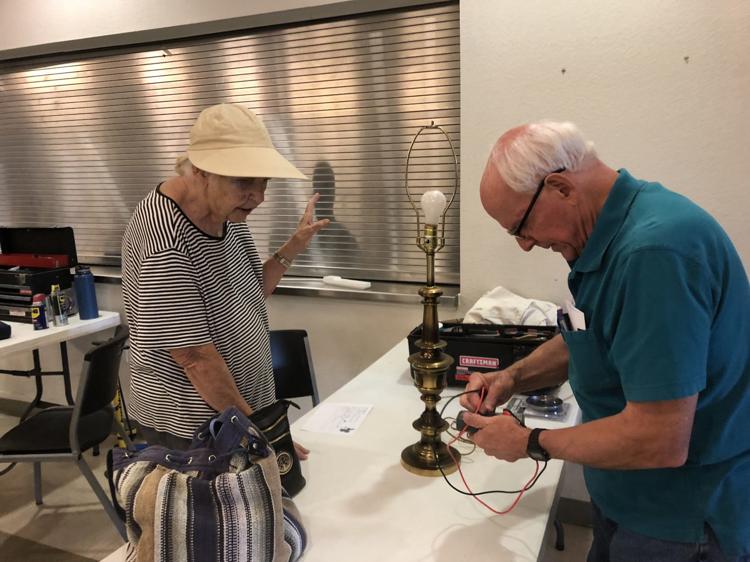 "So, we're going to unhook the old switch and put a new one in. If it doesn't fit, you may have to go to Home Depot, but these things are pretty standard."
You have free articles remaining.
Shaffer exhumed a new switch from its plastic packaging.
"Virginia, do you care if it's a push-button rather than a turn switch?"
"I don't care, so long as it works."
Delving deeper into his "magic kit," Shaffer found another turn switch, after all. He proceeded — silently this time, eyes focused on the task at hand — to remove the casing and extract the two wires. Mounts, an ebullient sort, filled in the conversational lull.
"It's amazing there aren't repair people around anymore," she mused. "I'm old enough to remember all the small appliance places, Sunbeam and GE, had their own repair shops. Now, they make things that stop working too soon.
"It's this throwaway society. My mother had a Sunbeam stainless steel drip coffee pot, and it was from the '30s. She was still using it in the '80s, then she decided she needed to be 'modern.' In six months, she bought two of new coffee (brewers). Piece of junk. She had to get the old one out to make a pot of coffee."
Shaffer grunted assent. He was working diligently now. When he started to replace the base, he noticed the new one's diameter was too large for the opening.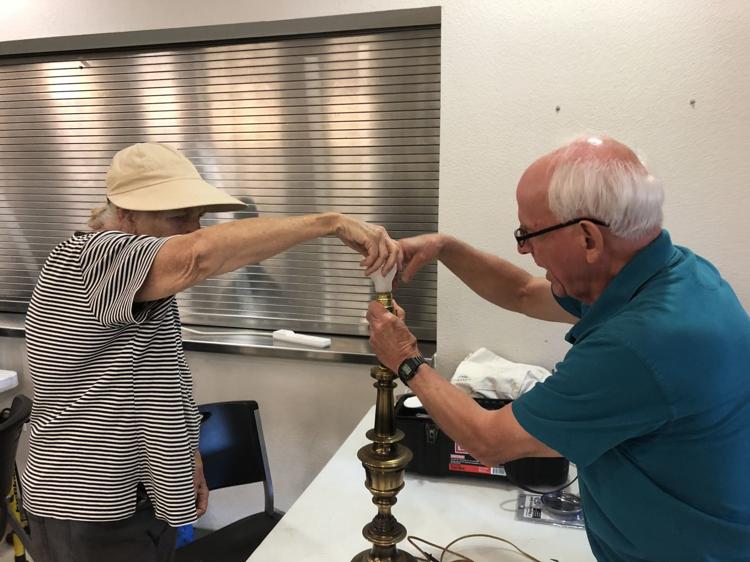 "No, it's not the right size," he cried, extending that sibilant last word.
That exclamation prompted help from volunteer Bill Schmelzer.
"Wait, you can use the old base with the new switch," Schmelzer said.
"You're right, why'd I have to take that apart? That's why it takes two of us, Virginia."
In minutes, Shaffer had the wires attached, the housing back in place. He asked Mounts if she had a bulb, and she rifled through her purse before handing one to him.
She did so, deliberately, perhaps fretting a short. But Shaffer reminded her the lamp was not plugged in yet. He pointed to a power strip, and she wiggled the plug in.
"Now comes the 'Smoke Test,'" Shaffer said, smiling.
Together, he and Mounts turn the switch.
Illumination. And not a wisp of smoke.
She thanked him profusely, put the lamp back in her satchel and shook Shaffer's hand before heading out to catch the bus.
Shaffer looked at his watch.
"Took about 20 minutes," he said.