Raindrops spotted the parking lot Wednesday as the hearse carrying Flagstaff Police Department officer Daniel Beckwith's remains parked outside of the Church of the Nazarene.
The Flagstaff Police Department blocked off traffic to allow a procession to travel from the Norvel Owens Mortuary to the church for the service. Dozens of civilians and police vehicles made up the procession. Beckwith died from an apparent suicide March 12.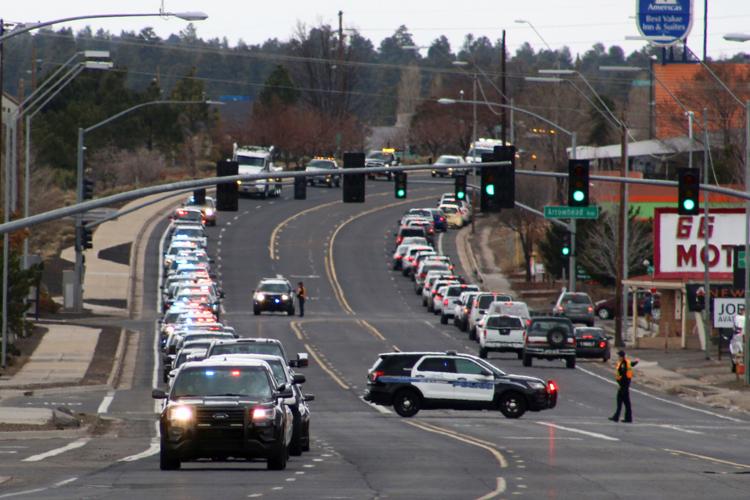 Many agencies were in attendance, including the Paradise Valley, Chandler, Sedona and Clarkdale Police Departments and federal officers from agencies like the United States Forest Service and Homeland Security.
A line of more than 100 officers in uniforms stood saluting in two lines, bordering the walk to the church. The sound of bagpipes being played echoed through the trees and the church as the procession entered the building.
Inside the church, photos in a slideshow depicted Beckwith with a wife and their two pet dogs posing among the Flagstaff forests. Other photographs showed his love for snorkeling, hiking and the outdoors, or showed the 29-year-old out with his friends.
Once the service began, officers and friends of Beckwith gave glimpses into how the officer treated others.
Pat Condon, Flagstaff police officer, said he knew Beckwith from their time as officers. Condon said his first impression of Beckwith — or as officers called him, "Becky" — was that he would be good for the agency.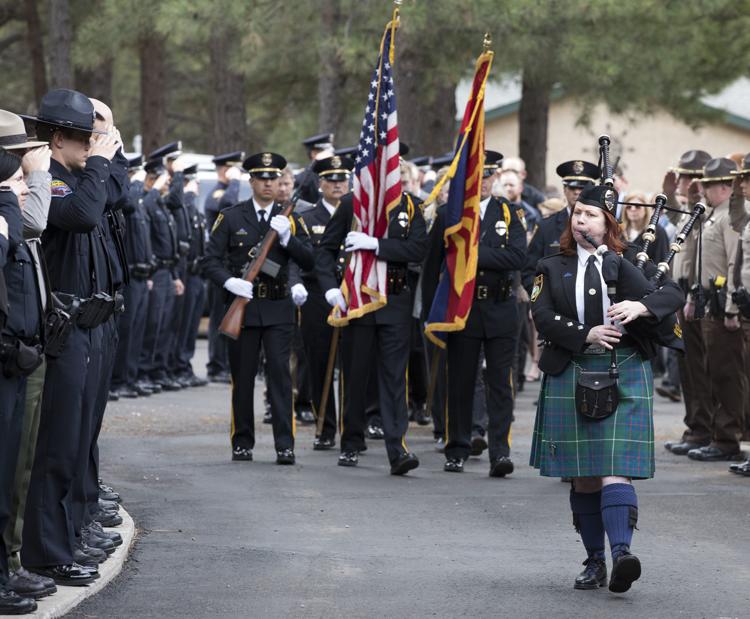 Condon retold the story of an incident that Beckwith responded to that included a video that went viral from the department, when Beckwith tackled a man who was on bath salts in the woods in 2016. Beckwith sustained a serious injury on his knee from that altercation.
"I went to the hospital, and there was little Becky sitting in his hospital bed with his Becky smile full of Becky power," Condon said. "His family comes up there. He acts like nothing even hurts. When I look at his knee — and when I say I look at his knee, I could see the inside of his knee -- he treated it like it was no other day. This was a very physical violent confrontation he was involved in. He was a warrior that day."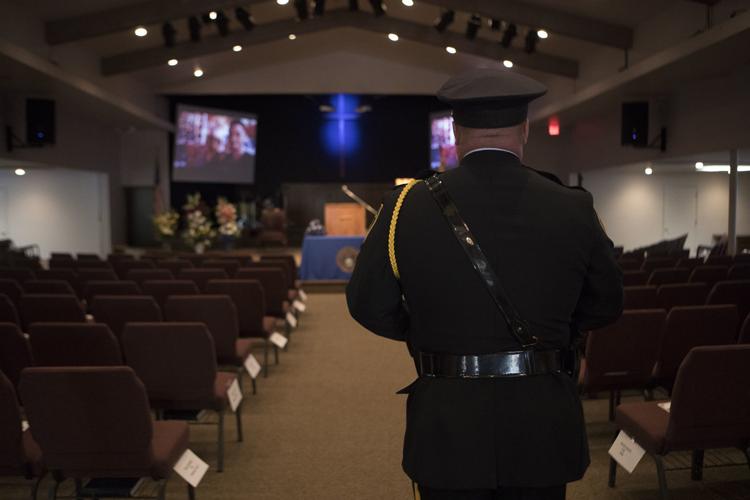 Condon told the crowd of several hundred people that he was with Beckwith the entire night when Beckwith fired in the officer-involved shooting that killed John Hamilton in February 2018. Condon said that nights like Beckwith's are difficult due to the formal investigations and what he called "second guessing."
Officers in the incident were cleared of charges by the Coconino County Attorney's Office. Hamilton had been waving a firearm around at police officers, and did not comply with multiple orders.
Beckwith was put on leave after that shooting, soon returned and then was placed on paid leave again in June 2018. He was found dead in his Mesa home by the Mesa Police Department last week, while still on paid leave.
And as Condon spoke about the night, his voice wavered. He gripped the podium. On that night, Condon said he was there to help Beckwith through the night, but Beckwith was still concerned for Condon's well-being.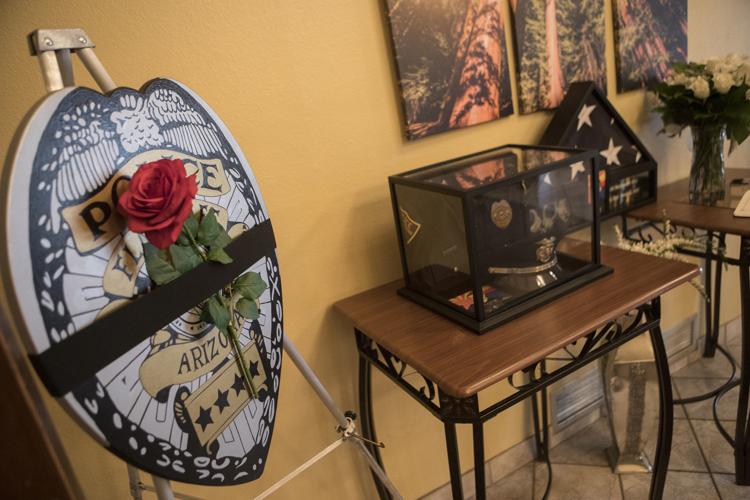 "It may seem like something very small, very insignificant, but that meant a lot to me," Condon said. "That was the worst night of his life. That was the most critical thing he encountered, and he still had the time to think about me."
Other officers shared stories of how Beckwith had spent time with their families, like his friend Dan Pawlicki, who met Beckwith at the police academy and compared him to Captain America.
Many people in Beckwith's Edward Squad stood before the crowd, and some members spoke. Melanie Montano, an officer of the department's Edward Squad, paused to compose herself during her speech. To her, Beckwith was a part of her family.
"We were there for each other's victories, achievements, hardships and life-changing moments," Montano said. "He will not be forgotten, and he will always be loved."