If someone told Staci Whitman 17 years ago that she would one day compete in the six biggest marathons around the world, she wouldn't have believed it.
In 2002, she was 31 years old and just starting her fitness journey. Whitman's mother was having heart issues at the time, and the two decided to join a gym to get healthy together.
"I remember getting on a step machine that day and thinking I was going to die after about three minutes," she said in an e-mail.
But Whitman was committed, and began taking a weight training class at the gym, now Summit Health and Fitness. In the process, she became friends with the instructor and some other class-goers. She started running with the instructor, who encouraged her to sign up for her first 10k race – Northland Hospice's "Run for Your Life."
"That race was so hard for me, but I finished and was hooked!" Whitman said of the 6.3 miles. "I loved the sense of accomplishment and the feeling that I could persevere and keep going. I felt strong and capable. I also really liked the community of runners -- so encouraging to each other."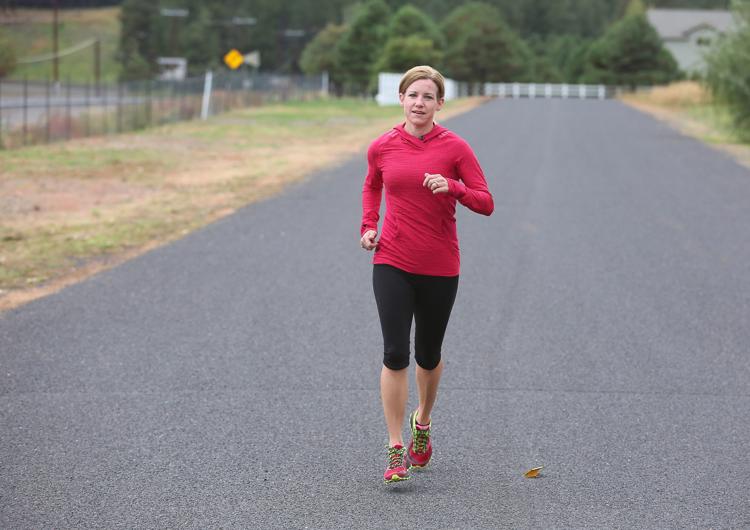 Now 48 years old, Whitman lives in the Cheshire neighborhood with her husband and sons. She works full time as a physical therapist at Flagstaff Medical Center and part time as a strength training instructor at Summit Health. She is also one of around 4,000 people in the world to finish all six World Marathon Majors – a series of the largest and most renowned marathons around the world put on by the Abbott Company.
Whitman finished her first marathon relatively recently. After being surprised at her finishing time for the 26.2-mile race at the Tucson Marathon in 2012 and then the Carlsbad Marathon in 2013, she decided to try and qualify for the Boston Marathon.
Runners can qualify to compete in the Boston Marathon only if they run another official marathon under a selected amount of time for their age group. Whitman chose to make the Phoenix Marathon in 2014 her Boston Qualifier, and qualified with three minutes to spare at a time of 3 hours, 42 minutes. In April 2015 Whitman ran the Boston Marathon and "loved every minute of it."
Whitman said she loves running because of the meditative peace of mind.
"When you are on the quiet trail or even in a crowd of 40,000 other runners, it's just you and your body and mind going the distance," she said.
It was at the Boston Marathon that Whitman heard chatter about the Abbott World Marathon Majors and looked into it. She decided finishing the five other worldwide marathons would be her next goal.
"I have learned that having a goal is the only way to continue to strive for excellence in anything, especially for fitness," she said.
After the Boston Marathon, Whitman ran the Tokyo Marathon, followed by marathons in New York, London and Chicago.
On Sept. 16, Whitman finished her last of the six World Marathon Majors in Berlin with a time of 3:43. She was awarded with a Six Star Finisher Certificate and medal featuring a plaque from each race. But for Whitman, the memories are worth more than the medals.
Register for more free articles.
Stay logged in to skip the surveys.
A highlight of her time in Berlin was witnessing Eliud Kipchoge beat the world record time for finishing a marathon at 2:01:39 (a pace of 4 minutes, 38 seconds per mile). Whitman was also thrilled to meet Tatyana McFadden, the U.S. Paralympian that has won the wheelchair division of the New York Marathon for several years.
Visiting different countries for marathons has been a plus for Whitman, who loves traveling and new experiences.
"You get to see the cities where you run in a different way than most tourists," Whitman said. "There are usually spectators throughout the whole route on these big marathons, so it is very entertaining to see the signs they bring and the shoutouts they share. For example in Tokyo, the people shouted 'ganbatte' throughout to the runners, which roughly means 'go, do your best!'"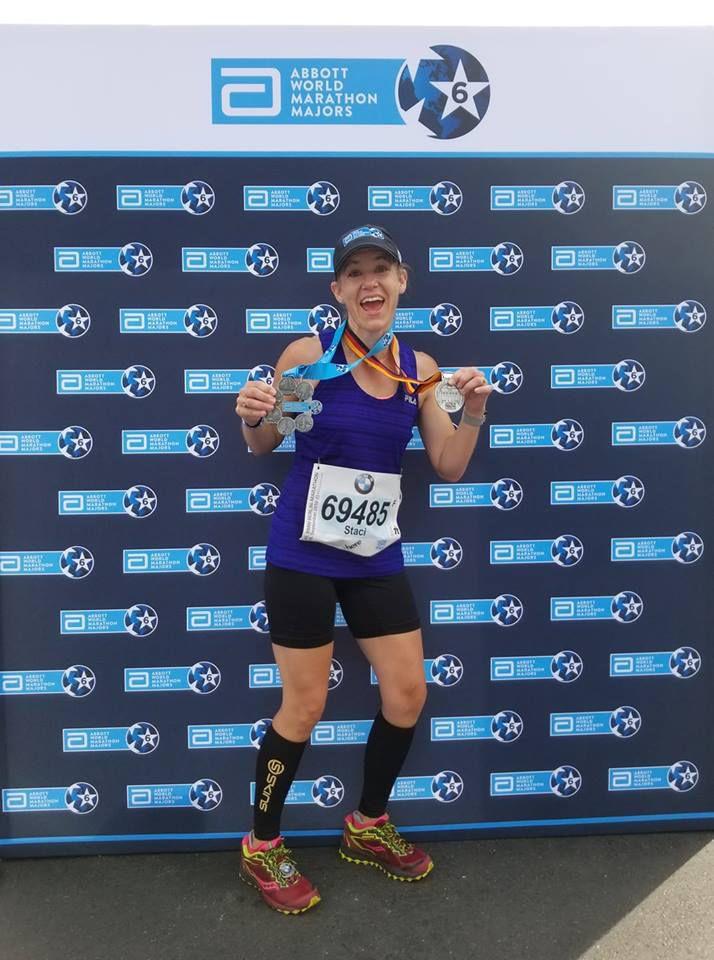 There are also some drawbacks to racing internationally. "Planning to run in an international race has some tricky challenges like making sure you carry your race shoes with you so they don't get lost if your luggage does and making sure you don't plan too much sightseeing and tire yourself out before the race," she said.
Whitman also noted jet lag as an issue and being constantly on edge about the foreign food she eats so she doesn't get stomach issues before the races.
Brian Schmitz, who works with Whitman at Summit, gives her accolades not only for her accomplishments in the running field, but also in the medical field.
"She has advocated for physical therapists in the role of wound management and is one of 2,503 certified wound specialists in the United States," he said, adding that Staci has served three terms as secretary of the Arizona Physical Therapy Association.
In Whitman's role of wound care specialist at the Flagstaff Medical Center, she has seen a variety of patients that struggle with the one thing that she loves the most.
"Many of the patients I see on a daily basis have difficulty even getting out of bed or walking a few feet," she said. "I have met so many people who would love to have the mobility and strength that most of us take for granted." Whitman said she sometimes has specific patients she has worked with in mind while running.
So what is the next step for goal-oriented Whitman, who has already achieved one of the biggest feats for marathon runners?
"I am signed up to go run a marathon in Antarctica in 2020 and would like to do one in Hawaii as well," she said.
Although Whitman loves traveling, her favorite place to run is still home.
"I will also continue to take part in the Flagstaff Summer Running Series. I love our local running community and the fact that the entrance fee for the races goes to help local charities and schools. ... There are so many great runners in this town!"