The Christmas season reflects the spirit of giving, with a spotlight on two of the biggest organizations in northern Arizona: Arizona Community Foundation and United Way of Northern Arizona.
Arizona Community Foundation
Since 1978, the Arizona Community Foundation (ACF) of Flagstaff has been helping donors fulfill their philanthropic goals and allocating the funds for charitable purposes in the community.
Individuals, families, businesses and nonprofits can donate to ACF, which then distributes the money to local health care organizations, educational services, social services and more.
Pats Shriver, the regional director of ACF of Flagstaff, explained that there are currently 112 donors that are working with them, which have helped them put $32 million total into the community.
"We are the largest provider of grants through private monies in the Flagstaff area," Shriver said. "Along with our external funding partners, we gave out over $1.77 million in grants last year, and almost the same amount in individual grants from donors and scholarships."
The Northern Arizona Health Foundation, which collaborates with ACF, raised $704,910 this year for northern Arizona nonprofits, with the purpose of advancing access to quality health care. Together, NAH and ACF raised $903,010, which benefited over 21 area community health organizations such as the Poore Medical Center, Planned Parenthood and the Hozhoni Foundation.
Following NAH, the Forest Highlands Foundation raised $200,800 and Capstone Health Fund raised $103,500 through ACF.
After health care, the second largest area of funding went to educational resources, which received $409,407. The Arboretum, Flagstaff Symphony Orchestra and Lowell Observatory are all organizations that received grants through ACF in order to enhance their educational programs.
The Flagstaff Symphony Orchestra used the grants for their Link Up program, said FSO executive director Cheri Ossenfort. The Link Up program teaches third-, fourth- and fifth-grade students all over northern Arizona how to read music and play the recorder.
"The program culminates with the FSO performing for all these kids (over 3,600 of them!) in three concerts at Ardrey Memorial Auditorium. The kids play along with the orchestra on pre-practiced pieces, sing to learned songs, and even dance at their seats," Ossenfort said.
The Link Up program, developed by Carnegie Hall's Weill Music Institute, is a way to keep music instruction in the schools, plus give the children the experience of attending a concert in a concert hall, Ossenfort added.
Social service organizations received $184,393 of the ACF grants, which went to 20 local organizations including Flagstaff Family Food Center, Quality Connections and Catholic Charities.
The $20,000 grant Catholic Charities received was used to further their mission to aid homeless individuals in northern Arizona.
"Catholic Charities Community Services works with other agencies, including Flagstaff Shelter Services, to ensure individuals experiencing homelessness are connected to mental health treatment, substance abuse treatment and counseling, and of course, housing," said director of marketing Jean Christofferson.
In 2018, Catholic Charities housed 406 families. Last winter, the organization helped transition 22 families to motels during harsh weather when shelters weren't an option due to overcrowding or other reasons.
"Our needs in [helping the homeless] continue to grow as home prices rise; we continue to seek help from the community with monetary gifts, in-kind donations and volunteers," said Sandi Flores, the senior programs director.
A total of 6,591 volunteers came together to assist with the local Catholic Charities this year.
Victim services received $74,200 of ACF grants, which went to Housing Solutions of Northern Arizona, Northland Family Help Center and Victim Witness Services.
Housing Solutions of Northern Arizona's chief executive officer Devonna McLaughlin explained that the funding they get from ACF supports their Sharon Manor program, which provides transitional housing to homeless victims of domestic violence.
"Sharon Manor residents receive wrap-around case management services, enabling residents to identify and achieve personal goals for self-sufficiency," explained McLaughlin. "Adults in the program spend at least 20 hours weekly working, continuing education or volunteering."
ACF allocated $52,067 of grants to youth funds, including Big Brothers and Big Sisters, Girls on the Run and the Museum of Northern Arizona.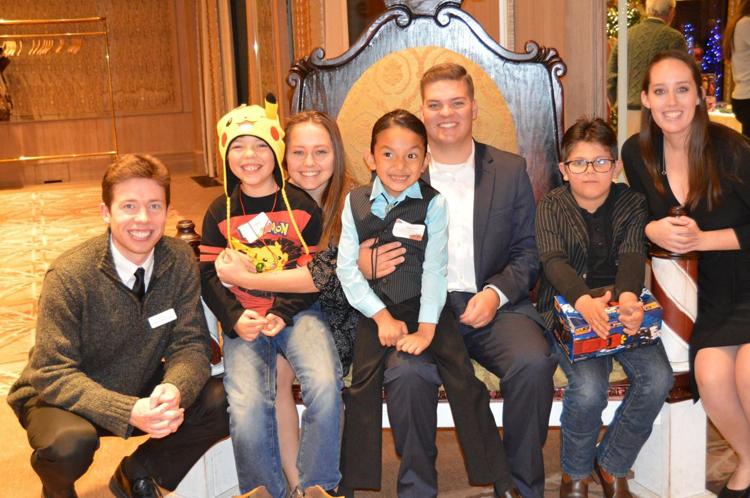 Rommy Sekhon, grant writer for Big Brothers Big Sisters of Flagstaff, explained that part of the ACF grants they get are used to give children in the program who face adversity memorable holiday experiences that they might not have otherwise.
"Every year, the holiday season is an incredible time to witness the generosity and support from our northern Arizona community," he said. "It is always a festive and fun-filled two months of youth centered events in which we create holiday arts and crafts, host a holiday dinner, and participate in the many local events in town."
Sekhon said that through donations, the "Bigs and Littles" get to ride the Polar Express Charity Train and get tickets to the symphony, the Nutcracker performance and Momentum Aerial's showcase.
"Last year, we served a total of 611 Bigs and Littles, and we continue to make meaningful, monitored matches that promote our Littles' confidence, competence and caring," Sekhon added.
Gwen Groth, the regional philanthropic coordinator of ACF, explained that "it is pretty incredible to be able to see the power of collaboration with our partners make such an impactful difference."
United Way of Northern Arizona
United Way of Northern Arizona (UWNA) has been mobilizing individuals and organizations to create positive change in education, income and health in the community since 1968. Of UWNA's $2.2 million in revenue, $1.6 million is raised by community campaigns. Local government awards, grants and foundations also contribute. A total of 94 percent of donations are workplace campaigns and corporate gifts.
In 2018, UWNA directed 90 percent of funds back into the community with grants to over 30 of its agency partners such as the American Red Cross, DNA Legal People's Services, The Literary Center and Habitat for Humanity.
UWNA also spends funds on its in-house programs: Kindercamp, Dolly Parton Imagination Library, LaunchFlagstaff, Volunteer Income Tax Assistance (VITA) and Crisis Response.
Kindercamp, the Dolly Parton Imagination Library and LaunchFlagstaff programs help promote UWNA's mission of having children start with a strong foundation in education. Education will lead to economic self-sufficiency down the line, which then leads to a happier and healthier life for individuals and creates thriving communities.
Over the summer, Kindercamp prepared 280 children for kindergarten that had little or no preschool experience in locations throughout Flagstaff, Williams, Winslow, Page and Pinetop.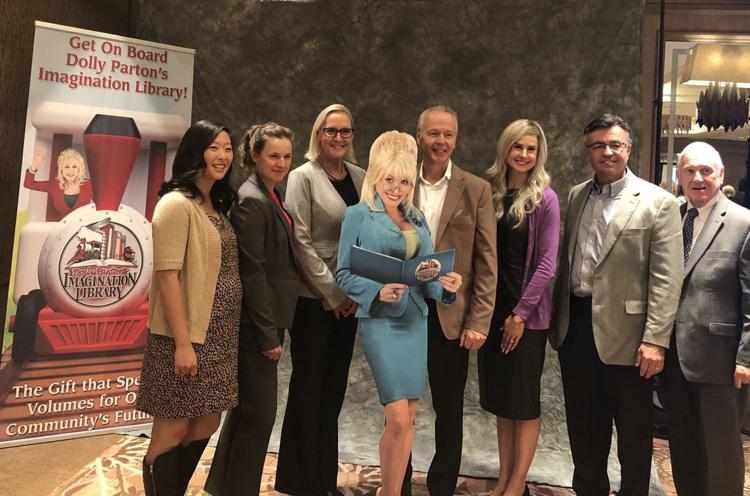 The Dolly Parton Imagination Library allowed 1,012 children under 5 years old to receive 12,207 free books. UWNA discovered that when families read to children, they learn crucial auditory skills. Children who excel in school educationally, socially and emotionally typically have these early literacy skills.
LaunchFlagstaff works to bring education, business and community leaders together in order to create a "culture of world-class education" for children of all ages, according to its official website.
"Flagstaff is program rich and infrastructure poor," according to Launchflagstaff.org. "Though there are many good programs and organizations working hard to solve local education problems, this means they are competing for the same pool of resources, creating mixed results. "The data shows that this lack of infrastructure has created opportunity gaps and disparities that prevent our kids from reaching their full potential."
So far there is a 13 percent return on investment on high quality programs for disadvantaged children from birth to age 5.
In the form of income assistance, United Way created VITA to offer free tax help to low or moderate income households, persons with disabilities and limited English speakers. VITA's 113 volunteers have helped 3,639 people file, earning a total of $4.4 million in refunds.
United Way's dedication to helping community members in need with their Crisis Response program brings the company's mission full circle. Over 50 volunteers are trained to help those in times of crisis fulfill basic needs as they recover financially and emotionally from natural disasters.
Many Timberline residents were affected in the July north Schultz flood, and UWNA volunteers assisted them with plowing driveways and protecting their homes with sandbags.
UWNA president and CEO Steve Peru has been satisfied with United Way's success, but also looks at ways to improve.
"During the past year, we continued to see community needs exceeding the capacity of most nonprofits to adequately respond," he said.
For the year ahead, Peru said UWNA will be working to finalize a new in-depth strategic planning effort that will provide a direction for the organization for the next two to five years.
"The board and staff are anxious and eager to work through the strategic planning process to determine what our future focus of our organization may be. As an organization, we too need to evolve in order to keep pace with the changes communities in northern Arizona are facing," Peru said.
Peru shared sentiments with ACF's Groth that the holidays are a time when spikes are seen in the amount of donations and giving that they receive. For UWNA, Peru noticed more efforts in "adopt-a-family-type experiences" that are facilitated by social service organizations.
"Christmas and giving go hand in hand – not that the community only gives during the holidays, but giving during the holidays is a special time for the entire family and community," Peru said.