Throughout December, Flagstaff Arts and Leadership Academy students have been raising funds to help victims of the Paradise, California wildfire – including dance instructor Cori Wall Mee's family – rebuild their beloved town.
On Nov. 8, a major wildfire named the Camp Fire engulfed Paradise, a town not unlike Flagstaff with its pine trees and dry climate, destroying nearly everything in its path and forcing nearly 27,000 residents to evacuate and leave everything behind.
Wall Mee, a fourth-generation native of Paradise, tried to keep the reality of her family's situation away from school as the wildfire tore through her hometown; however, her students and colleagues quickly discovered the truth and leapt into action.
Student members of FALA's National Honor Society for Dance Arts (NHSDA) approached Robert Corbin, dance instructor and Wall Mee's mentor, eager to help their teacher.
"Cori's always been there for us as a teacher every day, putting all of her effort in to help us grow, so we wanted to help her," explained Lauren Foster, 17.
"Cori's been here for about a year. She's our family, too, so we wanted to help out," Corbin added.
Starting at FALA's annual Winter Festival and Art Market Dec. 1, students began raising funds to send to Paradise Strong, a nonprofit founded by the Rotary Club of Paradise, with which Wall Mee's family has been involved for nearly 60 years. All of FALA's winter shows this month, including dance, theater and band, collected donations; art teachers even raffled their own works to raise money.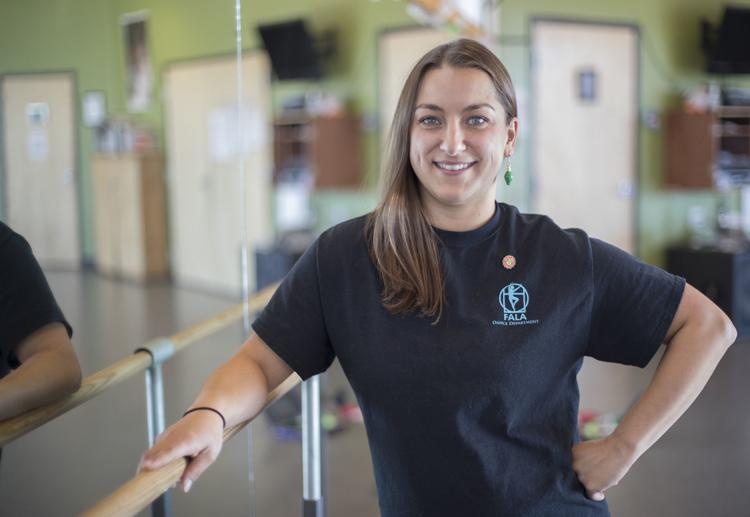 Community partners have been participating as well. Canyon Dance Academy collected donations at its recent performance of "A Christmas Carol" and Creative Sprits will host a fundraiser Friday, Jan. 18. The school itself plans to split upcoming fundraiser projects, including bake sales and movie nights, between Paradise and other recipients, such as the Coconino Humane Association and the general fund for a new dance floor. Corbin said the school will continue to accept donations for Paradise at any time.
"The initial shock of it all [made it] hard to know how to help," Wall Mee said. "We determined this was the best thing we could do from this distance."
You have free articles remaining.
Register for more free articles
Stay logged in to skip the surveys
So far, this collaborative effort has raised nearly $2,000.
Paradise Strong will use all donations to rebuild Paradise, especially the community centers that are so vital to the residents that call it home, Wall Mee said, including the recreation center, senior center, veterans hall and Boys & Girls Club. Individuals rebuilding their homes will not be funded by this organization.
Wall Mee's family played a significant role in the development of Paradise. Her great-grandmother, Virginia Cosgrove, helped to build the Paradise Ridge Senior Center while her grandparents, Fred and Joanne Cosgrove, helped build the Paradise Performing Arts Center and the Paradise Symphony.
Now Paradise is lost and the town must start over again.
"The whole town is gone," Wall Mee said. "When you look at an aerial view, only like seven structures are left standing."
Residents were allowed back into the town last Saturday, Wall Mee said. All her family homes – including her great grandparents' – were destroyed. The local mortuary, which her mother and aunt own and operate, was one of the few buildings left standing.
Wall Mee is hopeful, though, that the town will endure, due to generous contributions from empathetic communities like Flagstaff.
"Paradise will rebuild; a lot of people will stay," she said. "It's been amazing just how much support we've had out here. … The community is really pulling together to help what is happening and I really love that part of Flagstaff."
Cassidy Jarchow, 16, said her teacher's passion for her hometown is motivating students at FALA to continue to fundraise. Maayan Cohen, 16, added that FALA's NHSDA members are happy they can use their love for dance – and their instructor – to help the people of Paradise.