At Northern Arizona University's Dance Marathon held at the campus' Field House Saturday, college students sat and watched as 10 women, aged 56 to 84 and a half, tapped, twisted, spun and danced off their derrieres.
The Dancin' Grannies are old hats when it comes to performing.
The Flagstaff women's tap group started out in the mid-1990s at the Joe C. Montoya Community and Senior Center. Now, the Grannies practice twice weekly at the YMCA and perform at NAU halftime shows, at Movies at the Square, the Coconino County Fair, the Fourth of July parade, the Armed Forced Day parade and more.
The move to the YMCA two years ago was important because of the change in floor types, said Dancin' Grannies leader Cherie Hollett, 72.
"I don't think anyone's ever fallen at the Y, but if they did, it's a wooden floor, it's got a four-inch pad and it's a floating floor, so there's a give to it if we did fall," Hollett said.
The only time any of the Grannies have fallen, four members of the group concluded, was when one woman walked into her first practice wearing heeled tap shoes and was unbalanced.
While some of the Grannies, like Karen Briley-Balkan, 69, have always danced, others, like Mary Debold, 69, had little dance experience and were looking for an activity after they retired.
The new members practice some of the less intricate numbers with the rest of the group, and go home and watch Hollett's instructional DVDs for more independent practice.
"It's a dance group, it's not a dance class. We don't go in and break down basic steps and skills every day," Hollett said.
"We're all too old to take the time to work on skills," Donna Schwartz, 65, joked.
The only real requirement to join, besides being a woman over 50, is that "you have to be able to count to eight to tap dance," Briley-Balkan said. "We do have some people that don't hear the beat the same."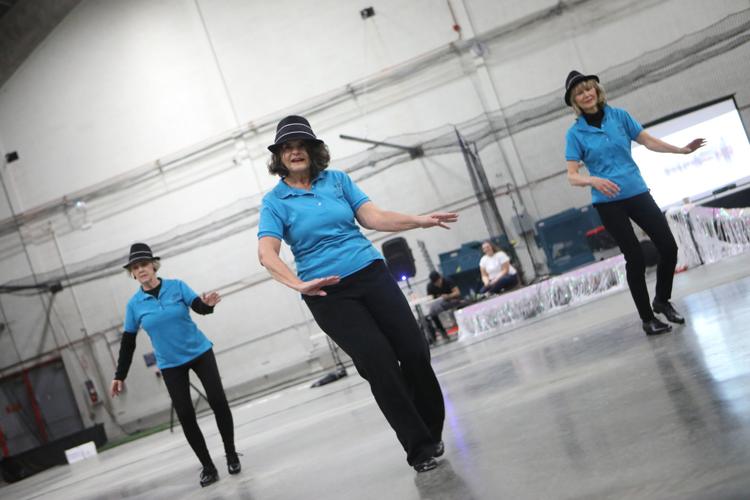 But perfection isn't the goal for the Dancin' Grannies, which is less intense than similar groups in Phoenix and Tucson.
"Everybody that performs at some time [will] make a mistake, forget a step, your mind wanders or whatever, but we don't care – we're not the Rockettes," Hollett said.
At NAU's dance marathon Saturday, which went from 2 p.m. to 2 a.m. in order to raise funds for Phoenix Children's Hospital, the Dancin' Grannies did eight dances in a row to eight different songs, with barely any breaks.
While all 10 grannies at the event performed in the majority of the dances, a few only had five or six Grannies. But Hollett insisted the Grannies that sat out of some songs didn't do so because of stamina issues.
"Some [Grannies] don't care for 'Uptown Funk,' and other songs, like 'Rockin' Robin,' are a little harder and [newer members] don't know them," Hollett said. "It's a choice. Nobody has to do a number they don't like or don't know or aren't comfortable with."
For the Grannies that perform in all the dances at the show, Hollett makes sure there are some slower numbers mixed in, so there aren't two harder songs back-to-back.
For example, "All that Jazz," where the Grannies donned fedoras and did the can-can, was sandwiched between "A Crazy Little Thing Called Love" and "YMCA," which had a little less steps.
Just a Number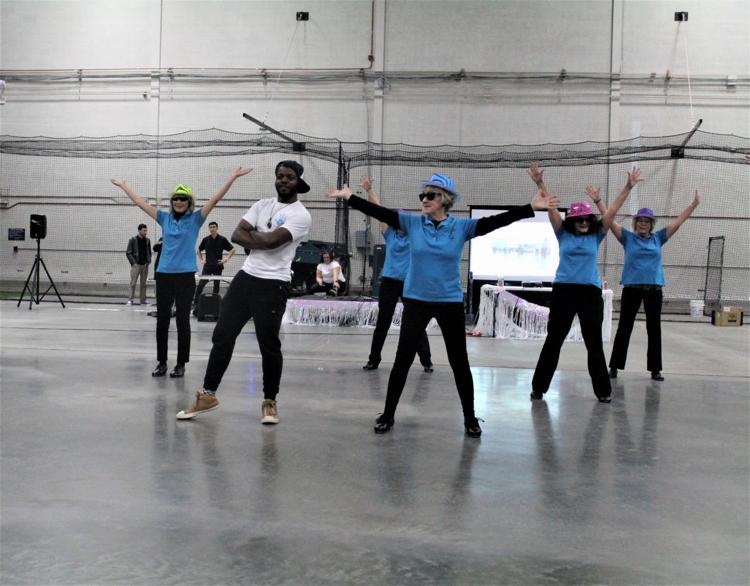 At the end of Saturday's show, after the "Uptown Funk" finale where the Dancin' Grannies grooved out in colorful hats and sunglasses, Hollett introduced all the Grannies and listed their ages.
"We share our ages at the end because younger people like to hear it," Hollett said. "But then when we go to assisted living, some of them like to hear our ages too because some of them might even be younger than us, but because of medical and health issues they can't be up there doing what we're doing."
For Schwartz, dancing has improved her physical abilities later in life.
"I was born with a clubbed foot. I had a lot of casts and surgeries and then afterward my doctor told me, 'once your incisions heal back, take tap for the rest of your life,' and I've never stopped," she said. "I joined Dancin' Grannies when I was 60 and I could not stand on my left foot for a count to do [a certain move] and now I can."
Hollett said that one group member was 76 when she had open-heart surgery, a knee replacement and a hip replacement.
"I swear you blinked and she was back in class. Probably just because she has danced and stayed in shape all her life," Hollett said.
And it's not just an increase in physical abilities that benefits those who dance and exercise later in life.
"[Dancin' Grannies] is not only good physically – it's good mentally," Hollett said. "You have to remember and learn steps and learn routines."
Besides dancing, the Grannies often see movies together, go bowling, go out for lunch and more.
"Can I get philosophical for a minute?" Briley-Balkan asked. "People our age feel very invisible. Like, if you go to the doctor, they just sort of dismiss you or your complaints and just say 'aw, that's old age.' And you find that people just don't pay as much attention to you when you get older. So I think this group is full of energy and we kind of dispel that myth. We're out there having fun."
Recently, Briley-Balkan was recognized as a Dancin' Granny when she was getting her hair cut and said it felt really good.
"We're not celebrities – we're not Beyoncé – but we do have fun and I think that as aging people it's really important that we're out there," she said.