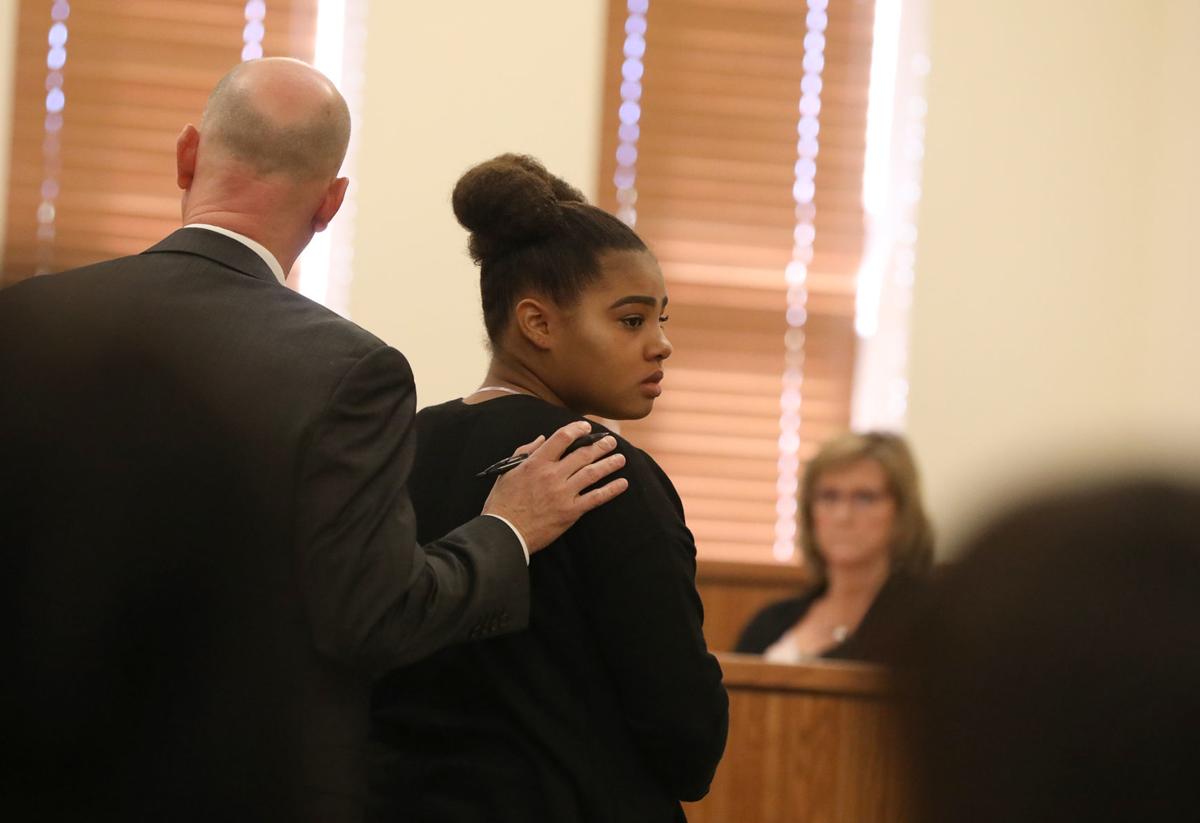 In 2017, four teens were accused of killing 23-year-old Jaron James.
On Thursday, all four of the people involved in beating Jaron James to death in a motel room at the L Motel have either pleaded or been found guilty by a jury and have received their sentence. The cases were handled separately by the Coconino County Superior Court, but the trauma left in the wake of the party at the L Motel has been the same.
The two found to be most at fault in the beating, Jayda Fortune, 19, and Mirelle Gorman, 18, were sentenced to four years in prison at two back-to-back hearings on Thursday. The previous two men who were also accused in the crime, Lawrence Sampson-Kahn and Kayson Russell, both accepted a plea deal for negligent homicide and were sentenced to three years of probation.
The four minors were tried as adults because of the serious nature of the crime, and the fact they were over 15 years old, Coconino County Attorney Bill Ring said.
"The victim is no less deceased just because the perpetrator is a youth," Ring said. "The youth is no less guilty than an adult whose conduct results in the death of the victim."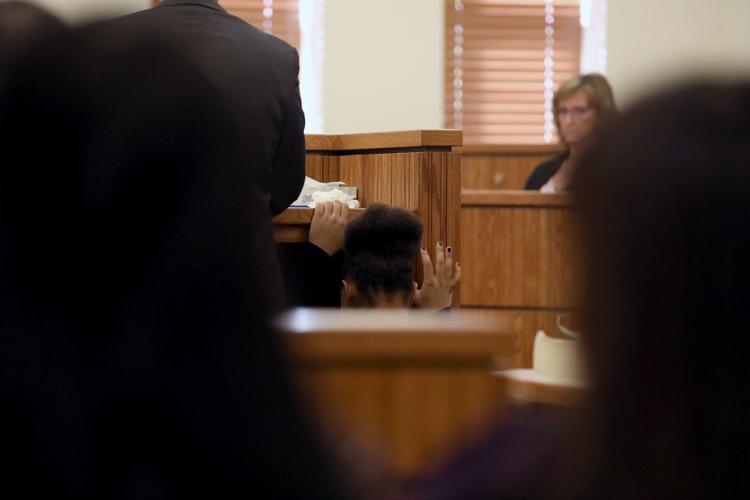 James' family attended both Thursday hearings, and have had to attend many hearings over the past few years in this case.
They shared their pain at the loss of their son, brother and grandson for the fourth sentencing hearing they have had to go through. During the first hearing, the family asked for a maximum penalty.
Gorman originally asked to be given probation after pleading guilty to manslaughter in August. Fortune, who was found guilty of manslaughter by a jury in June, and her attorney asked Judge Mark Moran to allow her to delay the start of her prison sentence by four months due to recently having a child. Moran didn't address Fortune's request, and asked both Fortune and Gorman to self-report to the jail at 5 p.m. on Thursday as opposed to being taken directly into custody from the courthouse.
Gregory Parzych, Fortune's attorney, said his client and her family were disappointed with the judge's decision to send his client to prison.
"Given her age and what occurred in this case, we felt probation was appropriate," Parzych said. "Obviously, Jayda and her family are disappointed with her being sentenced to prison."
When asked, James' family decline to comment on the case.
Back-to-back hearings
At her hearing, Fortune apologized for her actions.
"I'm sorry," Fortune said. "I didn't mean for him to die. … I'm sorry for [his family's] pain and their loss."
Fortune and Gorman were accused of beating James repeatedly for more than a minute, stopping for a short time, and returning to beat James a second time for a minute. Investigators later found James' blood on their clothes from the beating.
Fortune's attorney said she acted in self-defense during her trial, accusing James of sexually touched the two underage girls and saying he was being aggressive at the party. While witnesses testified during the trial to James's aggressive nature on the night of the party, no one confirmed seeing James sexually touch either woman.
When Moran spoke to the courtroom to inform Fortune of how long she would be in prison, he said the callous and violent nature of the crime outweighed any possibility of parole due to her age.
After Gorman and Fortune left the L Motel, James was left on the floor overnight. Witnesses reported seeing him breathing soon after the beating. However, by the time someone tried to wake him the next morning, his breathing had stopped and he was later declared dead.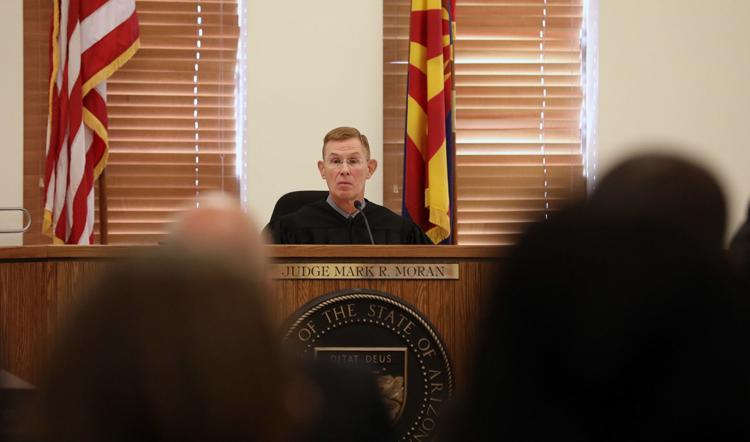 The Coconino County Medical Examiner found the beating resulted in bleeding in James' skull. The pressure on his brain from the blood caused James to fall into a coma and eventually die.
"I want to tell you anything short of prison would be a slap in the face to [James'] family," Moran said to Fortune. After hearing those words, Fortune and her family broke down in tears.
Moran continued to explain his reasoning, as Fortune's knees buckled behind the podium. She occasionally cried into her hands. After hearing she would head to prison, she turned back to look at her family and friends, who were also crying.
"Two big concerns from what the state argued: this victim was powerless, defenseless, inebriated to the point where he could not lift his hands," Moran said. He later criticized Fortune for her demeanor that night, citing a witness from the trial who described Fortune's demeanor after the beating as being in a good mood or even in a "party" mood.
Hours later during Gorman's hearing on Thursday, she underlined how her first stint in prison before being released had changed her outlook on life. But while she would offer her condolences to James' family at the hearing, she did not accept blame.
Gorman said she holds "nobody" responsible for her current legal situation, according to a presentence report.
Prosecutor Ammon Barker reminded the courtroom that Gorman returned to the scene of the crime after the beating, but said it was not to check on James.
"Gorman returned to the hotel room to get her cell phone charger," Barker said. "She still had blood on her clothes from where the victim laid lifeless on the floor."
Ryan Stevens, Gorman's attorney, said his client has grown since her charges in this case and her testimony reflected that.
"We respect it of course, Mirelle is a young person who can still have a bright future and do good. She's proven that over the last two years," Stevens said. "The tragic level of this case is understandable given the circumstances."
After sentencing her for four years, Moran explained the reason for his sentence, despite the presentence report's recommendation to sentence her to three years of probation.
"The only good that comes out of this is that we know you will eventually return to the community, to your family and your child; that is something you should put great weight on, and look forward to. The reason why you're going to prison is because [James'] family cannot say the same thing," Moran said.
Be the first to know
Get local news delivered to your inbox!