When the Grand Canyon Deer Farm opened in Williams on Aug. 15, 1969, locals and visitors got the unique opportunity to mingle not only with deer, but sheep, peacocks, pheasants, guinea fowl, geese and silkie hens.
When Pat and Randy George came up from Phoenix to go on a date at the deer farm in 1972, goats and miniature horses had also been added to the mix. The couple had so much fun at the farm that they returned for their honeymoon a year later, and then brought their three sons up to visit through the years.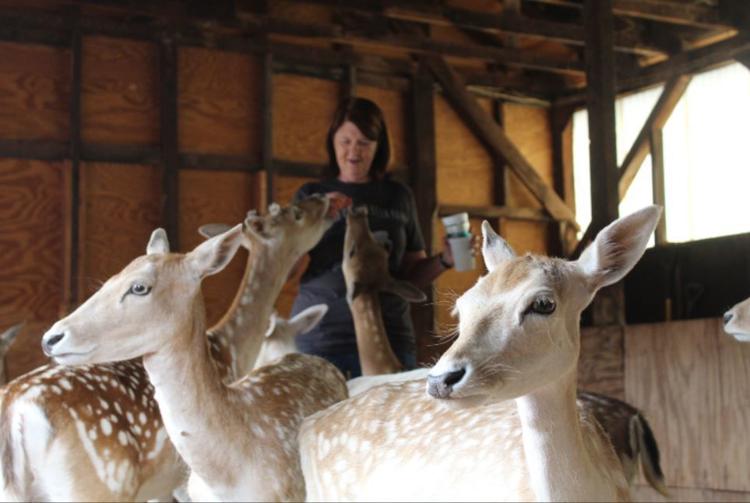 "We found out it was for sale in 1986," Pat said. "We tried to work out a deal, but they used to close all winter from Thanksgiving Day until April 1st, so we knew we couldn't afford to do that."
The Georges -- who only had experience raising horses, dogs and cats beforehand -- became the third owners of the deer farm in March of 1987, and it has been open year-round ever since (with the exception of Thanksgiving and Christmas Day).
"I used to work at UPS and [Randy] worked at Honeywell, so we decided this sounded like more fun," Pat said.
The first animal Pat bought after she and Randy took over was a yellow cockatoo named Mozart, which people still come back to see today. Since Mozart, the Georges have added even more animals to the farm, and visitors can now see elk, reindeer, bison, potbellied pigs, llamas, alpacas, coatimundis, wallabies, Patagonian cavies, African-crested porcupine, zebus, zonkeys and Gracie the camel.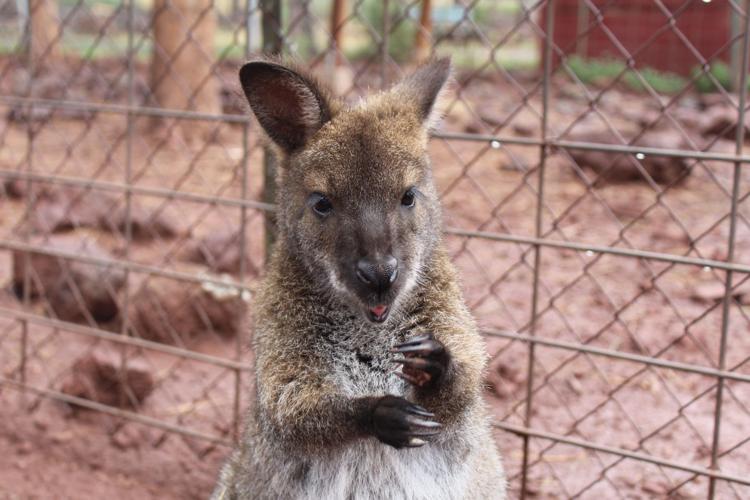 "As we kept expanding animals we looked for more exotic animal vets too, and they helped [us learn] a lot," Pat said.
While some animals are born at the farm, many are rescues. Whether it be a baby mule deer whose mother was hit by a car or picked up by a dog, or a bison calf that wasn't receiving adequate milk, the Georges get frequent requests to take in wild animals.
According to the Georges' middle son Daniel, who recently came back to Williams to help his parents at the farm, "Arizona Game and Fish will look at the animal to make sure there are no issues, and if they see it's abandoned or injured they'll contact us and see if we can do anything for it."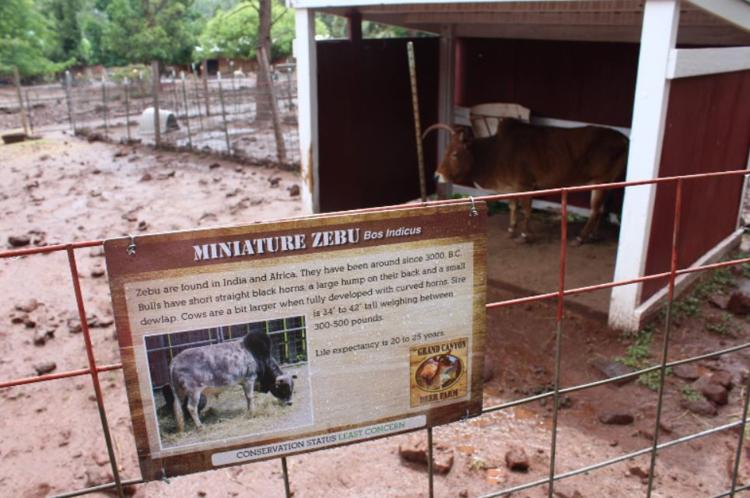 Daniel recalled AZGF bringing up an elk calf to the deer farm that had been rescued from a Flagstaff resident's apartment. The Georges bottle fed the calf for months, and 10 years later, Stormy is doing great and is very friendly, Daniel said.
"The ones that come as rescues, they need you and they really bond to you well," Pat said.
The bottle-fed animals are often the only ones that get named, but Pat insists that she loves all the animals equally and they are all individuals.
You have free articles remaining.
Register for more free articles
Stay logged in to skip the surveys
"Even the [deer] that come out and eat off people's hands, they all have different personalities," Pat said. "It's kind of fun to watch because sometimes their personalities are to untie your shoe so you'll put your [feed] cup down to retie your shoe, and then they'll steal your cup."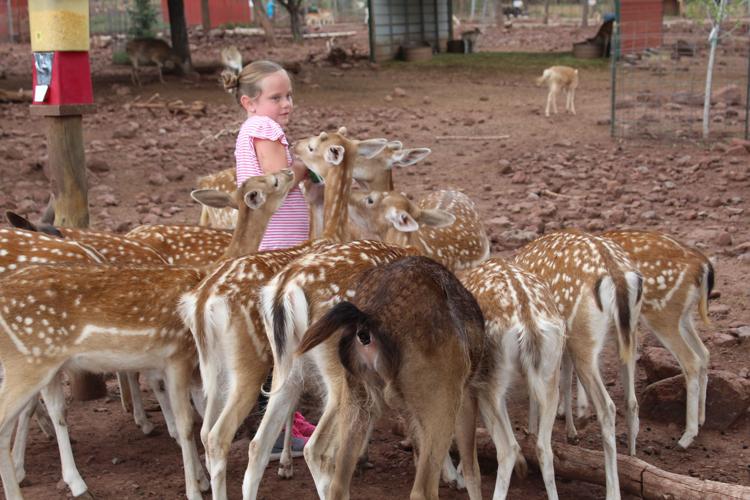 Visitors to the farm are advised to not wear their nicest clothes, as the fallow deer will often tug at loose shirt ends or purse straps, leaving them with a grassy residue.
"It's sort of a learned behavior because a deer tugs on a child's shirt [and] automatically they're going to hand them a handful of feed," Pat said.
While there are opportunities for visitors to feed the fallow, coues, Japanese sika and mule deer "snacks" from the quarter vending machines, Pat assures that all the animals also get fed properly by staff.
Starting at 7 a.m., the larger animals get special feed from California, and by 8 a.m. the smaller animals get fresh fruit and vegetables from Sprouts (organic, if it's on sale).
"We try to get the best [food] we can – they're our kids," Pat said, adding that the larger animals get feed and water in their troughs twice daily, with the exception of the reindeer, "who play in their water and get it dirty. We feed them three or four times a day."
The reindeer can also be challenging because when they get sick, they don't show it "until they're nearly done," Pat said. "But we actually had one make it to the age of 25, which is crazy. Usually 15 is max in captivity, and only 8 to 10 [years] in the wild."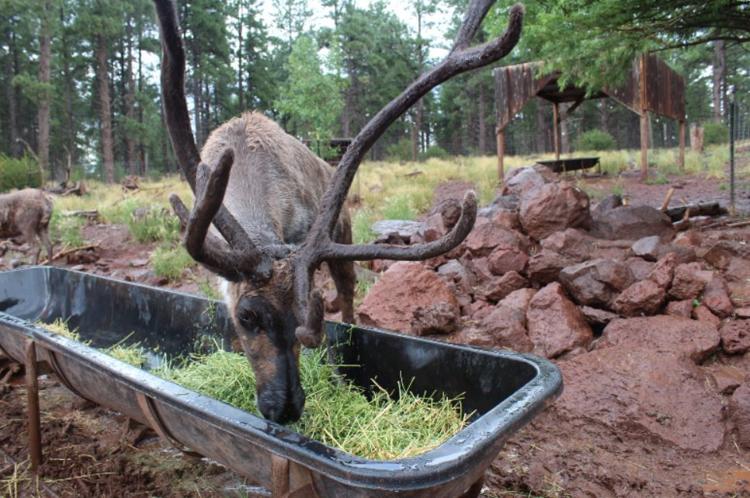 If younger animals do die at the farm, they are sent to get a necropsy, and are often studied by Game and Fish for diseases.
"We want to know, did we do something wrong or was there a deficiency somewhere?" Pat said.
In the farm's 50 years, generations of deer have come and gone, but the steady flow of children and adults eager to feed and pet the animals in rain or shine has stayed constant.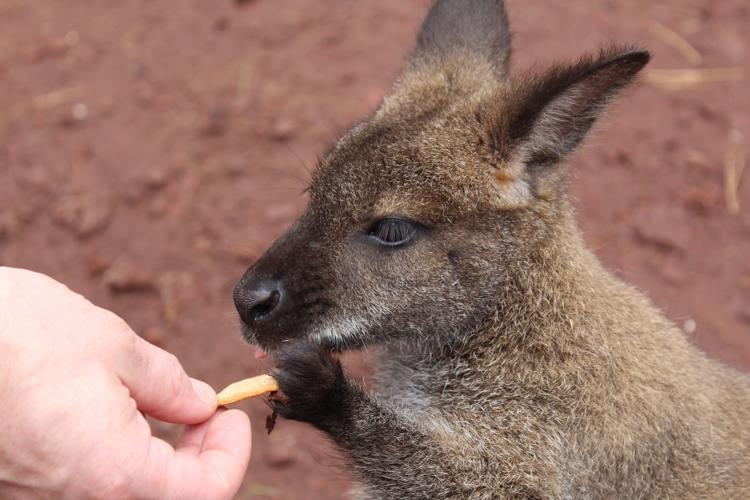 Before Russell Hamilton built the Grand Canyon Deer Farm in 1969, "he sat out on the property for days and counted the cars that went by [old Route 66] right in front of the farm, and that's why he chose this [spot] 50 years ago," Pat said, noting that being close to the Grand Canyon and the train has made it a prime tourist destination.
In the sixties, Hamilton had also opened and sold similar deer farms in Oregon and California, but the Williams farm is the only one that is still thriving.