A group of concerned high schoolers seeking clearer communication and solutions to top school issues held a community forum Thursday to gather local perspectives and input.
The Flagstaff High School student council hosted the forum to discuss the gradebook system, new dress code and school safety. Various students, parents and members of the community were present, including Flagstaff Unified School District administrators and representatives from the Flagstaff City Council, Flagstaff Police Department, Northern Arizona University and Coconino Community College.
City councilmember Charlie Odegaard said he was impressed by the level of student participation seen in the more than 30 students who participated in the forum.
"It's always kind of cool to see kids engaged in civics, especially school civics," he said. "I was amazed how many kids are engaged at the high school."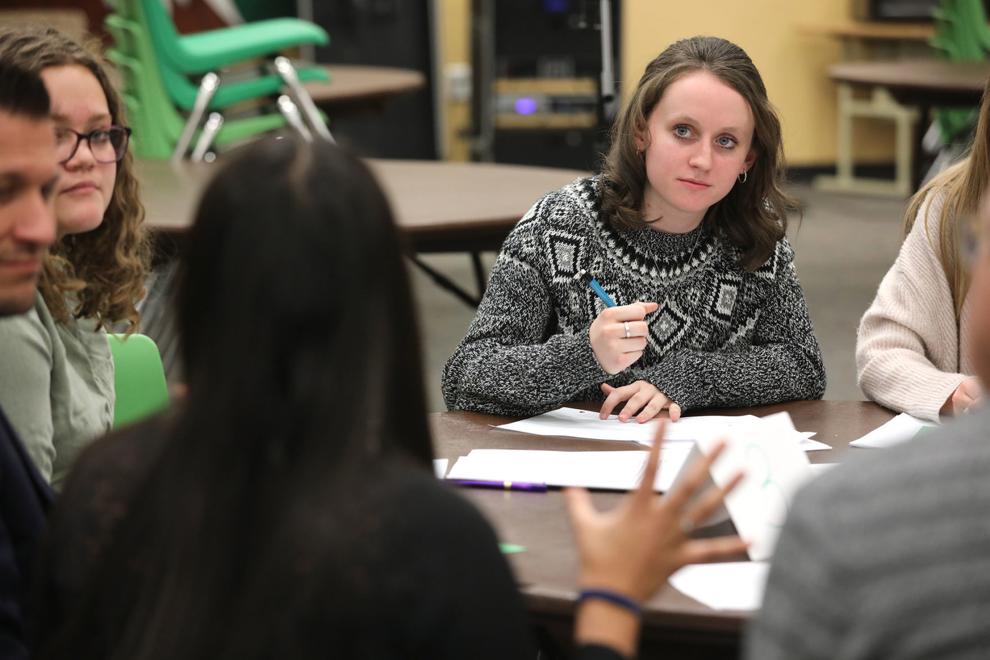 Sophomore class president Madisson Overton, 16, said she arranged the forum in the hopes of starting a tradition of community involvement at FHS. The forum was the school's second; Overton says the plan is to have one each semester in the future.
"Some of the main goals moving out of it are to take the feedback that we got back to the administration and take it to the students and really enact some of this stuff," Overton said. "We want to carry on this tradition and make it something normal that happens at Flag High."
Forum attendees were split up between approximately 17 tables to discuss the issues presented by students in small groups before sharing their main ideas with the council. Through this process, students hoped to at least start to resolve the lack of communication and consistency that augmented both the gradebook and dress code concerns.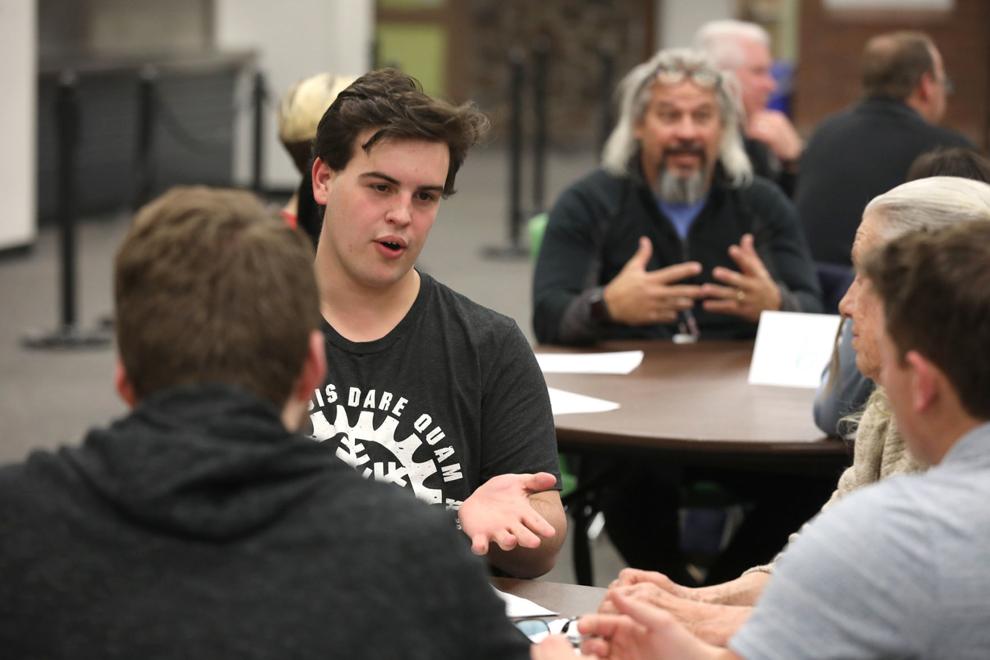 Although updates to the grading practice have been taking place for several years, the new dress code policy was adopted during the Jan. 8 board meeting to accommodate changes in clothing styles. Students at the forum raised questions on fitted pants like leggings, which are permitted in the new policy.
Grading practices are intended to focus on student performance throughout an entire subject, instead of on individual assignments and evaluations. This has led to student-observed discrepancies between instructors, though. Zach Fountain, FUSD associate director for communications and public relations, stated that the district continues to reevaluate the topic, especially with concern to predictability for students.
FHS student council members were able to ask administrators clarifying questions on these topics and are now working on strategies to communicate their newfound understanding to their peers, Overton said, such as newsletters and school-wide meetings.
When discussing school safety, attendees suggested more mental health support for students and greater police presence. Overton said the student council will work with FPD on implementing these ideas.
During the meeting, FUSD superintendent Mike Penca also announced the creation of a mobile app for students throughout the district that would allow them to anonymously report concerns to school administrators. The app is expected to be released next month and will allow students to take action in securing their own safety without the added social pressure often placed on students who report such concerns in person.
Odegaard said he thinks the app will make a significant difference in local school safety and is glad it will be available soon.
"We've got to get these kids engaged. If they're seeing something, they need to say something. As teachers and administrators, we can't see and hear everything," he said.
A student council committee of six students will work with administration in the planning process to ensure students, parents and community members are informed properly and promptly of the plans taken to address these concerns. The student advisory council, which meets with Penca about once a month, will also discuss the solutions further and report on them at upcoming school governing board meetings.
Although all plans are tentative, students said they received positive community feedback that will allow them to move forward in establishing those plans.
Fountain emphasized that the forum was student initiated, but the district is happy to participate in this type of open conversation with its students.
"We're all about supporting students and their initiatives. If other events like this came up, we would work with them as appropriate," he said. "We really want to empower students to be doing these type of things."
Overton encouraged community members to be a part of the conversation by attending next semester's meeting, the date of which will be announced on the FUSD website.