Two separate traffic stops led to drug busts worth $4.5 million in dangerous drugs and narcotics near the city of Holbrook on Interstate 40, according to an Arizona Department of Public Safety release.
The load of drugs included 376 pounds of cocaine, 40 pounds of methamphetamine, two firearms and $4,414 in one truck, and 11.8 pounds of cocaine in another truck. The arrests were made by the department two weeks ago.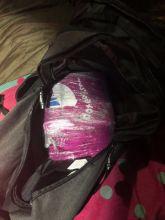 You have free articles remaining.
The first truck was found eight miles northeast of Holbrook. A father and son named Vincent Rowe, 48, and Vincent Rowe Jr, 19, were both arrested. The men from Victorville, California were arrested for possessing and transporting dangerous and narcotic drugs for sale.
The second truck was found four miles west Holbrook. Damiano Oando Rowe, 42, of Fontana, California was arrested for possessing and transporting narcotic drugs for sale.
All three men were booked into the Navajo County Sheriff's Office.