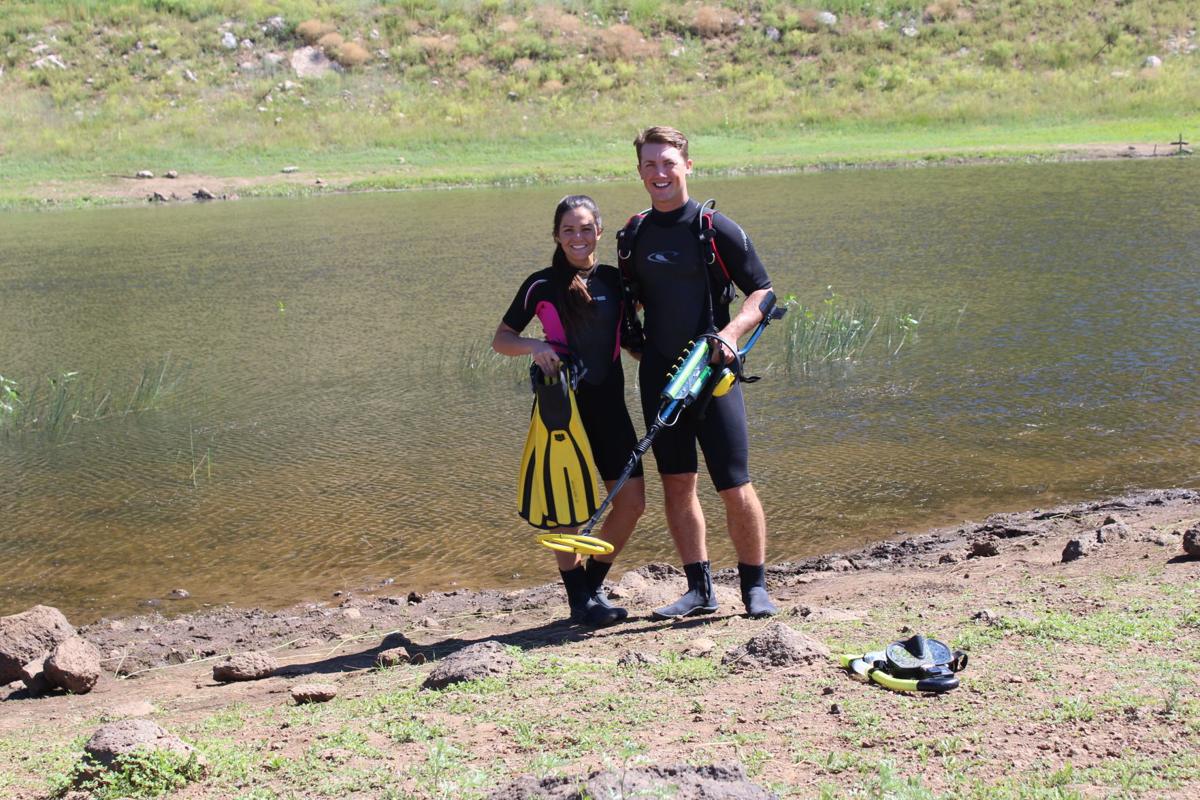 Mesa couple Daniel and Julia Rothenberger spend their weekends diving in different Arizona water holes for long lost treasure: smart phones, cameras, watches, and wedding rings.
The adventurous pair, who honeymooned at Snowbowl after their December wedding last year, have traded in hiking and fishing on their days off to spending as much time as they can scuba diving and treasure hunting.
They attest to getting many an odd look when they moonwalk backwards with their flippers into the lake or river, decked in wet suits, scuba masks and tanks, holding an assortment of metal detectors, dive lights and video cameras.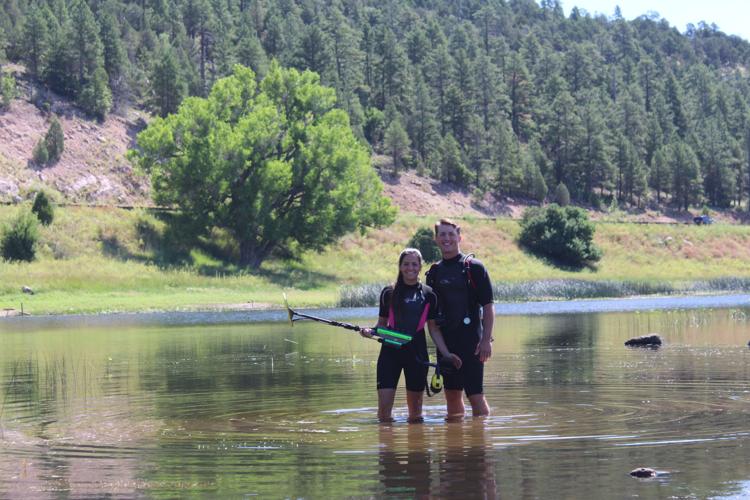 "I guess compared to regular scuba diving we're diving in fresh water and most people dive in salt water," Julia said. "And then we're not exactly looking for coral reefs."
After a month of dating, Daniel took Julia snorkeling with him in the Salt River to see what items they could find. Julia found a working GoPro on the trip and was hooked. After that, the two got scuba certified so they could treasure hunt in larger bodies of water.
"We're addicted to finding stuff and returning it back because it feels so good," Daniel said. "They don't expect to ever get it back. They lose it and they're just like, 'I just counted it as a loss and I bought a new phone.'"
Though many other treasure hunters keep or sell what they find, the Rothenbergers always attempt to track down the original owners. They post videos of their treks and finds on their Youtube channel, River Rush.
"Sometimes I'm looking at my super old phone and I'm going, 'man I want a really nice phone. I want an upgrade and I worked really hard for this, I was six hours under water to find this phone," Daniel said of initial temptations. "We go through that and then we're like 'we'll just return it' and when you return it all that goes away."
"A lady had all of her baby pictures on (her lost phone) and didn't back it up," Julia added. "So stuff like that your like 'it's cool because these are their memories,' and it's cool to find a phone, but it's really fun to give it back to them."
Both Julia and Daniel know the feeling, too, of having lost their valuables. While Daniel found his lost wallet in a gas station trashcan minus the $400 cash that was inside, Julia lost a smart phone.
"There's that sick feeling in the pit of your stomach. I would have killed to get my phone back," Julia said.
The couple has been the most successful with returning lost smart phones and smart watches to their owners, because of the data that can be recovered after they are dried off. (The Rothenbergers swear by silica drying beads rather than rice.)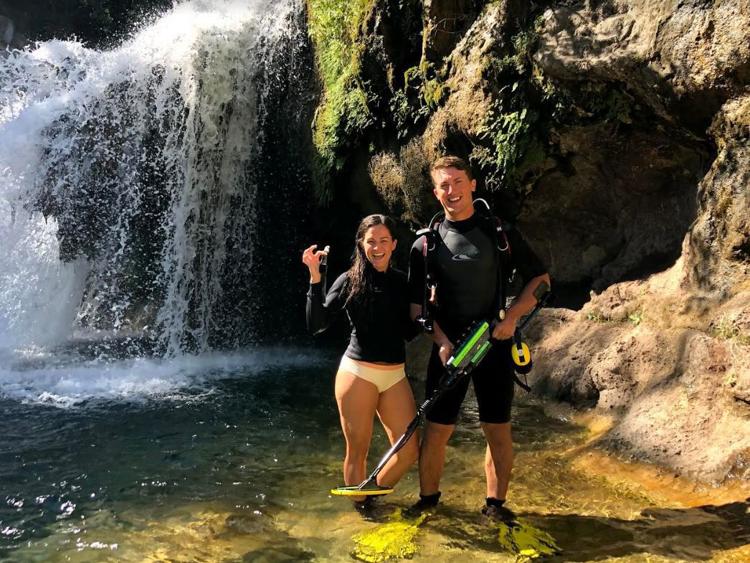 "We figured out that if you pull out the sim card on the phone, every sim card has all of the details on it," Julia said. "[So I'll] take the sim card out and put it in my phone and then go to contacts."
From there, the "My Number" feature pops up. After losing a phone, most people buy a new one and transfer their old phone number to it, and the Rothenbergers are able to call the owners directly, Julia said.
"We actually found some Apple watches up at Slide Rock and we used the medical Id [on one] and we found the number of the wife," Julia said of successfully returning the watch to the grateful couple.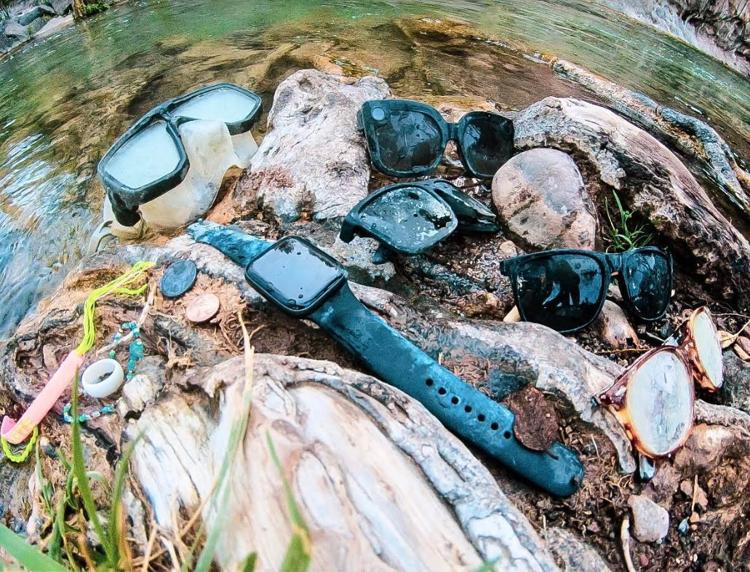 Since the areas where the Rothenbergers dive (Fossil Creek and Wet Beaver Creek most recently) are often tourist destinations, they end up sending many found and recovered items miles back to their owners. So far, they have sent items back to Tucson, California and even Canada.
"We put [one sim card from a lost phone in] and we called and it went straight to voicemail, but it was in French." Julia said.
Luckily, the father of the girl who lost her phone understood the message Julia left in English about finding it. He called back with a thousand thank you's and offered the Rothenbergers a place to stay if they were ever in Quebec.
"I think probably one of the coolest things is all of the friends that you make when you find a phone and then they're so appreciative to give it back. We've met a lot of interesting people," Daniel said. "They want to give you money and your like, 'no' and they're like, 'we want to take you out to lunch,' and you're like 'that's okay.' It's all worth it in the end."
"We always just tell them the best thing you can do is just share [our Youtube] with people so that it can get easier for us to find the people," Julia said.
GoPro owners are harder to track down, the duo said, but the couple will post a short clip of the last footage the owner took with the video camera onto their Youtube channel and hope the owner will eventually see it. If they don't find the owner, they use the GoPro to tape their own expeditions -- but keep all the owner's film just in case.
"We're not making any money off of it, in fact, we probably have put in our own personal money into it, but it's just like any other hobby," Daniel said.
Daniel said the fancy metal detector they bought that can go 300 feet under water is definitely paying itself off. The couple estimates they have found around 10 smart phones in the month that they've had it. It also makes it easier to find smaller objects like lost rings and other specially requested items. Thanks to their growing Youtube channel, they now get one to two requests a week to look for specific lost items.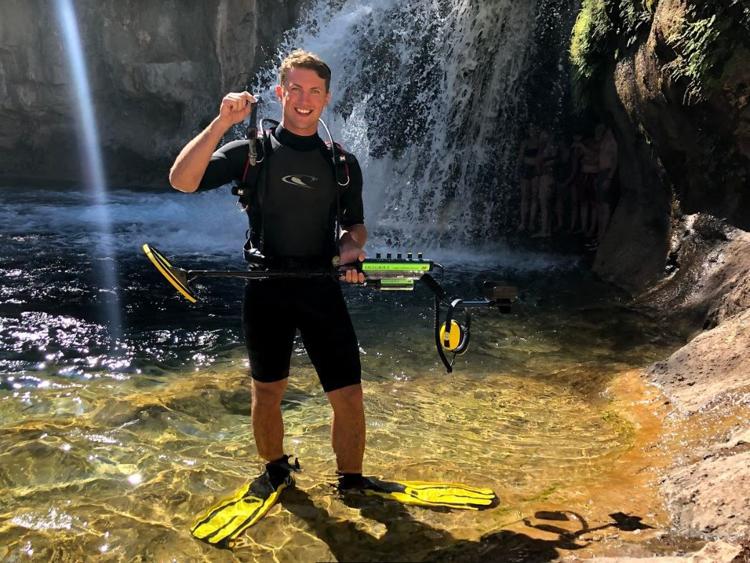 But it's not always treasure that they find. Pennies, beer cans, socks, snack wrappers, fishing gear and empty shotgun shells are some of the less exciting finds that frequent their mesh backpacks.
"Even if we don't find treasure, sometimes trash is treasure because you get to pick it up and [rid it from a beautiful area,]" Julia said. "We dive all the time so the less that I see the better that I feel but if we see a ton of trash it's like, man the surface looks great – it's beautiful outside but as soon as you go under the water [you] see little kids cutting their feet on glass."
At one trip to the Salt River, the Rothenbergers tried to find as much trash as they could at the bottom of the river and pile it up.
"We filled up bags full," Daniel said, adding that there were about ten 45 gallon bags that were around Julia's height of 5 feet 4.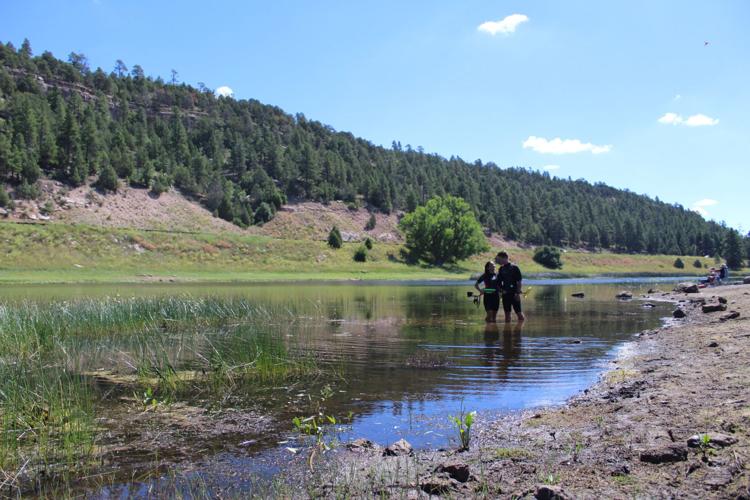 "We want to make a video where we take all the cans and then cash them in to see how much we can get for them and then we want to take the money and donate it to a food bank just to see how many [mouths] you could feed," Daniel said.
At Wet Beaver Creek in Lake Montezuma, Julia said she and Daniel found lots of trash along with Rayban sunglasses that were around $150.
Despite finding some loose change, a couple of cans and food wrappers at Fossil Creek, Julia said "the trash wasn't too bad." The newest Apple watch model that they found buried under a foot of sediment near a waterfall drop wasn't too bad either.
Be the first to know
Get local news delivered to your inbox!