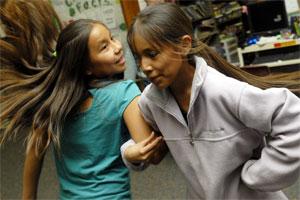 These counts, which Cromer Elementary School fourth-graders repeat in their minds as they dance, are just one of many tools of creative movement they have recently acquired.
"Dancing helps me comprehend stuff," Savannah Brewer, 10 said.
"I learned that dancing is not just throwing yourself all over the place, but learning how to move my body in a controlled way," Ariel Martinez, 10, explained.
Each Wednesday, all four fourth-grade classes at Cromer are treated to an hour of dance courtesy of the Step Into Arts program. The weekly experience began six weeks ago when Canyon Movement Company director Gina B. Darlington and her assistant, Coconino Community College dance major Cori Wall, leapt onto the scene to sweep the students off their feet.
"I really didn't think I would like it, but after doing this, I learned that I really like dancing and can do so many different things," Emily Cody, 9, said.
Darlington said the goals of the project include introducing creative movement as a learning tool and to focus on dance as an art form.
"They've learned how to use their body at different levels, to make shapes and different ways to travel in space and time. They've learned about energy in dance, body awareness, following directions, working in a group and respecting each other's space."
Through the weeks, Wall said she has seen tremendous change in the students' abilities.
"They're retaining information better and their muscle memory is definitely improving," she said.
Wall explained muscle memory to be the ability of muscles to complete complex dance movements, then triggering the dancer's cognitive processes. She said that as muscle memory is built, a dancer's capabilities grow.
"They've moved through basic body control learning all the positions of their arms and feet. They've learned how to turn and not fall over."
Both Wall and Darlington discussed the benefits of teaching dance movements to fourth-grade students specifically.
"They're just discovering how their bodies work. They see that 'If I do this, I'm using this muscle and if I do this, this muscle moves,'" Wall said.
Darlington explained that at the age of 9 or 10, students are mentally developed to the point that they understand types of movements and dance concepts, but aren't to the stage that they are physically embarrassed to try these actions with their developing bodies.
The culmination of Step into Arts will be a group performance of three different pieces: a Pioneer Dance, Hip-Hop Special, and Japanese Song.
The first, choreographed by Darlington, ties to the class' social studies curriculum currently focused upon the history of Arizona.
"This made me figure out how pioneers moved after a long day on the trails," Martinez explained.
This dance will feature all of the classes dancing together. However, it will be highlighted by segments performed by individual classes.
The hip-hop dances, created by Wall, will feature each class individually; and the traditional Japanese song will unify the dancers once again.
As an added bonus, those in attendance will also be treated to a special performance by the Canyon Movement Company dancers.
"It also shows them that there is a future in dance," Darlington added. "And for others, this may be the only dance they ever do or see. So, at least they get to experience it."
Fourth-grade teacher Ellen Fischel said the change she has seen in students through the program is amazing. At the beginning of the program, the students were apprehensive, and even reluctant to participate.
"They were moaning and groaning, but now look at them! They're all doing it!"
In addition to the fourth-grade series of dance classes, every other class at Cromer will also receive one-time instruction.
The $2,000 grant was awarded by the Arizona Commission on the Arts and also includes two other assistant dancers.
The project is intended to incorporate dance into classroom instruction in a similar manner to the Keeping Score project being used throughout Flagstaff Unified School District.
What: Cromer Elementary School Dance Performance
Where: Cromer Elementary School, 7150 E. Silver Saddle Road