After years of work, construction officially began on the first veterans home in northern Arizona on Saturday during a groundbreaking hosted by the Arizona Department of Veterans' Services (ADVS).
The McMillian Mesa facility is planned to offer three 20-bed long-term homes, each fully furnished, and one 20-bed memory care home, said ADVS director Wanda Wright.
A number of elected officials were in attendance, including U.S. House Rep. Tom O'Halleran, state Rep. Bob Thorpe, mayor Coral Evans, former mayor Jerry Nabours and several other members of Flagstaff City Council past and present.
"When this home is built, the VA will be there for you," Rep. O'Halleran said at the groundbreaking. "Our goal and objective always has to be to serve those who served us, to make sure we keep our promise to them, our commitment to them and to honor their service, and this is a step forward in that direction."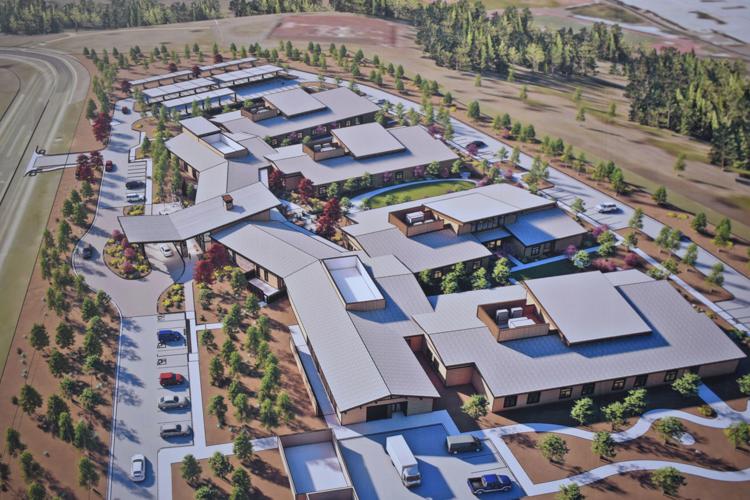 Mayor Evans also thanked the veteran who she met eight years ago at a forum on veterans issues who first brought up the need for a veterans home in Flagstaff.
Evans said he never gave his name, but without his story, which he shared at the forum, the process that led to the new home's construction would never have begun.
"If there is any credit at all for this veterans home being here today, that credit goes to him," Evans said. "I would like to thank him for his service to his community, I would like to thank him for sharing his story, I would like to thank him for the reminder that we need to take care of our veterans as they have taken care of us."
The home will include amenities including laundry services, a meditation room, a gift shop and a hair salon.
When it opens, the home will employ at least 125 people including, housekeepers, registered nurses and other specialist personnel like dietitians working in multiple shifts 24 hours a day and seven days a week, said ADVS spokesperson Nicole Baker.
Baker said the home will provide respiratory therapy, rehabilitative work, therapeutic recreation, exercise classes and speech therapy as well as a Veterans' Affairs office to serve both those living at the home and in northern Arizona.
Baker said there is already a Veterans' Affairs office in Flagstaff but the second office will certainly lighten the load hopefully providing better service for veterans in and around Flagstaff.
According to the AZ DVS, 39% of veterans living in and around Flagstaff are age 65 or older and Baker said that tells them there is a real need for a facility like this in Flagstaff.
Generally, Baker said the residents of these homes want to live near where they have family although vets can chose which facility they would like to go into.
As such, Baker said they already have one person who is living in the Phoenix home but who has family in Flagstaff and has asked to move to the new facility once it opens.
And Baker said the home will not only be for older veterans but all veterans in need of help day to day.
For example, Baker said they have many veterans who have lost limbs in combat and for whom living in such a home is a huge help.
Everyone living there also may not be there for the long term, Baker said. Often if a veteran needs to have a procedure or surgery, they may stay at such a home while they recover.
The facilities construction took the combined efforts of federal, state and local officials with money coming from the state and federal government and the city donating 10 acres of land. It is being built as part of the Veterans' Affair's grant program which pays for 65% of the cost while the state covers the rest.
In this case, the state provided about $10 million with another $17 million going to a new veteran's home in Yuma.
Construction on the Yuma home is set to begin later this month.