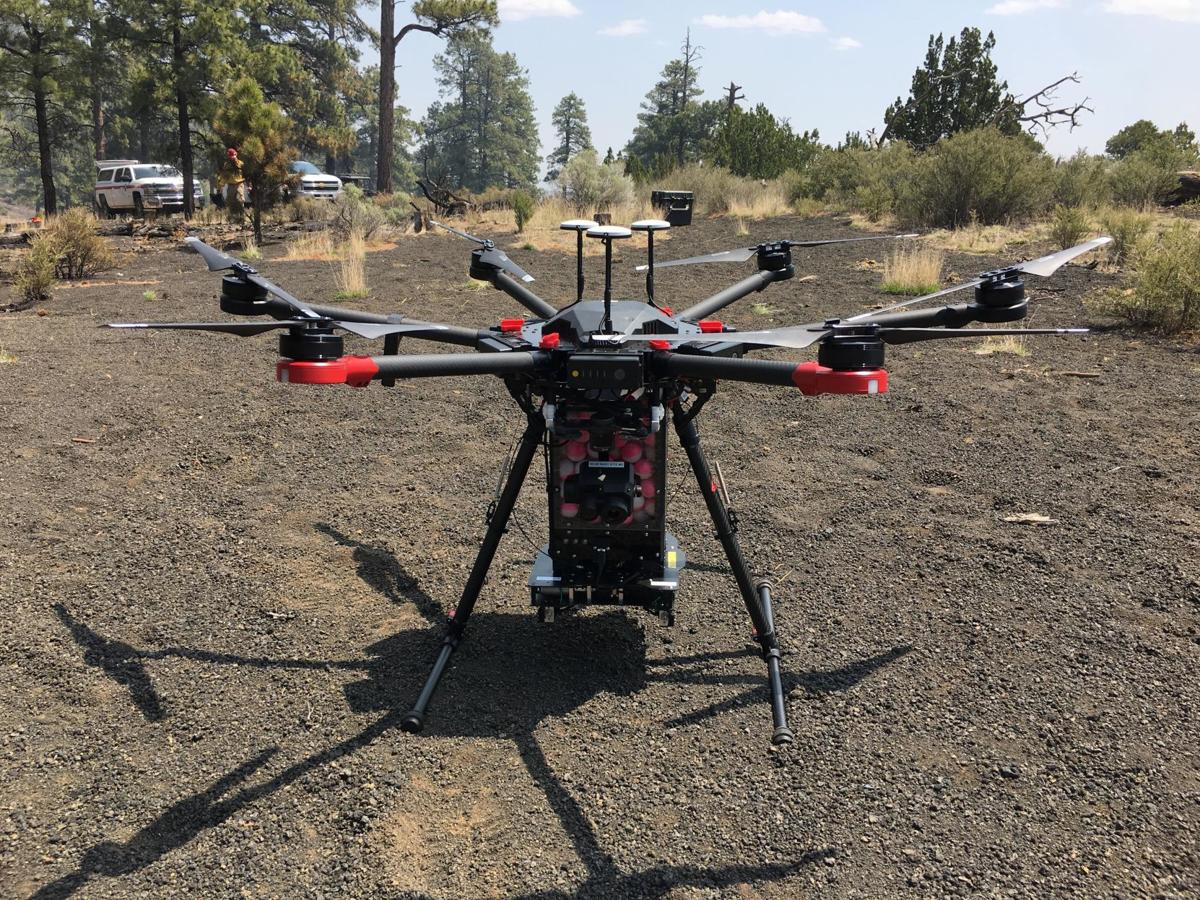 The newest addition to forest-fighting technology had its first official use in Flagstaff this week.
The Unmanned Aerial Support (UAS) is a customized drone the U.S. Forest Service deployed for its first mission on the Maroon Fire this past weekend. Coconino National Forest officials asked to use the drone for the lightning-caused fire, citing concerns of high-voltage infrastructure and the possibility for unexploded bombs.
The Maroon Fire burned in an area used for testing bombs and ordnance on an artillery range during World War II, said Kaitlyn Webb, spokesperson for the Coconino National Forest. It's not clear if there are any unexploded ordnance still in the area, which puts an unclear amount of risk on firefighting crews.
"There have been a lot of surveys done and fragments have been found. They are just assuming and operating under a cautious assumption that there is unexploded ordnance," Webb said.
The Army Corps of Engineers plan to remove the ordnance next year, Webb said.
The new drone has the capability to map landscapes from the sky using its infrared camera, which can be used to spot both large and small fires, while also being used to conduct burnout operations and manage blazes.
As of June 5, burnout operations for the Maroon Fire have been completed as the managed wildfire burns up to 8,605 acres, according to forest officials. The fire is 50 percent contained, and that number is expected to increase over the next few weeks while minimal smoke is visible.
Forest officials hope the Maroon Fire will eliminate any risk of high-intensity wildfire in the area for close to 15 years.
Nathan Wierwille, one of the drone operators from the Bureau of Land Management, said their UAS operations were largely a success.
"We got positive feedback from forest helicopters, and we're starting to see the capabilities and potential there," Wierwille said. "Yeah, man, it's as good as it gets."
Drone training and reducing risk
The UAS is designed to be used as a tool fire crews can use to be "surgically precise" when burning sensitive and critical areas, Wierwille said. Their use for the drone is different from helicopters, which can be used on larger areas.
Drone usage can also reduce the threat to human life. In order for helicopter pilots to drop the necessary fire-starting material on areas that need to burn, they have to fly low and slow, which is a cause for concern when surrounded by trees, buildings or power lines.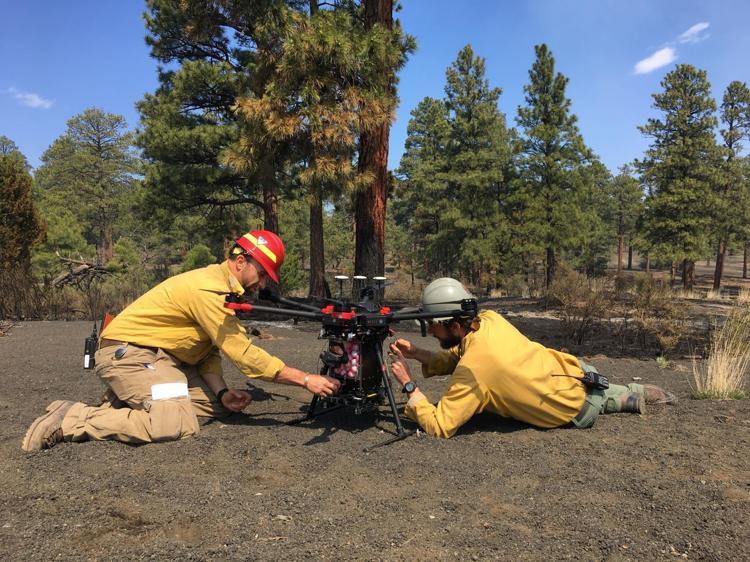 "Any type of aviation other than when you're going low and slow, you're adding increased risk," he said. "Helicopters are capable, but this decreases the risk on the ground and decreases the risk in the air as well."
However, the Forest Service won't be buying a fleet of drones for crews anytime soon, because both the equipment and training can be costly.
Currently, drones cannot be flown over or near wildfire or prescribed fires, because they can cause hazards by other aerial operations like helicopters and airplanes, according to the Forest Service.
In order to navigate the restriction, Wierwille said the operators need to get a waiver for flight in the temporary flight restriction approved by the FAA, and coordinate with local aircraft towers. From there, it takes high amounts of coordination to ensure the drones, helicopters and airplanes are all flying in their own space at their own elevations.
"We're the new kid on the block. It's very important to us that we come in with a UAS at the highest training level and level of understanding. Communication is really big," he said.
Before you can take a drone into the air, you need to earn a pilot certification by taking pilot courses and then take courses on fire line safety. After, for the drone, the camera and the machine to drop fire-starting materials, Wierwille said the system can cost $40,000.
"In the worst-case scenario, it is much easier to replace that than a human life," Wierwille said.
This is the only drone the Forest Service owns, Wierwille said, and the future for the tool is not clear at this time.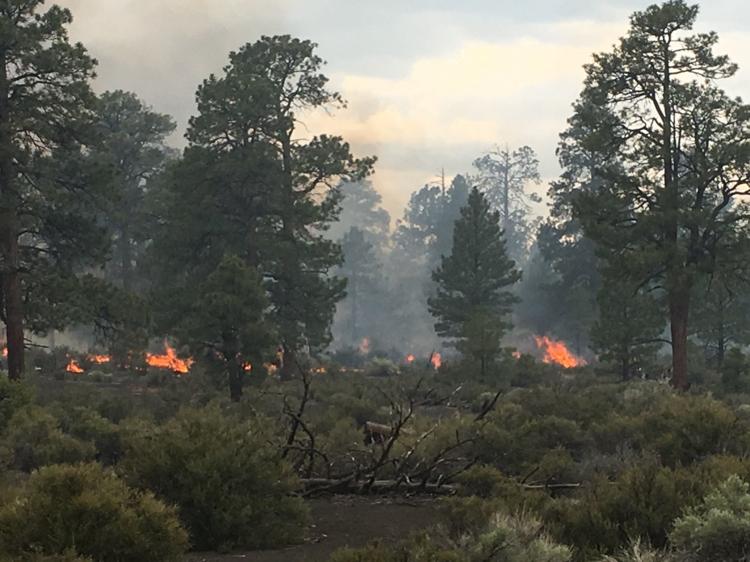 Weirwille was pleased with its usage and felt the test was a success. He said there is a hope that drones could be used by fire crews across the nation to help with decision making by giving firefighters on the ground a bird's eye view of landscapes. But he could not nail down any specific timetable for the forest service's plans.
"How the whole program shapes up, and, 10 years from now, what it's going to look like is fairly hard to project," Wierwille said. "The main mission: decrease exposure to fire personnel."
Be the first to know
Get local news delivered to your inbox!