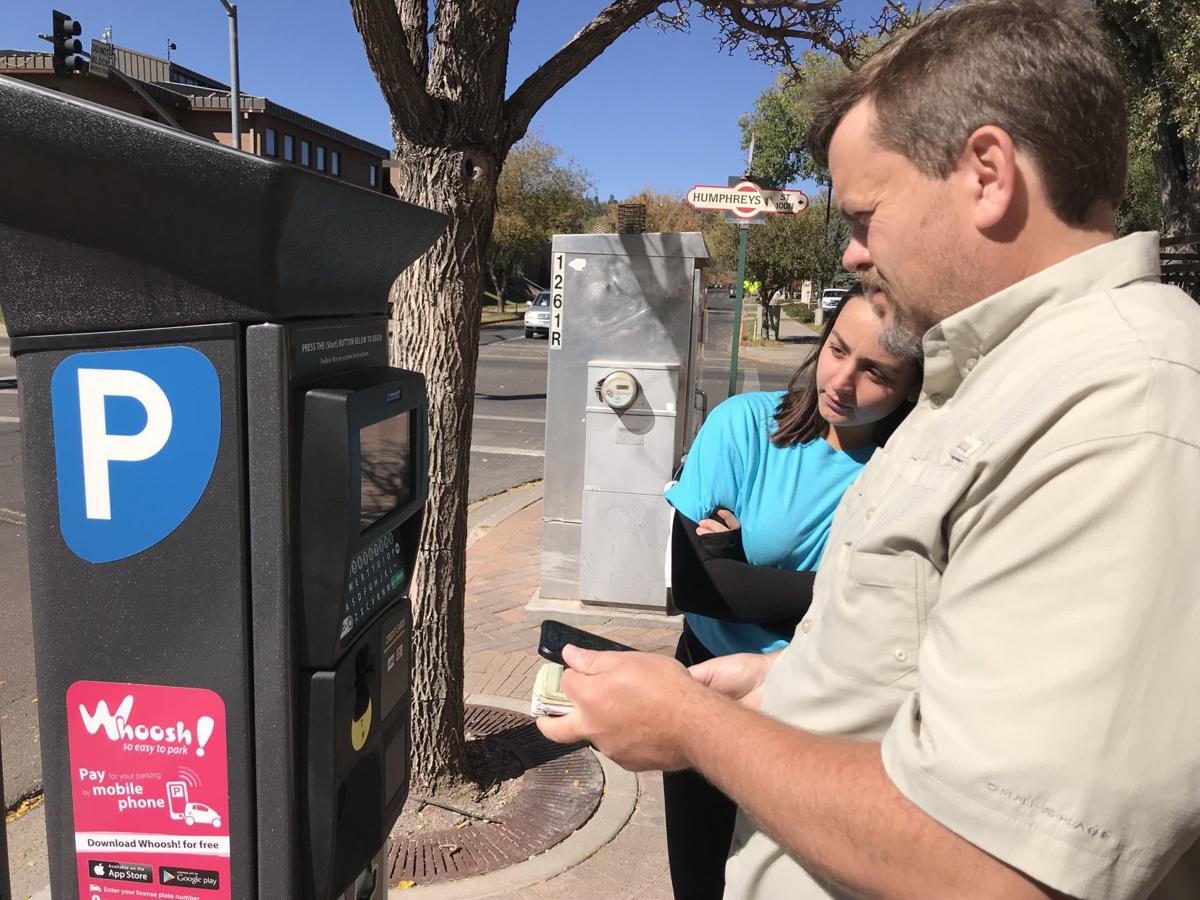 Downtown businesses want more locals back in their stores, and are pushing the city's parking team help bring them in.
ParkFlag pitched proposals for the local problem to the Flagstaff City Council on Tuesday. The three proposals include a suite of options like increasing the time available for free parking, significantly lowering the cost of employee parking permits, and converting Elden Street and Verde Street to two-hour parking. The proposals come after two years of the ParkFlag program's presence on downtown sidewalks, and ahead of further changes expected later this year.
David McIntire, Flagstaff's community investment director, said the program didn't need the council's direction but didn't want to shock them and the public if they made significant structural changes.
"We're trying to find that right line between making this as beneficial to the public as possible, and still generating some revenue to make sure we're covering our costs; we're paying back the loan to the City of Flagstaff, and we're generating revenue towards [parking spaces,]" McIntire said.
Council directed ParkFlag to get as close to the third option as possible without changing how soon the city will get future parking structures. Council also suggested increased marketing about the effectiveness of the parking app.
However, Council did act to change the employee permit costs. Council chose to modify the employee parking permit to $10, which will be effective 30 days after Tuesday.
John VanLandingham, the owner of downtown's Old Town Shops, said he did not feel the solution was to pull out the kiosks. In his mind, parking enforcement didn't exist before the kiosks and people left their cars in parking spaces for too long.
"What we often heard from locals was I don't come downtown because there's nowhere to park," VanLandingham said. "With ParkFlag, now that there are opportunities to park and enforcement, we hear I don't come downtown because I have to pay to park."
Ki Won Choi, owner of Collins and the Market downtown, respectfully disagreed with ParkFlag's changes. He said he's ready to rip out the kiosks, because while the tourists are great he wants locals to come back for lunch and happy hour. When asked by Councilmember Jim McCarthy, Choi said he saw a noticeable decrease in visitors once the kiosks went up.
"Yeah, [locals] are just completely boycotting coming downtown," Choi said. "They don't want to come downtown. They want to prove a point that 'hey, I'm not going to pay for it. I'm not going to pay to come downtown anymore.'"
Despite the problem, ParkFlag does have some new parking lots coming in the near future. McIntire said it expects to add approximately 140 parking spaces to the downtown area by the end of this year. The parking will come after the municipal courthouse construction equipment leaves, and when the old courthouse is demolished.
Suggested changes
Despite their suggested changes, McIntire said some of the options cut too deeply into ParkFlag's daily operations. The most expensive options could reduce revenue by $383,042, which McIntire felt was too much.
"Part of what we're looking to do here is to right-size the program, so that we're managing when it's not as busy," McIntire said.
Councilmember Charlie Odegaard said he was skeptical about the ability to change people's minds about the downtown area through the proposal, but was open to big suggestions.
"I just don't know if it's going to work," Odegaard said. "The people that I talk to that do not go downtown, even if we change the hours, they're so adamant about not going downtown for whatever reason."
Terry Madeksza, executive director of the Flagstaff Downtown Business Alliance, said the alliance is looking at creative solutions and analyzing statistics in other cities to entice locals. She suggested more ideas like giving residents who download the app 15 hours of free parking, or creating a permit system for residents.
"[Locals] just want it to be easier and know where to park, where is there free parking, and if they had a permit that might make it easier," Madeksza said.
On the topic of employee permits, McIntire said he liked the idea of lowering the cost of employee parking permits as a way to help individual downtown businesses.
"Mostly we're focused on those lower income workers downtown and the business owners who are sometimes paying for their permits, [the permit change] puts that money directly back into their pockets," McIntire said.
And in his mind, switching Elden and Verde Street to a two-hour parking structure just made sense due to low usage.
Two years on the street
However, McIntire was quick to warn the council that any changes to when and how ParkFlag collects money is tied to how effectively they will enforce parking rules and buy more parking.
Currently, ParkFlag and its operations collect funds through several different ways, but not all of it is used to create more parking. Out of ParkFlag's income, 10% is put toward its day-to-day operations and 20% is reserved for creating more parking.
The money that goes toward parking spaces is kept in what ParkFlag calls its "lockbox," and has generated $509,269 over two years that is dedicated to increasing parking spaces through lot purchases or a parking structure.
For the 2019-20 fiscal year, the project has generated $1,518,725 in revenue and used $788,543. Revenues increase from the year before by $80,000, meaning that in the second year since ParkFlag has been implemented, more people are using the system, McIntire said.
Be the first to know
Get local news delivered to your inbox!