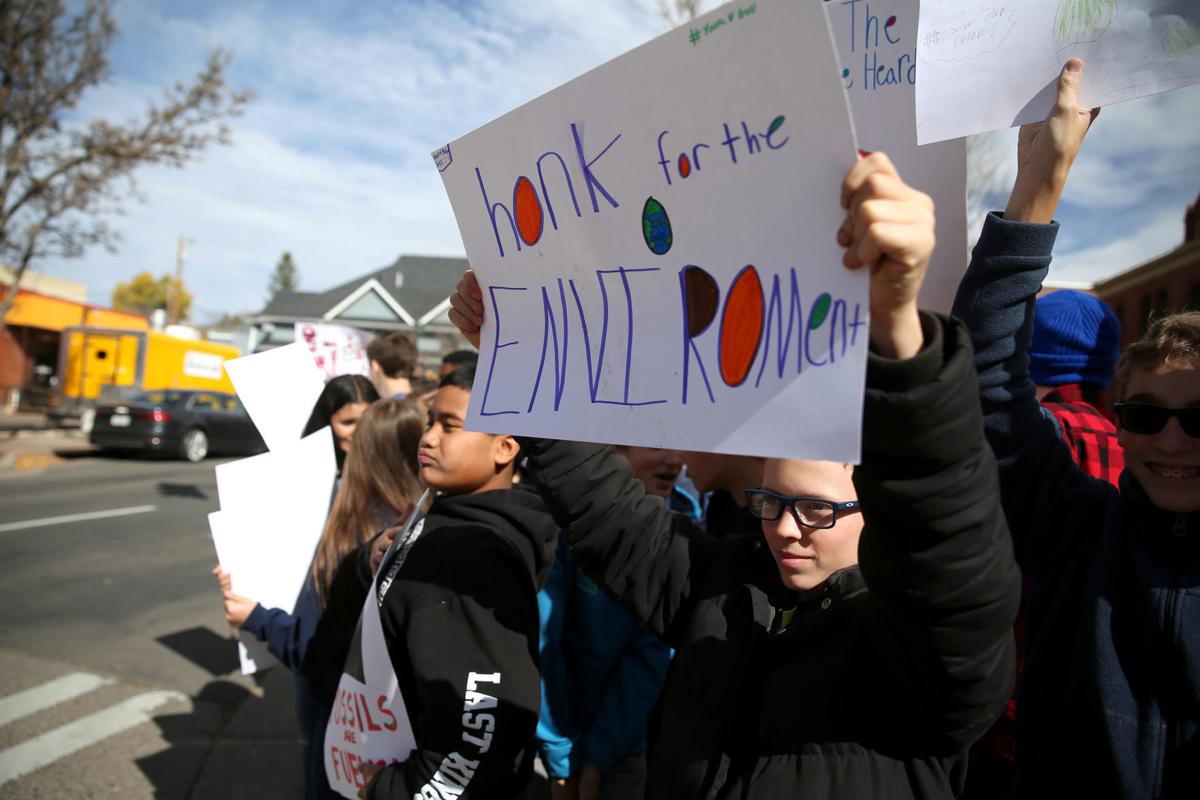 Flagstaff City Council unanimously approved the city's climate change action and adaptation plan Nov. 20, but now that it has been passed, it begs the question of how it may be implemented and paid for.
The plan, which has been before the council for review for two months, hopes to prepare the city for the increasing effects of a warming climate as well as reduce the city's greenhouse gas emissions by 80 percent by 2050 based on 2016 levels.
Councilmember Eva Putzova said she hoped that with the passage of the plan, it could be integrated into the next budget cycle so that the city could begin implementation.
But the plan's passage is just the first step, said Councilmember Charlie Odegaard, and climate change strategies will now be competing with other priorities for funding within the city budget. Odegaard pointed to increases in pay received by city staff as one priority the city may have neglected in the past that he personally will be pushing for.
Councilmember Scott Overton agreed and said it will also be difficult because the climate change plan passed by the council is not a cheap one to implement. While many ideas suggested in the plan would not take much money or staff time to set up, other goals are much harder to reach.
The plan suggests working with federal, state, local and tribal agencies to implement more aggressive thinning operations, for example, and managing the landfill to reduce the amount of greenhouse gasses admitted. Other aspects of the plan, while not as financially expensive, bear another kind of cost.
For example, the city could encourage higher density mixed-use developments. Such developments are more energy efficient than single-family homes and encourage their residents to use alternative forms of transportation, but have proven to be unpopular among many community members.
Overton had not originally supported the creation of a city climate change plan, but said the last few months have shown that the plan reflects at least part of the community's values.
"This [plan] is hundreds and hundreds of thousands of dollars to be truly implemented, so I just want to temper the community a little bit," Oveton said. "This is not an easy plan to implement."
The plan does not explicitly offer a solution for funding, giving that responsibility to Council, but it does bring up a number of potential ways to pay for implementation.
These include using the savings created by transitioning city buildings and operations to more energy efficient and renewable sources.
Fees could also be used to both generate money to implement the plan and at the same time, encourage sustainable practices within the community. For example, the plan points to an assessment based on water consumption that could generate funding while promoting water conservation. The city already uses a similar system to distribute reclaimed water.
Other ideas are more unusual. One option the city could take is to implement a carbon pricing that could apply to developments. And should Council be willing, they could use a ballot measure asking voters to approve a tax increase dedicated to the plan.
That is a system used by a number of other cities, including Boulder, Colorado, which taxes residents, commercial properties and industrial properties at different rates and based on the amount of energy they use.
Such a measure could pass in Flagstaff. While Proposition 127, which would have forced Arizona utility companies to get at least 50 percent of their energy from renewable sources by 2030, received only 44 percent support countywide, the story was somewhat different inside city limits.
If it had been up to Flagstaff voters alone, the measure would have passed with 58 percent approval. And in some parts of town, specifically the precincts on campus and those just around the university, the measure received as much as 81 percent of the vote.
The subject of funding for the implementation of the plan also came up in October as the council looked at how much parts of the plan might cost.
"I think there's a larger community conversation that needs to be had," Overton said in October. "We have these aspirational goals and all these efforts that we'd like to get to, but there's a significant cost and the resources within the city budget are not there today, I can assure you, they are not there today."
But passage of the plan means the city has direction when it comes to dealing with the issues caused by climate change.
And as Councilmember Jim McCarthy pointed out during that October meeting, it can be used in a way similar to the city's regional plan, as a guiding document the council and staff can refer to when changing regulations like the zoning code and drafting ordinances.
City sustainability specialist Jenny Niemann agreed, and added that with the plan as drafted, the city won't get anywhere without help.
"We also, frankly, will rely a lot on the market with the transformation to electric vehicles that we know is coming fairly quickly as well as renewable energy," Niemann said. "The question is how we can work with the market instead of against it? How can we get out of the way and help people get even used electric vehicles, even more quickly?"
Adrian Skabelund can be reached at the office at askabelund@azdailysun.com, by phone at (928) 556-2261 or on Twitter @AdrianSkabelund.
Be the first to know
Get local news delivered to your inbox!