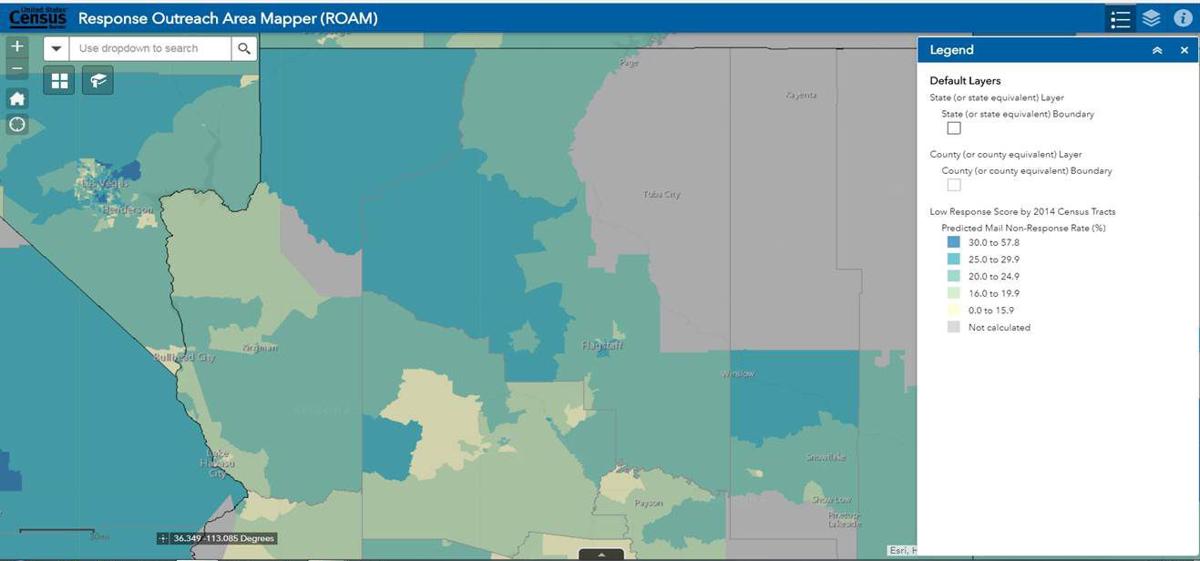 The year 2020 might feel far off, but the city and county staff have been preparing for it for almost the past year, working to get census workers an accurate database of addresses from across the county.
This is especially important given that the risk of an undercount in the 2020 census in Coconino County is "fairly high," Sara Dechter, the city's comprehensive planning manager, told a joint meeting of Flagstaff City Council and the County Board of Supervisors Monday.
Dechter said this is because the county and city have large minority and student populations, respectively, who may be less likely to respond to the census.
This lower response rate can be for any number of reasons, such as language barriers. When it comes to students, many may not know if they are supposed to be counted where they attend school or where they are originally from.
As the census count is supposed to capture where people are living on April 1, 2020, students attending Northern Arizona University would list themselves as Flagstaff residents.
To increase the likelihood of this, Dechter said, staff are identifying census blocks that are likely to house a high number of students. This will allow the census office to prioritize sending workers to areas heavily occupied by students so they are not missed and have plenty of time to respond.
"Given that about one in every three adults in the city of Flagstaff is an NAU student, it's a big area," Dechter said. "It was about 40 percent of the census blocks in the city that were identified for early nonresponse follow-up."
Outside Flagstaff, the extremely rural nature of so much of the county also makes the census process more difficult. The postal system -- specifically accurate data on resident addresses -- is a critical way to get in contact with residents, Dechter said.
Within the next year, census staff will also likely begin traveling from Phoenix to identify "hidden addresses." These are places where multiple buildings may share the same address and can often include people living in tiny homes or trailers on a family member's property.
Another issue that could affect the census in and around Flagstaff is the number of second homes.
Many areas may exceed the number of households within a census block. But because of the number of second homes, that doesn't mean there are necessarily as many people living within those blocks. The census may draw their census blocks in a way that might need to be corrected by the city and county.
For every person who is counted, it is estimated that almost $2,000 is provided by the federal government, be it through Medicaid, funds for transportation or funding for affordable housing programs.
Flagstaff will house a census office to coordinate efforts across northern Arizona. That office is expected to be staffed by about 10 management positions, the first of which are being hired now, Dechter said. Anywhere from 40 to 50 support staff positions are set to be hired across the county.
"It feels like the census 2020 is still pretty far off when you say it, but we will probably be seeing census workers actually out in the field in less than a year in Coconino County," Dechter said.
Updated for a correction at 11:43 a.m. on Dec. 6. 
Adrian Skabelund can be reached at the office at askabelund@azdailysun.com, by phone at (928) 556-2261 or on Twitter @AdrianSkabelund.
Be the first to know
Get local news delivered to your inbox!