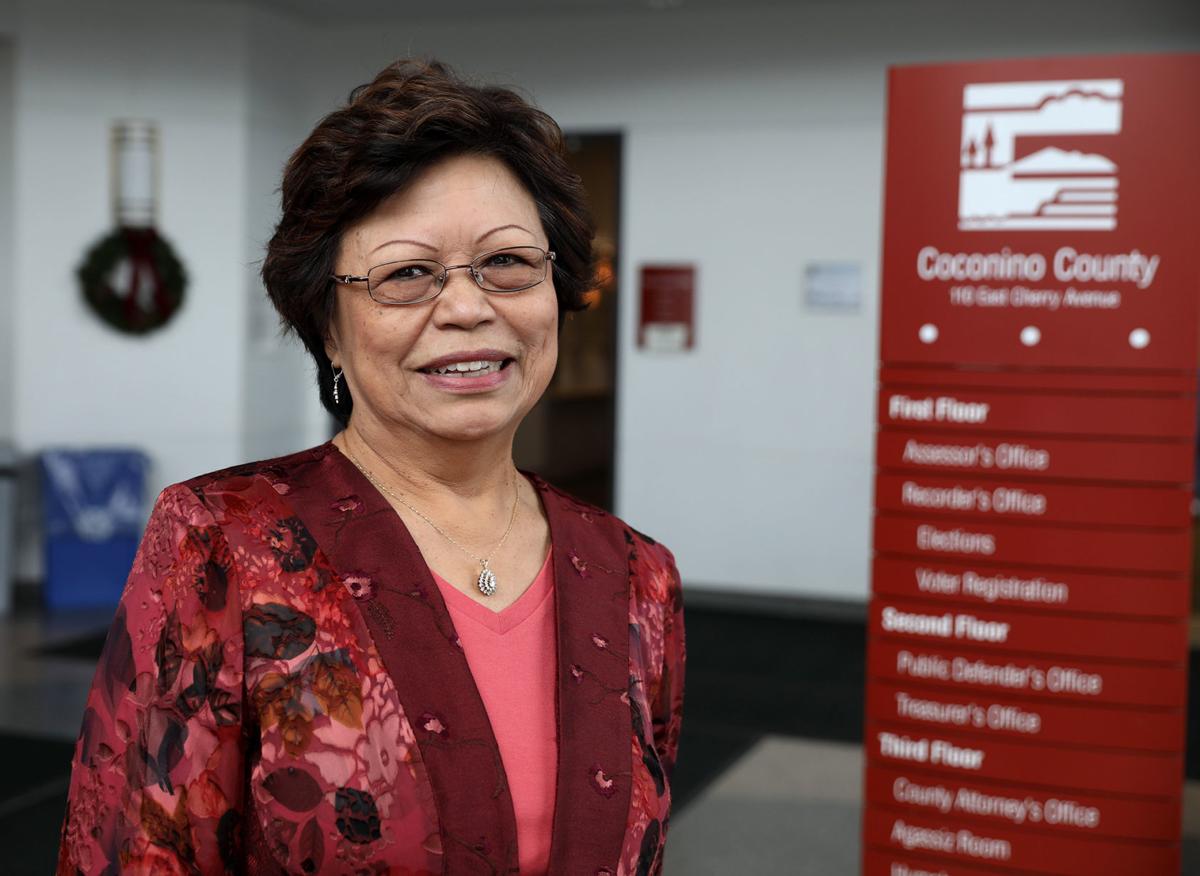 Lina Wallen did not believe it when she received a call nominating her to be the Arizona Daily Sun's Female Citizen of the Year for 2018.
Wallen said people had joked with her before about the prospect, but when a former winner actually called her formally announcing her selection, she was in disbelief. A group of former winners populates the committee that selected Wallen for her strong and committed community activism.
"I couldn't donate a million or a billion dollars, but I have time and I have expertise. That's the way I give back," Wallen said.
Wallen's goal is to help children realize their potential through the opportunities around them, whatever it takes. If she has to take kids to the museum to learn about their local history, teach a family how to file their income taxes or even to simply sit and listen, she will make the effort.
"Children are the focus in my heart. That's why when I get into education I went to psychology, specifically for child development. It wasn't for myself. I wanted to help more effectively," Wallen said. "I don't have a license. I don't need a license. But I have to understand what a child is before I could help further."
She explained that her life of giving back began when she was a young girl living in Indonesia. She grew up in a city where people forsake certain privacies in favor of a supportive and involved community. She said as a child, her family was well off and she would sometimes take food from the kitchen to give to children.
An Indonesian saying she learned growing up that she returns to often is, "dimana bumi dipijak, disitu langit dijunjung."
"It means wherever you live, you have to respect whatever is surrounding you. Literally, where you step on earth, there is always sky above you," Wallen said. "That's really stuck in my mind. Different cultures make me learn how to respect others and you have to do whatever you can surrounding you."
Wallen met her husband at a seminar in New York and moved to California with him. They raised two children until she finally forced her husband to check out Flagstaff; he had avoided the city after a bad family road trip when their car broke down in the city when he was a child.
When she finally convinced him to visit on vacation, they looked at some homes and decided to buy a house on the spot.
When she and her husband moved in to the mountain town, Wallen said they had full intention of living a quiet life in retirement. That lasted all of two weeks until she heard about a child who was murdered by his father in Flagstaff.
"I was thinking, how could people not really get involved?" Wallen said.
The list of places Wallen has volunteered with is so long, even she has trouble listing them all. She works as a Court Appointed Special Advocate for children, where she can be appointed by a judge to represent abused and neglected children and prevent them from being lost or overburdened in the legal and social service system.
She works for children with a multitude of life experiences and cultural backgrounds, where she believes her work will help give more opportunities for children without many options.
"I believe, if children know what's really available in the community and how to conduct their own behavior," Wallen said, "they face this world open eyes knowing everything surrounding them and will benefit more."
Part of her belief means helping resources in the children's lives, like their parents, their schools and groups that would otherwise protect children.
"We are a rich country here," Wallen said. "Not everybody knows that, not everybody knows how to connect with those resources. People have to help each other, to educate each other."
She works on the National Association for Advancement of Colored People, Flagstaff Police Department Citizens Liaison Committee, Volunteer Income Tax Assistance, Community Emergency Response Team, DREAMS Board to give scholarships for minority students in Flagstaff, Flagstaff Family Food Center Board among many other agencies.
She admits that she has to turn jobs down sometimes, but she believes it doesn't take much to make an impact.
"I think we're better off not only volunteering in terms of formal organization, but volunteering to help take the neighbors kids to the museum, to see a concert, to see a play. One of my kids before didn't even know what a play was," Wallen said. "Take them to the Christmas Carol play. That's the easy one."
Through her time volunteering, Wallen feels that local rates of youth suicide is a large issue that needs to be addressed more thoroughly.
"How could nobody know about these kids' sadness, these kids' depression? Such a young age. There's no hope at all? It's sad really."
Wallen and her husband left her children in California when they moved to Flagstaff. She explained that she feels she has adopted the children of Flagstaff to become a part of her family.
She sees her work as a small part of the great work being done in the city.
"Your kids are really the ones who will help me if I fall down. I know I have my daughter, but she won't help me. I expect your kids to help me," Wallen said. "You are my family here."
Be the first to know
Get local news delivered to your inbox!