A group of residents say they chose their homes on East Appalachian Road so they could enjoy the benefits of their closest neighbors, Mount Elden and the Coconino National Forest. There are trails to the forest that start, in the case of Appalachian resident Juliana Suby, right out of their backyards.
But her other neighbor, Trinity Heights United Methodist Church, is proposing to build a Verizon Wireless cell phone tower near the forest behind the church -- which has worried Suby and some of her neighbors.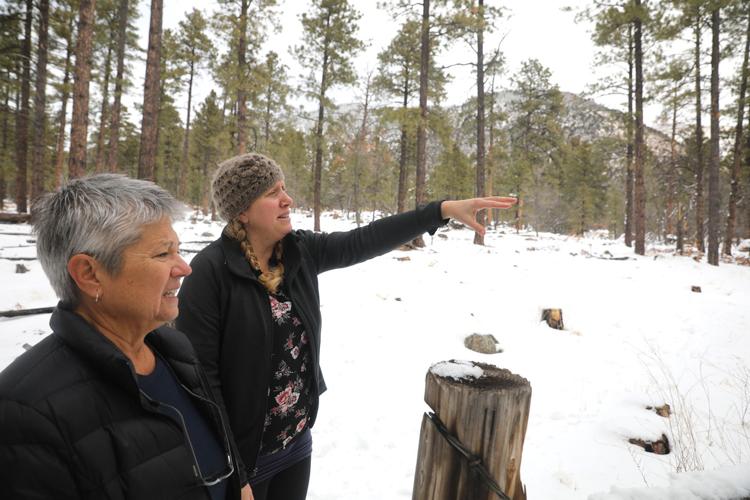 "My home and my backyard are sanctuaries to me," Suby said. "And to know now that I would be looking at a 65-foot cell phone tower every day, the neighborhood would no longer be, in my opinion, this serene, quiet residential neighborhood."
Wednesday at 4 p.m., the Flagstaff Planning and Zoning Commission will review the proposed cell phone tower proposal that borders the Mount Elden Environmental Study Area, the land of Kinder Morgan pipeline and is near the residential area on Appalachian Road. The meeting will take place at Flagstaff City Hall.
The group of residents were concerned of the tower's impacts on the animals in the environmental study area, the proposed construction's impact on the gas pipeline that runs beneath the site and for the impact on the natural environment.
The cell phone tower is described as "stealth designed" with fake pine boughs to blend in with its environment and resemble a 65-foot tree. Some of the Appalachian residents have pointed out the surrounding wall and power station would not.
But Keith McClanahan, a member who spoke on behalf of the church and its Verizon contract, indicated that the church would honor the commission's decision either way. He said that allowing Verizon to build a tower on their land could help the church.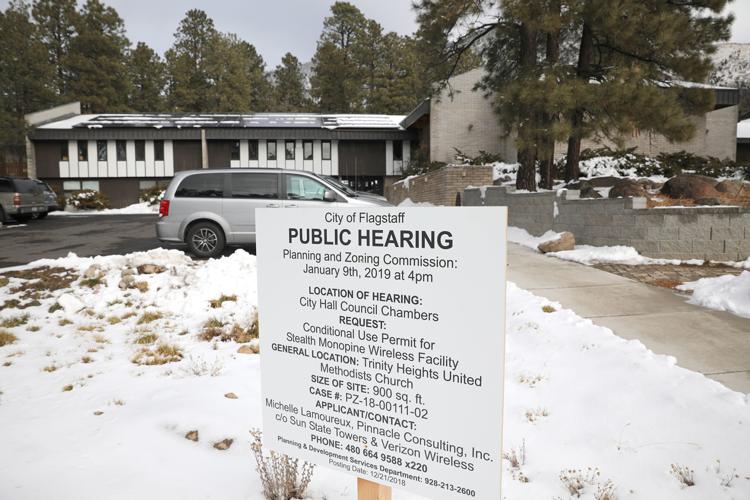 "It allows us to do more mission work and support the community," McClanahan said. "We continue to run out of money for people showing up at our door asking for gas and feed their families. Some asked that we send people down to the county, but that really didn't feel like it was an appropriate response for our church."
McClanahan said they notified their congregation, who were in complete support of the tower. One point that has annoyed Suby and other neighbors is how the church's congregation was notified about the tower contract in March 2015, and the neighbors were only notified after a public hearing notice was posted two weeks ago.
"I just wish the church would have been more transparent to the residents who will be living next to the tower," Suby said. "They get to go home at night. I am home."
Residents were told that the area's cell phone towers are maxed out. Verizon spokesperson Jeannine Braggs explained that being maxed out doesn't necessarily mean that users in the area would notice any problem with their service.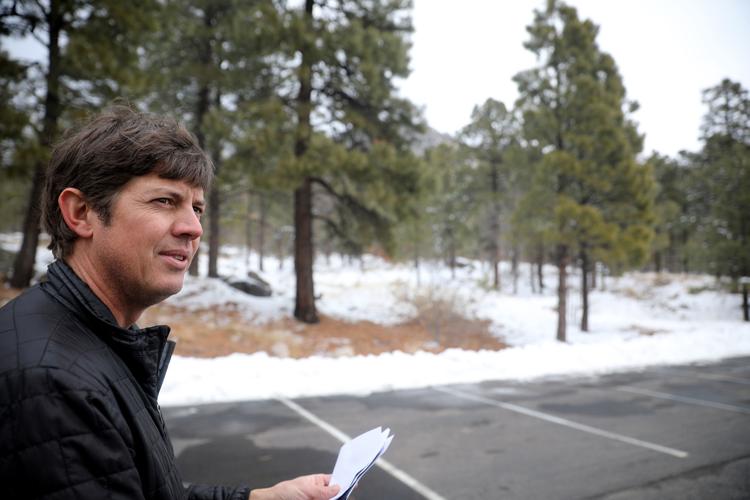 Braggs underlined the idea that adding a tower might not necessarily improve an individual service, but add to the area's capacity for more devices.
"Not necessarily something they would see or recognize, but it's there," Braggs said. "What we try to do as much as possible, we're adding the capacity before there's really a big issue."
Some Appalachian residents want to protect the values they bought their homes for — their quiet neighbor of the Coconino National Forest. Stan Cornforth, Appalachian resident, mentioned that he built his home in the area 41 years ago, and said he never imagined that a cell tower would be built near the trails.
"Our boys earned their boy scout eagle ranks doing environmental studies within that area," Cornforth said through email. If this is approved, the area will never be pristine again."
Bill Johnson, a biology professor at Northern Arizona University, indicated that while there has been research done on the topic, there is still a lot unknown about the impacts of cell towers and phones on animals.
"[It's] still a young area of research," Johnson said.