Architectural plans. Permits. Total lumber board feet. Drywall. Labor costs. Upgrading to 240-volt electrical systems. Everything needed must be thought of and accounted for.
Estimating the cost of a construction project is a good exercise for students in Coconino Community College's Construction Technology Management program – particularly if the project pertains to something in the real world.
That's exactly what the students got to experience recently, and their work helped CCC secure a grant for nearly $1 million from the Del E. Webb Foundation.
The students, enrolled in the CTM 288 Construction Supervision class last semester, helped CCC estimate a budget for a major upgrade of the CTM facility and the cost of equipment to strengthen and create in-demand CTM programs at the Fourth Street campus.
"I think it's important for students to have the practical hands-on experience along with the classroom experience to fully understand what we are trying to teach them," said Ken Myers, CTM faculty. "The more they experience real-life scenarios, the better prepared they will be when they enter the workforce."
Dr. David Cain, CTM faculty who led CTM 288 class, said the students' estimate was checked by a local contractor, and the two estimates were virtually identical.
"It was fun," Cain said. "It was a good experience, and we even put the students' names on the proposal."
CTM 288 student William Gonzales said he appreciated the fact that the Del E. Webb project was the most realistic project he has accomplished to date in any of his core classes.
The students met with local contractors, learned their estimating process and went from there, using computer software, to help build a budget for the Del E. Webb project.
"It's amazing for our later, or future careers, or whatever we want to pursue," Gonzales said.
Gonzales works as a maintenance technician at the Village at Aspen Place. He said his career opportunities opened up to him after completing CCC's Certified Apartment Maintenance Technician program. He continues to attend class to improve his skills and is working toward an associate degree in Construction Technology.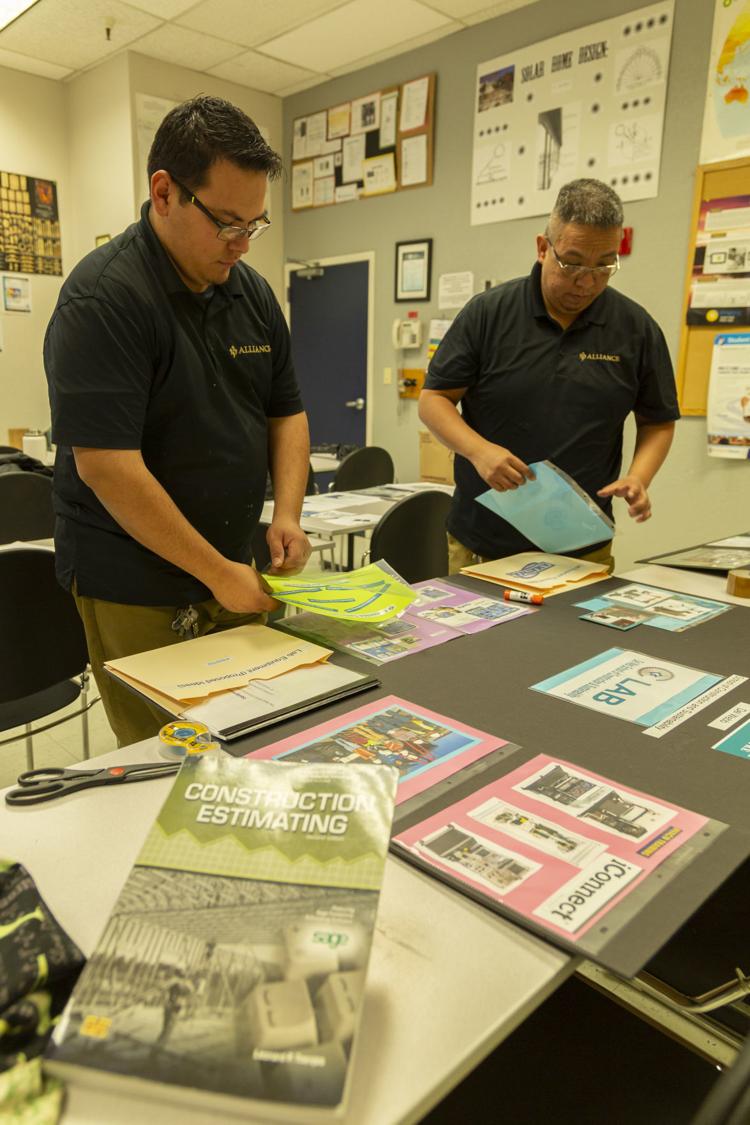 "The company I work for now wants to see a lot of professional growth," Gonzales said. "It's nice to see a company appreciate that."
The total project budget is $1,058,500, with $997,500 coming from the Del E. Webb Foundation, and $60,950 coming from CCC.
CCC President Colleen Smith said, "The news about the grant to enhance our construction program will mean so much to our students and employers in our region. Our communities have been sharing with us the need for a trained workforce in various areas, and the construction industry is one of those areas."
Smith said that CCC will continue to support educational opportunities for all our communities in northern Arizona, including Williams, Page, Tusayan and Flagstaff.
"We have amazing faculty, and we are excited we get to further develop our construction program and provide them the resource so that they can serve more students," Smith added.
"The Del E. Webb Foundation was honored to give this award to the Coconino Community College construction and mechanical trades program," said Dr. John B. Lees, president of the Del E. Webb Foundation board. "We feel this project will provide long-term benefit by meeting a critical need, not only in the community but in all of northern Arizona as well."
The funding, to be received by the CCC Foundation, will serve several purposes: Renovate the current Construction Technology Management facility at CCC's Fourth Street campus; expand existing CTM classes; and add in-demand programs like Heating, Ventilation and Air Conditioning and Refrigeration (HVACR) Technology, Welding Technology, Electrical Technology, Solar and Wind Technology and Electronic Drafting.
The ultimate goal is to increase the number of degree and certificate earners from an average of 30 students to 94 students over a three-year period.
Myers said that the demand for skilled workers in the building trades is the highest it has been in 10 years, and northern Arizona currently is experiencing a big shortage in those skilled workers.
Myers added, "It's all about the students and improving the workforce in the skilled building trades. This will help with a space to teach those skills and fill the demand."
The first step of the project is the architectural work, Myers said. With any hope, new construction can be underway after the spring semester concludes.
For more information about CCC and all programs, degrees and certificates available, visit www.coconino.edu. For more information about the Del E. Webb Foundation, visit www.dewf.org.