Senate candidate Mark Kelly may be hoping to take Martha McSally's seat, but that's not who he faced in Flagstaff on Monday. 
Instead, Kelly went up against Jabarha "Kutt" Nichols, the owner of Kuttz Barber Shop and College, taking turns at the bench press in a back room of the barber shop.
After removing his jacket, the presumptive Democratic nominee for the state Senate completed 25 reps at about 70 pounds.
"Let's throw some more weight on there," Nichols said as Kelly continued to lift the weights.
Then it was Nichols's turn. Not to be outdone in his own establishment, he completed 26 reps at the same weight.
"Sunnyside up!" Nichols said.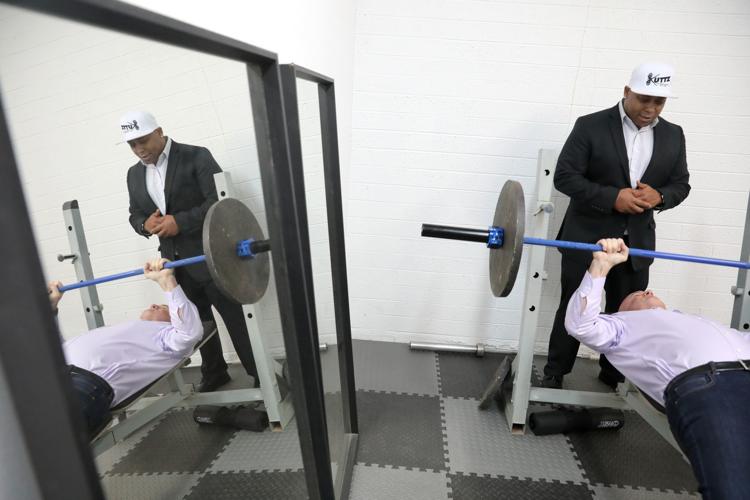 The stunt came as part of a tour of Kuttz Barber Shop and College. At the event, Kelly chatted with barbers, customers, and local leaders including Flagstaff Mayor Coral Evans and City Councilmember Jamie Whelan.
Kelly, who is expected to face McSally during the general election, said he enjoys visiting small businesses such as Kuttz and highlighted both the importance of small businesses to the Arizona economy as well as the importance of trade schools and apprenticeships.
At Kuttz, students can learn how to become barbers through enrolling in a 10-month program.
"We've got a shortage in our country in a lot of different trades, whether it's barbers or electricians or pipe fitters or carpenters. In certain areas of the country, in places that are growing like Arizona, there's clearly, clearly a need," Kelly said. "It's always good to hear from guys or women who are starting small business and the challenges that they face. It's great to know that he's putting a place like this in a neighborhood that needs some help."
Such kinds of trade schools are also part of the solution when considering the rising costs of higher education, Kelly said.
"The price of tuition at the universities here in Arizona and across the country have gotten a little bit out of control," Kelly Said. "Kids shouldn't have to graduate from a university with a four-year degree with $50,000 or $100,000 of debt; that's ridiculous and not really sustainable."
Kelly added that Congress needs to address the issue of rising costs for a university education.
Mark "Pops" Alarcon was one of the barbers Kelly spoke with and said he liked the candidate, especially his views on gun control.
Alarcon said he supports Kelly since he has called for universal background checks when purchasing a firearm. Alarcon added he has no love for Kelly's presumptive Republican opponent, who he feels has done very little.
Kelly's visit comes after campaigns were required to submit finance reports last week that showed Kelly had outraised McSally throughout 2019. Kelly had $13.6 million of cash on hand by the end of last year compared to McSally's $7.6 million.
Last week also saw McSally in the spotlight when a CNN reporter asked McSally if she would vote for the Senate to hear from additional witnesses during impeachment hearings for President Donald Trump.
McSally responded to the question by calling the reporter a "liberal hack."
Kelly said that was not the way he would have answered the question, but that McSally has a right to her own opinion.
The impeachment trial is expected to begin in the Senate this week and it is still unclear whether the additional witnesses and evidence will be considered.
For his part, Kelly said he thinks senators should hear additional witnesses.
"I don't know of many trials, if any -- none that I'm familiar with -- that were conducted without witnesses," Kelly said. "It's pretty clear that the folks in the White House who have direct knowledge, who basically stand between the president and the folks who are on the ground in Ukraine, our government officials, have firsthand knowledge. So I think it's important that United States senators get to hear from those witnesses."
McSally last visited Flagstaff last year when she took part in the Fourth of July parade. In March of last year when McSally also visited Flagstaff and spoke with local leaders and about forest restoration and flood control.
Earlier this month, McSally co-authored a letter with Senator Kyrsten Sinema asking for the Army Corps of Engineers to fully fund the city's flood control project.
Updated for correction at 6:29 p.m. on January 23. 
Adrian Skabelund can be reached at the office at askabelund@azdailysun.com, by phone at (928) 556-2261 or on Twitter @AdrianSkabelund.