In the crepuscular shadows of another temperate summer Friday in downtown Flagstaff, with music spilling out from wine bars and cafes and the rockabilly beat of a full band ripping through a set on Heritage Square, Richie Poleski begins his night's work.
He exhumes from his case a black guitar, its body adorned with two stickers — "Route 66" and "Mean People Suck" — bends to plug into an amp the size of a two-slice toaster, adjusts the jar with the one-word request for "tips," and then peals off a riff that has heads swiveling on both sides of the corner of Leroux Street and Aspen Avenue.
Time to sing for his supper — or, in Poleski's case, gas money to go visit his mother up north and enough bucks to crash for a few nights.
Meanwhile, one block east on the corner of Aspen and San Francisco Street, the motley trio that goes by (at least for this week) the Rabble Rabble Crew Kids are well into a set and, by the looks of things, settled into the their accommodations for the night, if they can get away with it.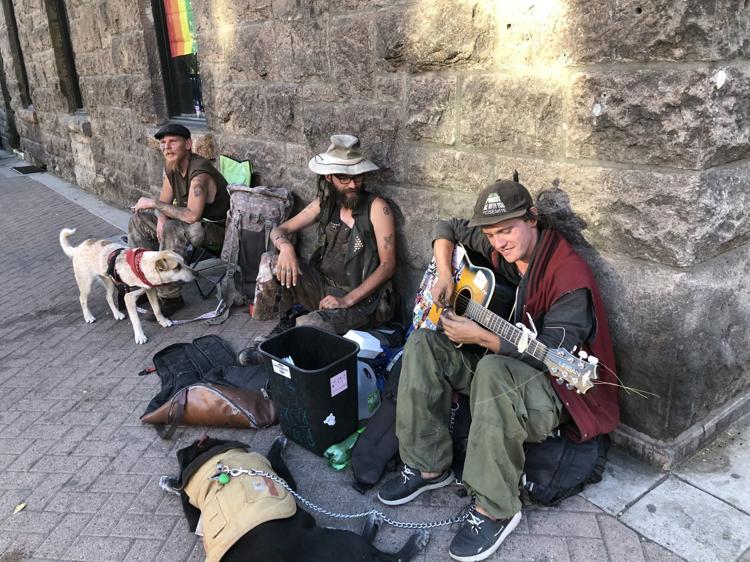 They share a lone guitar, "Wolfie," "Purge" and "Peace" do, while their two dogs sprawl on the sidewalk next to an open guitar case with an eye-popping number of greenbacks (and a bag of Skittles) attesting to their evening's toil. There they have been strumming, three chords and some stream of consciousness lyrics, though a few neighboring businesses objected to banging of their plastic trash bucket ("Rabble Rabble" painted on one side) as percussion. Too noisy; scares away customers.
Every weekend evening, and often during weeknights, music fills the breezy air downtown, not just from the city-sponsored plugged-in concerts on the square or from the bar bands shredding away on stages, but from buskers in the street.
These street musicians, overwhelmingly male but divergent in age and ethnicity, hope to get their licks just off Route 66, and the city is mostly fine with the practice. Unlike some municipalities, which enact bans on busking, Flagstaff takes a hands-off approach. "When we get complaints, we just go over and ask them to turn down the volume," said Charles Hernandez, Flagstaff Police Department spokesman. "We consider it part of downtown's culture."
So, you'll see an eclectic mix of street performers ply their trade, as on that recent Friday night when Poleski, a veteran guitarist who attended the School of the Art Institute of Chicago, and the peripatetic homeless ("We prefer 'travelers'," Peace corrected) trio entertained a healthy throng of tourists and locals. But you'll also find northern Arizona musicians setting up shop for a little exposure and extra dough.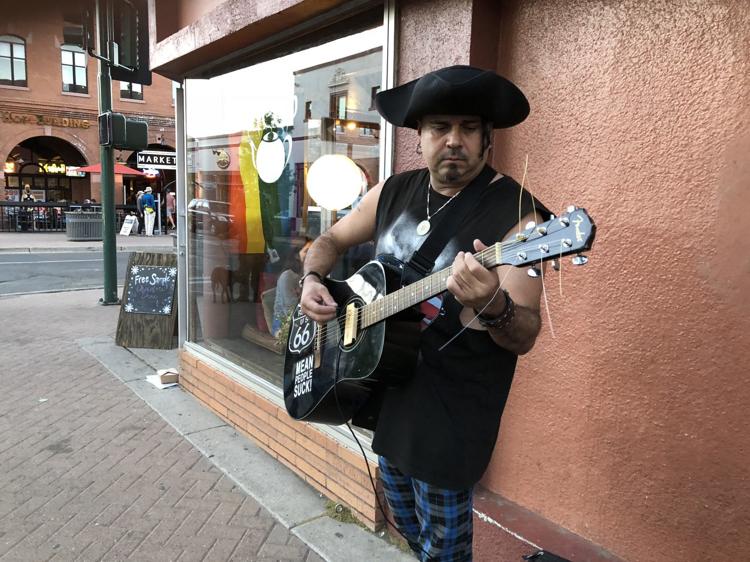 On the same street corner where Rabble Rabble's cacophonous song stylings bounced off the brick façade of the Pita Pit the night before, violinist Barry Smith, of Williams, entertained the Saturday night crowd with compositions both classical and contemporary, including some of his originals. And at the spot just outside Steep, a café, where Poleski rattled off Americana riffs on his axe, two 16-year-old local high schoolers, Ryan Wheless (on tenor saxophone) and Brayden Stark (drums), both improvised and covered Mingus and Coltrane jazz standards.
Reaction from the teeming sidewalk masses — aka, the "audience" — hellbent on dinner or drinks or to buy junior that perfect Grand Canyon  tchotchke from that cute boutique? Mostly indifference, to be frank. Yes, some slowed their pace and parted with a dollar or two before moving on and occasionally appreciative ears would linger for a song or two. The vast majority, though, quicken their pace and avert their eyes, suddenly becoming quite interested in the pattern of the cracks in the sidewalk.
Such is the life, either rejection or remuneration, of buskers. It's an artisan art form that dates to ancient times and survives even in these days of auto-tune and techno beats manipulated by DJs.
One must have a thick skin to make it on the mean (or friendly) streets. Talent often isn't enough. The Washington Post famously once persuaded violin virtuoso Joshua Bell to wear a T-shirt and ball cap and play his Stradivarius in the D.C. subway. In 45 minutes of playing, 80 percent of commuters failed to stop or even look up. He made $27.
Not bad, actually, by buskers standards. The point is that even a world-class musician has it rough in public places. Most street musicians are shy about revealing how much they make on any given night. Dwelling on the monetary angle, they say, is gauche and goes against artistic principles. Yet, they admit they wouldn't be out there if they didn't have a financial incentive.
Poleski has played at bars from cities big (Boston, Chicago, San Francisco) to small (well, Flagstaff) and makes enough to keep on the road chasing the dream.
You have free articles remaining.
"You don't make much, but it's something," he said. "It's a capitalistic free society. It's my right. I'd be happy to make 25 bucks tonight. Some of these bars here won't even pay that much. They want you to play your heart out and they're reluctant to give you a drink. I heard of this one place (in Flagstaff), a whole band of five played and got 25 bucks between them. Ridiculous."
Smith, the violinist whose day gig is playing fiddle for tourists on the Grand Canyon Railway, does it for the exposure. He's working on his own CD on electric violin tunes.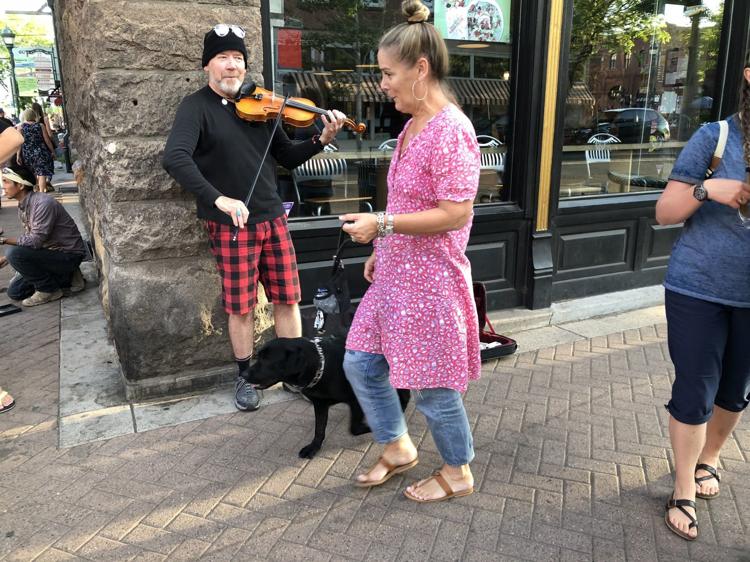 The high school students, Wheless and Stark, do it for kicks, though Stark admits, "We'll get, say, $10 an hour on Wednesdays, but tonight, in a little less than an hour, about $20. On a really good night, $50 an hour. Much more than I'd make at my (summer) job at Raising Cane's Chicken Fingers."
Though serious musicians downplay what they pocket, the Rabble Rabble Crew Kids — who aren't kids, per se, ranging from ages 25 to 40 — revel in what they rake in. Sometimes there's a fine line between playing and panhandling, and these three straddle that line. Wolfie (real name: "Keith, just Keith, OK") launches into snatches of songs only when he sees people coming, while Purge is more the artiste.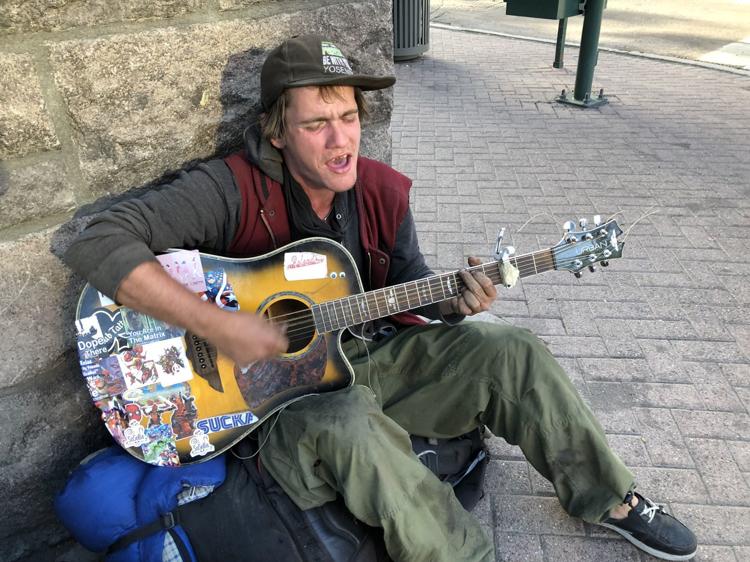 Purge flashes a orthodontially challenged smile when asked his favorite tune, one that he swears prompted a Flagstaff passerby to drop a C-note in the guitar case. "I played 'Let It Go' from 'Frozen,'" he said. "My daughter told me she wanted me to learn to play that song before I was told by the state of Texas that I couldn't have access to my daughter."
He didn't care to elaborate; too sad, he said. Instead, he grabbed the guitar and sang "Let It Go" in a voice best described as Tom Waits with a head cold.
The Rabble Rabble trio joked with passersby, one of whom, identifying herself as Amber Lee, raved about them. "They're good people," she said. "People judge too much. This whole strip is great for (buskers). I heard an Indian flutist the other day."
Other performers say disheveled homeless buskers give them all a bad name, and the Rabble Rabble guys acknowledge that. Cops have run them out of town in cities like Bakersfield, California and Macon, Georgia. They like Flagstaff, though they know not to overstay their welcome.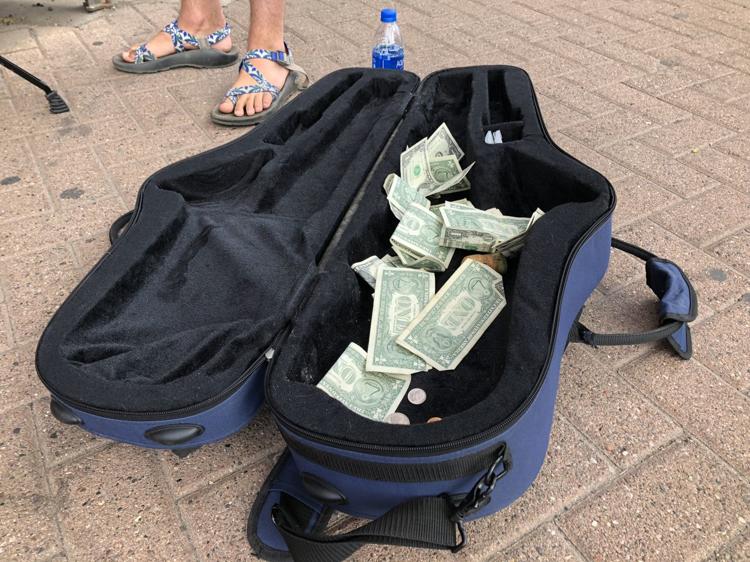 It's the hometown buskers who have the staying power and get the warmest response from locals. Even on the coldest nights.
"I was out here with my violin one time, and it's 9 degrees — 9," Smith said. "They appreciate it more. They're like, 'Dude, here, man, take this (money). You need to check into a hospital."
As the evening unfolds, the Flagstaff teenagers are getting a good response. A tourist from Bolivia stops the lays some bills in the sax case and stays to listen as Wheless wails into a version of Mingus' "Haitian Fight Song."
The guy claps when it's over, heads off. The evening rolls on.