Rebecca Wallace and her husband Joshua Wallace call themselves the last responders.
Through their company Bio-One, the Wallaces respond to scenes of crime and trauma with hazmat suits, respirators and boxes of shammies to clean up contaminated areas. The co-owners said they get calls around the clock to respond to hoarding, unattended deaths, killings, mold, feces and urine smells.
Rebecca said they are the only cleanup company in northern Arizona that is licensed to transport blood, decomposing matter, bodily fluids and anything deemed biomedical to a disposal site in Apache County. They are currently making the trip about once a week.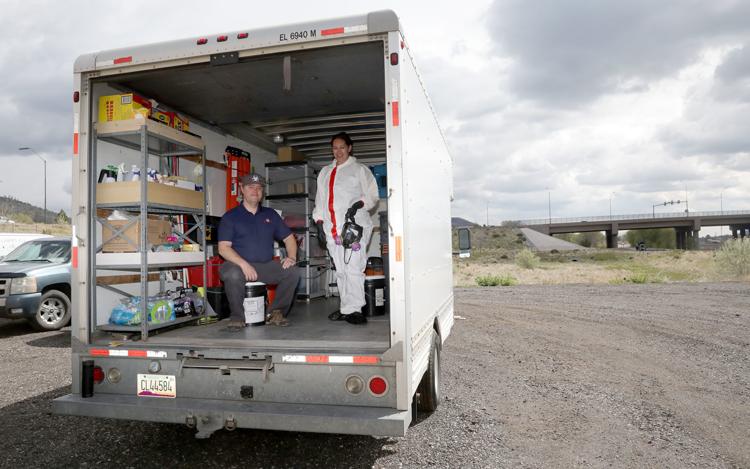 "We don't just leave the bags on the front door waiting for the transportation company to come and take them. We do it all, so people aren't having to wait to get their lives back in order," Rebecca said.
In their white box truck they have saws for cutting up walls and floorboards when blood or decomposition seeps through. They have a machine that cleans the smell left over from mold or excrement out of the air, which can be toxic and requires proper care.
The two described an interaction they had where a person called them to clean up animal urine on their carpet. After arriving, the person told them that they had spent weeks cleaning out a hoarding situation before calling Bio-One. The Wallaces said they could have gotten the project done in a matter of days.
In the event of death or homicide, they have even been told by some customers that cleaning up after the death of a friend or family member adds even more trauma to their loss.
You have free articles remaining.
"Losing someone is absolutely difficult, but then think about piling on top of it a big scene that you have to clean up yourself," Rebecca said. "You don't know how to do it. You're not doing it properly. You think you have, but then the smell comes later. You didn't know you had to pull flooring up. I mean, there's so many aspects where it lingers with them for a long time."
In order to become better prepared, Rebecca has even taken the step to become trained on mental health first aid to better respond to and interact with people at trauma scenes. She has begun to teach Joshua and the two of them say they immediately saw benefits.
"We see people who say they want to kill themselves after they have seen someone die. They yell at us. They want to hug us. Or they're clenching their fists," Rebecca said. "It's how do we get them to a calm spot where we can have a conversation and move through that."
The Wallaces began their business in November after working in completely different industries for most of their adult life. Rebecca worked in food service and had worked in animal care, while Joshua worked behind a desk for a small business.
What they both said they were missing in their jobs was the ability to help others in their communities.
"I just did my job and went home and didn't really get any satisfaction on a level of being involved and helping and being a part of the community," Joshua said.
Bio-One is a franchise company that began in Scottsdale. When they began considering the possibility of starting the business in Flagstaff, the challenging work conditions made the possibility more appealing because they felt the work was needed.