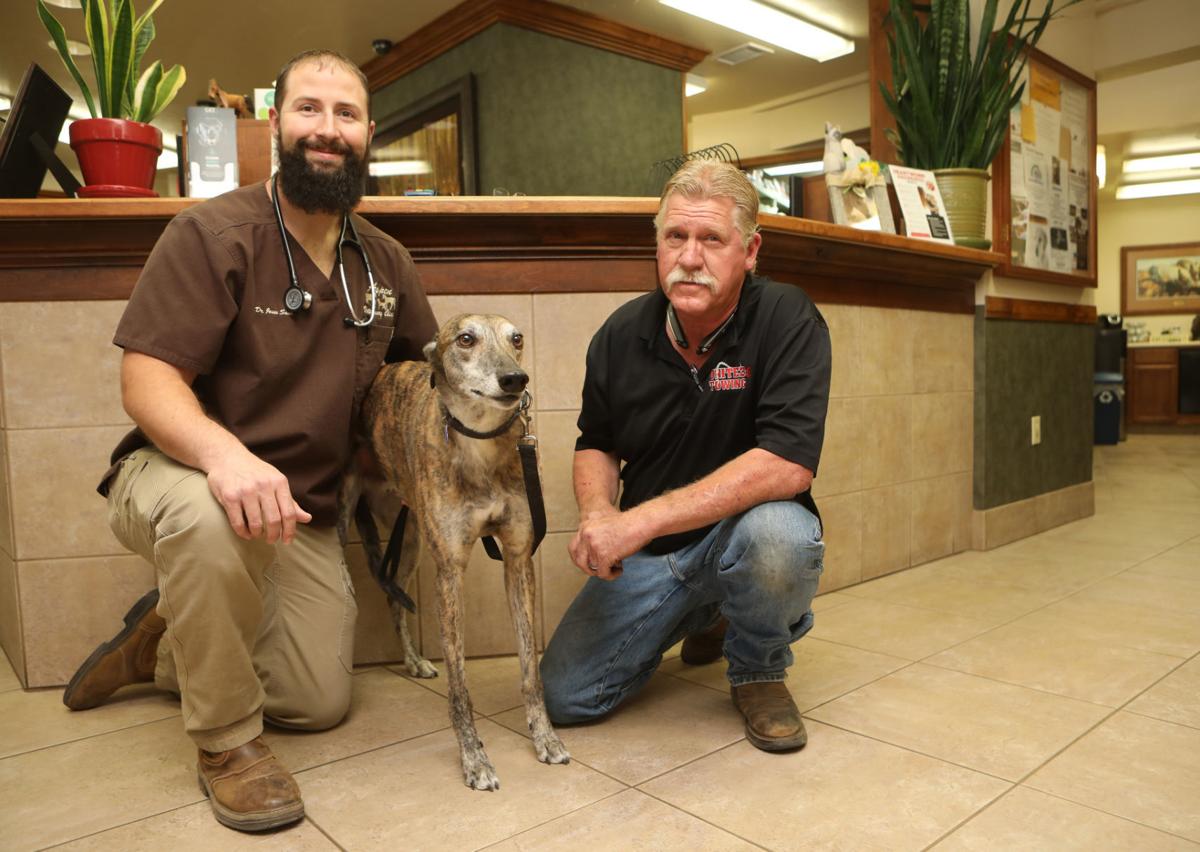 Michael Crocker doesn't remember much from May 14. On a cross-country trip from Alabama, Michael was on Interstate 40 in east Flagstaff, heading home to Southern California with Bella – a 4-month-old mixed yellow lab that he had recently adopted from a shelter.
Michael does remember initially rolling his SUV off the highway, according to his stepmom, Mary Crocker.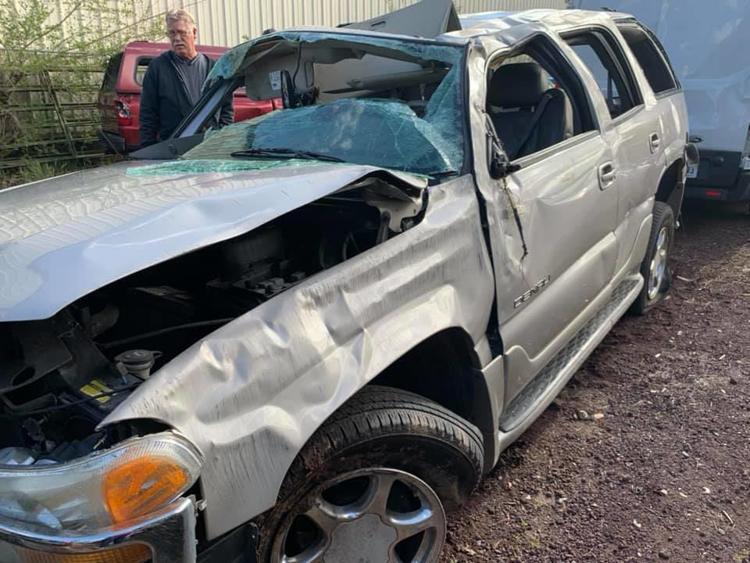 Photos of the totaled silver GMC Yukon Denali show a shattered and broken windshield, crushed front bumper, bent and scratched hood, no windows and deflated tires barely hanging on to the rims.
Although he was in and out of consciousness, Michael does remember being airlifted to a hospital in Phoenix for treatments to his hand and he does remember being very distraught, asking repeatedly where Bella was, Mary said.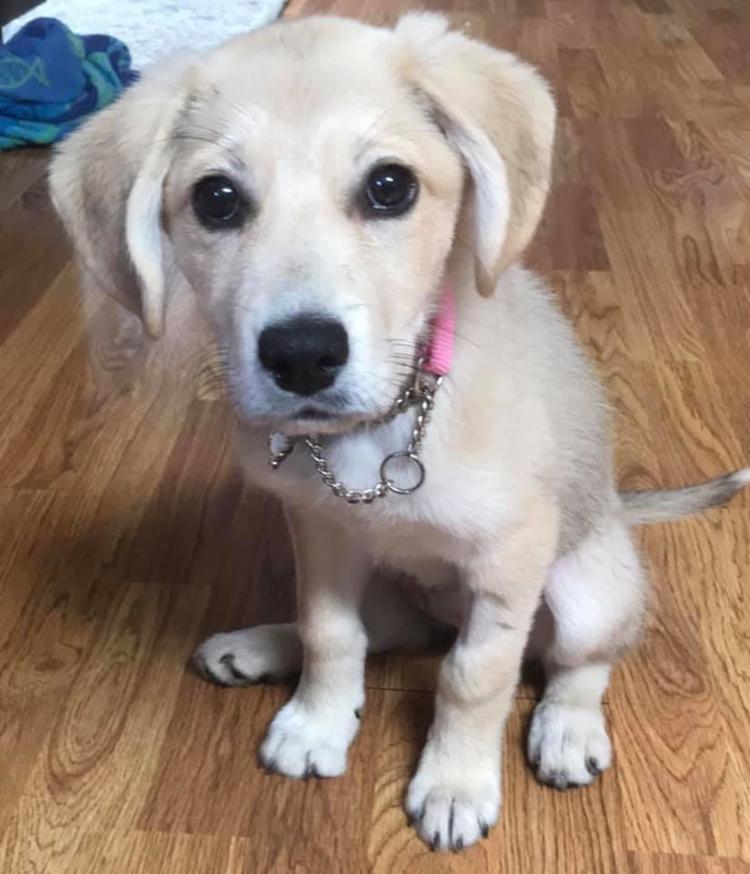 When Michael's father, Willie Crocker, came up from Southern California on May 15 to visit Michael in the Phoenix hospital, he also made a side trip up to Flagstaff. He read the police report and went to where the report stated the scene of the crash was -- I-40 Westbound, mile marker 202. He looked all over for Bella, but was unsuccessful.
After Michael flew home to recover, the search for Bella didn't stop, but Mary and Willie were careful not to bring up the subject of Bella to Michael as to not create more distress.
"In the meantime, while this was going on my husband and myself started looking at lost and found pets on Facebook," Mary said. "We wanted to give [Michael] closure."
Mary and Willie scanned online posts and called Flagstaff shelters for 12 days before High Country Humane put them in touch with Humane Animal Rescue and Trapping Team (HARTT).
---
The Rescue
Although based in Phoenix, HARTT has volunteers all over Arizona, including Flagstaff, that are trained to rescue timid pets. Many pets escaping from traumatic situations are overwhelmed and can take on skittish qualities, according to Cheryl Naumann, who founded HARTT in 2017.
As the former CEO of the Arizona Humane Society, Naumann knew humane societies are only able to rescue what she calls "catchable" animals. She created the nonprofit after catching lost pets on her own for five years.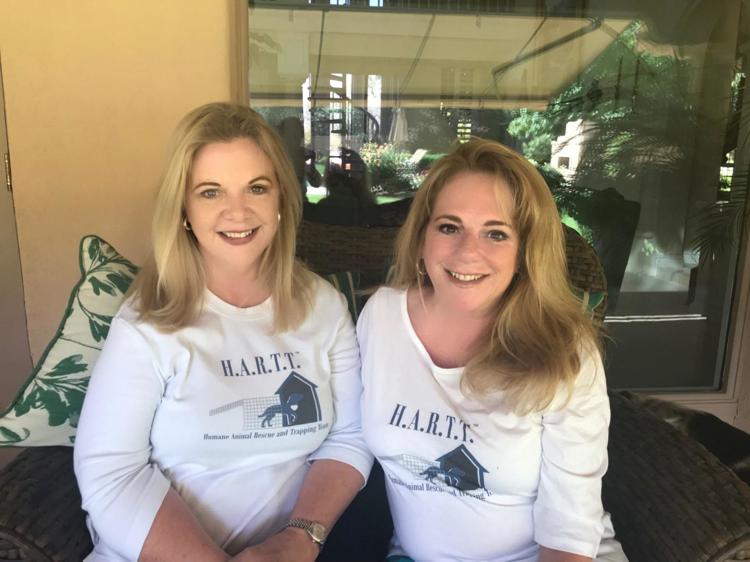 When HARTT volunteer Beth Buchanan informed Naumann of Bella on May 26, both Buchanan and Naumann happened to be in Flagstaff for Memorial Day weekend.
"I kind of jumped on that," Naumann said. "A puppy [involved] in a rollover sounded pretty dangerous and time could be critical."
On Memorial Day, Naumann and Buchanan headed down to mile marker 202 on I-40, between the Purina Factory and Walnut Canyon. The duo spent an hour looking for Bella under bushes and tall weeds off the side of the highway.
"If the dog is injured, oftentimes it will hide [under] bushes because it is scared," Naumann said, adding that a dog in this situation knows it's vulnerable and will hide from possible predators. "Dogs in accidents rarely travel more than a quarter mile from an accident's scene." Because dogs are confused by accidents, she added they often "stay close to the scene hoping their family will come back."
Without finding any evidence of the dog or the crash, Naumann contacted the tow truck driver who had picked up Michael's vehicle from the crash site nearly two weeks prior.
Naumann met Justin Wolfe at United Towing, and he showed her Michael's totaled SUV. Naumann noticed that one of Michael's towels was still inside and got permission to use it in hopes that Bella would pick up on the scent.
Besides materials that have familiar scents, squeaky toys and the crinkling of treat bags are the best way to find a lost dog, Naumann said. Since dogs go into flight mode after they are lost for over 24 hours, whistling, clapping or "repeatedly calling them could make them run from you," she said.
While at United Towing, Wolfe also took a look at Naumann's map.
"Nope, that's not it," Naumann recalled Wolfe saying, pointing her three quarters of a mile east of where she had been looking.
Naumann left United Towing at 5 p.m. and planned to restart the search the next morning using Wolfe's adjusted instructions. On a hunch, however, Naumann changed her mind and went straight to the site, looking carefully where Wolfe had told her to go.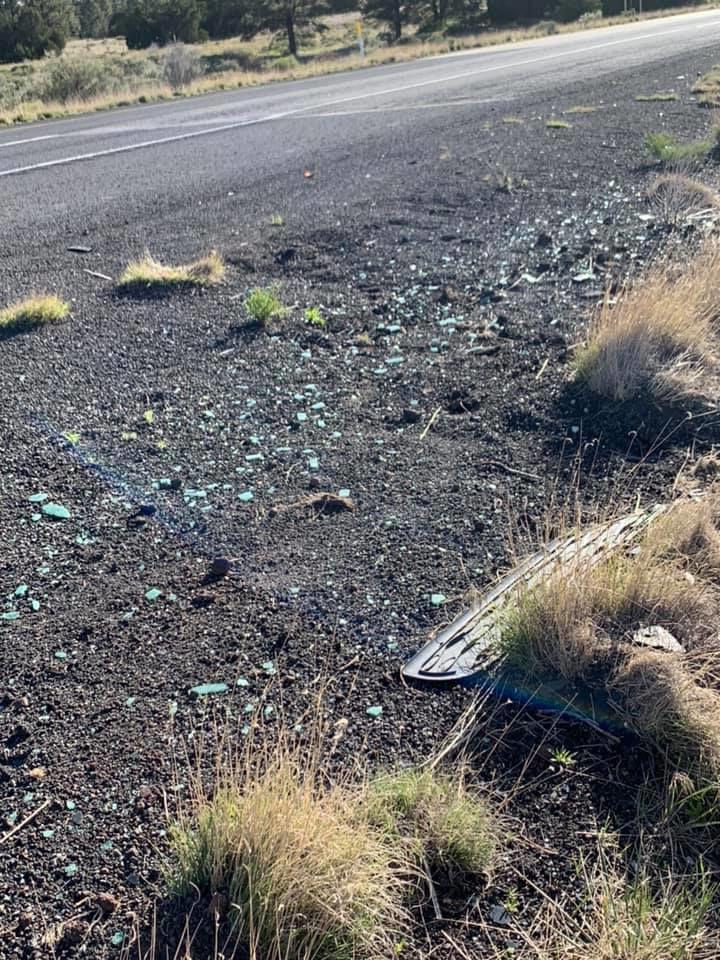 "There was a hubcap, broken glass everywhere, parts of a vehicle, a traffic sign that had been mowed down and clothes hangers everywhere," Naumann said. "I knew I was in the right spot."
Naumann planned to go from the highway down the embankment where there was barbed wire fence and railroad tracks. The puppy could have fit under the fence. The bushes were worth searching too.
"I looked in each bush just to make sure I wasn't missing anything," Naumann said.
After searching for 20 minutes, Naumann began to take videos to give Mary and Buchannan an update on the corrected crash site.
"I was feeling for the area of the crash, taking video, panning and narrating when all of a sudden I heard whimpers in the distance," Naumann said. "I was just shocked."
Naumann immediately stopped filming, dropped the debris and hubcap that she had been holding and started running toward the noise. "It was clearly a puppy whimper crying out like, 'I'm over here, I'm over here,'" she said.
Peeling away bushes and weeds, Naumann came upon a clump of shrubs just 10 feet from the highway. She parted the shrubs to reveal a tiny white bundle of fur.
"She was whimpering and looking up at me," Naumann said of spotting Bella. "Her leash was hopelessly tangled around a bush."
Although Bella's leash was wrapped up tightly, Naumann noticed her collar was loose – perhaps because she had lost so much weight. Naumann was fearful that Bella might run into the street when she untangled her.
"I basically protected her with my body," Naumann said. "Kneeling down and leaning over her, I had my left hand and forearm firm against her body and had her by the collar."
Blocking Bella from running away with one hand, Naumann untangled her leash with the other. After she picked up Bella, ran with her 300 feet to her car and placed her in the passenger seat was when Naumann said she knew Bella was safe.
"She was just licking me like 'thank you,'" Naumann said. "I was shaking. The adrenaline of finding her was very emotional. After 13 days it was quite frankly a miracle that she was alive and conscious without food and water."
Naumann took a shaky video to send to Buchannan and Mary, showing them that she had Bella. She then called Aspen Vet and her heart dropped. Since it was a holiday, the office was closed. However, Naumann left a voicemail for the emergency line and started driving to the vet anyways, which was located about eight minutes away on US Highway 89.
On the way over, Naumann noticed Bella trying to get into her opened Coca-Cola can. Due to Bella's extremely weak condition, Naumann knew that even though Bella was likely completely parched and starving, having an unregulated amount of food or even water could shock her system, and she needed a vet's recommendation.
Miraculously, Naumann said, Dr. Jesse Saul had received the urgent message about the stranded puppy.
THE RECOVERY
"Dr. Saul and his wife came in and immediately started working on Bella," Naumann said. "They took her temperature and pulse, listened to her respiration."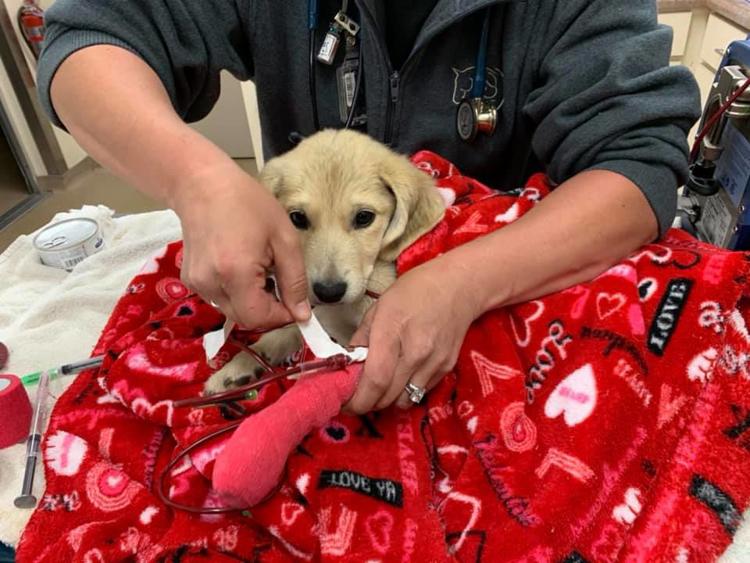 At 97 degrees, Bella's temperature was 4 to 5 degrees lower than it should have been.
"Clearly she was really cold," Naumann said.
Saul placed a Bair Hugger around Bella, which is used to reheat hypothermic patients. After drawing some blood, Bella was finally allowed to have a little bit of water and a very tiny amount of prescription wet food.
When Bella's blood results came back five minutes later, Saul was shocked, Naumann said. Bella was anemic, and needed an immediate blood transfusion.
Saul called up one of his clients, whose brindled greyhound, Ruger, was a universal blood donor.
"Greyhounds typically are great donors – they're big dogs, have a lot of blood and are often [DEA4+]," Saul said of greyhounds' blood type. "[This means their] blood is safe to give in a blood transfusion at any time and [the other dog] is unlikely to have a reaction."
"[The client] got her here in 15 minutes, which is unbelievable on Memorial Day," Naumann said. "Bella was being worked on when the greyhound came in. When Bella saw the other dog, she perked up and wagged her tail. She wanted to meet him so bad, but wasn't strong enough."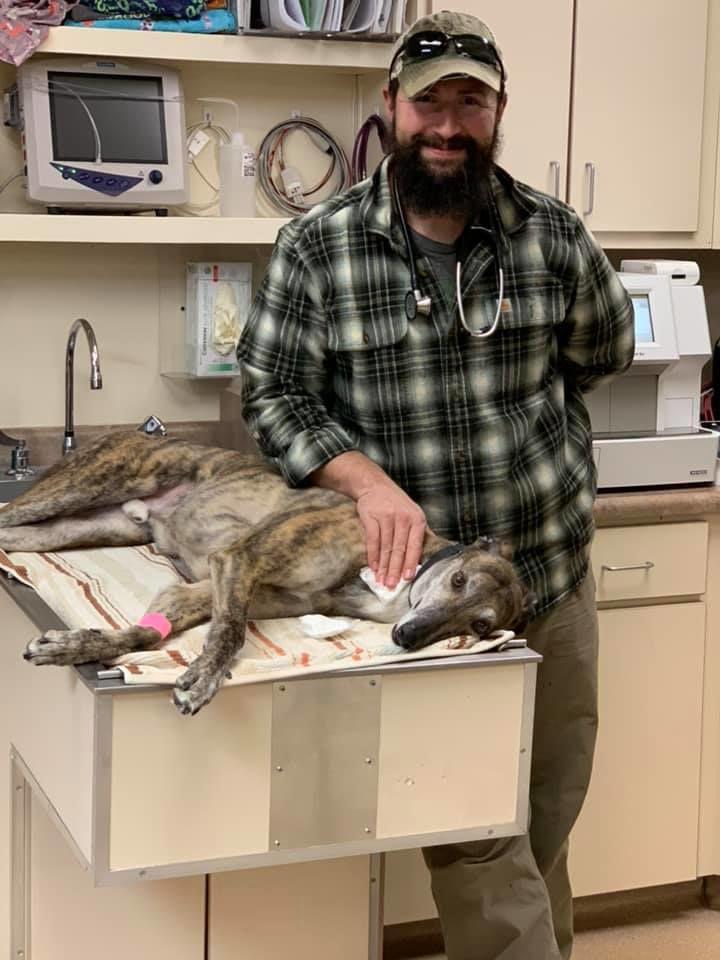 Besides being anemic, Saul said Bella had internal bleeding and was indeed extremely dehydrated and emaciated.
"The only thing that saved her life was the snow and the hail and the rain and the puddles on the side of the highway that were probably splashing on top of her," he said.
In the next few days of her recovery at Aspen Vet, Bella was given more portions of medicated food. It was then that Saul realized Bella had melona (black, tarry stools that indicate internal bleeding).
"I suspect she sustained some internal trauma [after] being thrown from the rollover," Saul said.
Dogs can be traumatized emotionally as well. When Saul walked Bella outside the vet, he noticed she would flinch whenever large vehicles drove by on the highway. Being so young and isolated for so long, Saul said Bella must have been craving physical contact.
However, four days after coming into his clinic, Saul found that physically, Bella was "perfectly healthy" and was ready to be released.
Mary drove from California to Flagstaff to pick up Bella, who she hadn't yet met.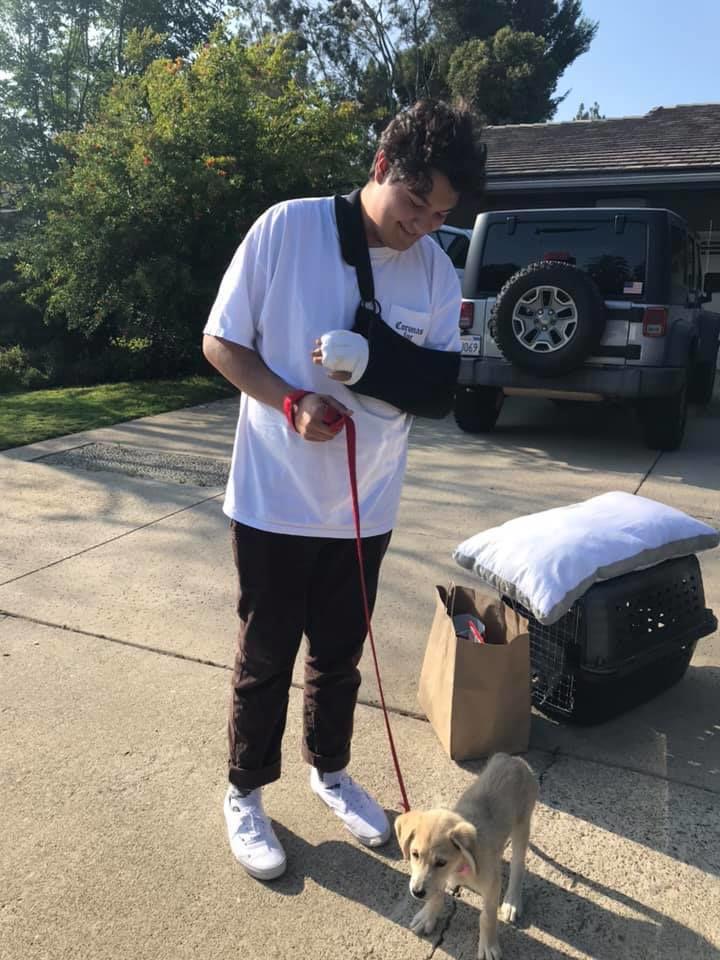 "She came out and only had a small little scratch on her back leg, but other than that she was in perfect condition," Mary recalled. "She was wagging her tail and came over to me like she knew me. I cried with such joy and the whole vet office was crying."
Mary had lived in Flagstaff decades earlier and still had family and friends in town, but was on a mission to get Bella home to Michael as soon as possible, she said.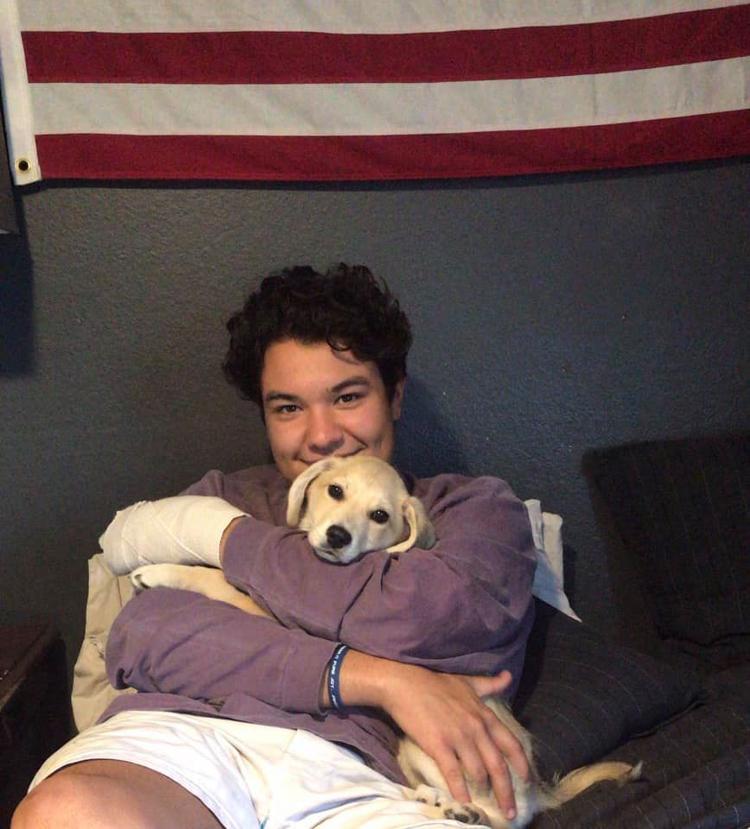 "Bella knew exactly who [Michael] was, wagged her tail and immediately went over to him," Mary said of the reunion between the two. "Michael was just like 'Oh Bella!' and was so excited."
Michael was also surprised at how much smaller Bella was after losing so much weight, Mary said.
"They have been inseparable ever since," Mary said, adding that Michael and his siblings love to walk with her and take her wherever they go.
"[Michael and Bella] are healing together," Mary said. "All this has been like a miracle – it really, truly has."
Be the first to know
Get local news delivered to your inbox!