Basis Flagstaff physical education teacher Marty Heilman believes the best way to learn something is to teach it.
When his high school students were scheduled to share the school's gymnasium with a class of second graders, he started a new functional fitness program where, after learning new techniques in their own class, his students teach the second graders as a way to increase solidarity among the school's students, create better leaders and make fitness fun.
"It's purposeful, it's engaging, it's dynamic and they feel good about it," he said. "It's just so much more fun than being on a hamster wheel."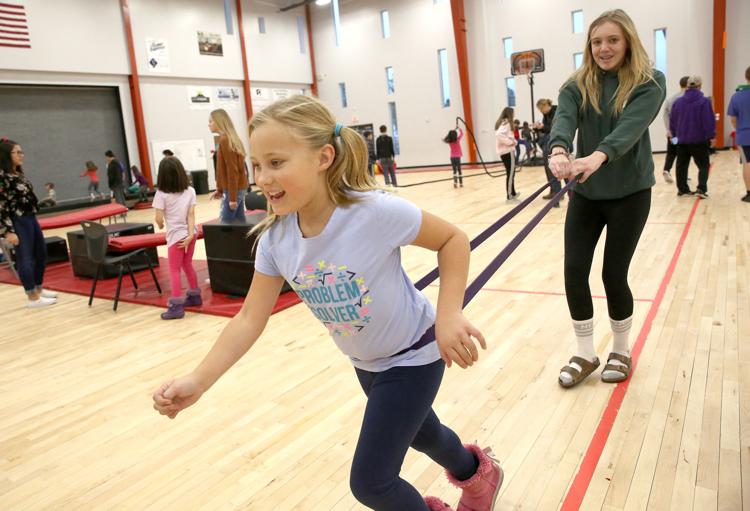 At least once a week, Heilman's students will take a small group of second graders through stations featuring exercises they learned in class earlier in the week, from agility drills to planks. The students spend two minutes per station for the duration of their 40-minute class period, their conversations and laughter filling the gymnasium with an undeniable enthusiasm even as they sweat.
The ultimate goal of the program is to encourage students of both age groups to be healthy for life by making fitness fun through functional fitness techniques, which train movements instead of isolating certain muscles. This year is Heilman's twentieth as a coach and trainer – his second at Basis – and he says he has never had so much fun.
"That's the key, making it fun. Because once it's fun, it becomes a habit," Heilman said. "It's not a workout, it's a play out."
Dedrick Wiese, P.E. teacher of the second grade class, says the unique learning environment created by the two-class partnership is especially beneficial to the health of young students.
"When they play with the older kids, it's more of a mentoring," he said. "They always look forward to it."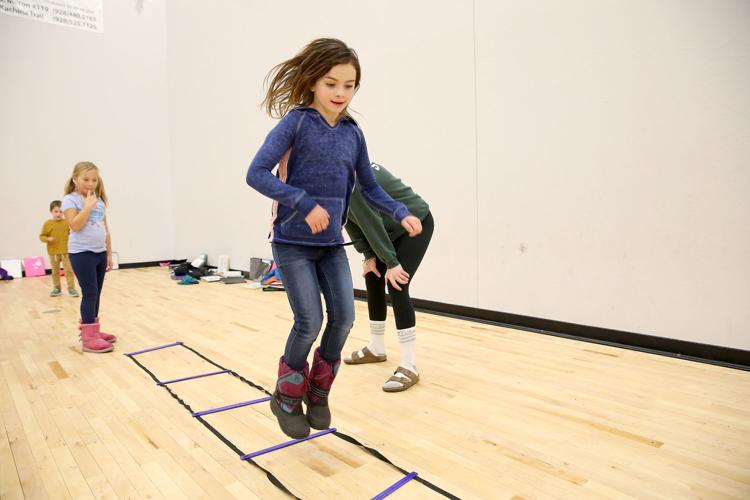 Although the two teachers emphasize the importance of play, Heilman first teaches the structure needed to support the fun, an essential component of the high schoolers' new role as teachers. They must not only recognize and explain proper form, technique and safety, they must also learn how to cue and motivate their group of second graders.
Heilman explained, "They're going to be leaders. And I want them to learn how to lead, how to coach people, and to feel comfortable doing so."
This partnership between the two classes started a little over a month ago, but has already had a noticeable effect on relationships between students. As a K-12 school, Basis is home to a diverse range of students; with the new program, students are creating meaningful connections with each other, despite their age difference.
"It just makes the whole school more cohesive, said Corey Hartman, Head of School.
Rachel Camp, a senior at Basis, said, though teaching requires patience at times, she loves working with the second graders as much as they do.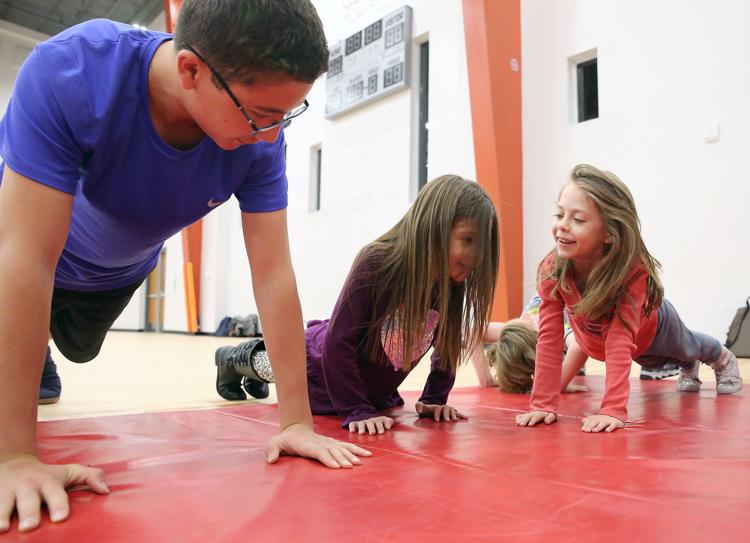 "The kids like it because we are closer in age than the teachers are. It brings the school closer together."
Eighth graders at Basis are also considered high schoolers, which allows students like Kalyn Elliott to participate in Heilman's classes. She says she enrolled in the course – one elective among an expansive selection – because it helps her manage anxiety and stress, as well as improve her endurance and vertical jump as a basketball player. The camaraderie is a bonus.
"It's a lot of fun," she said. "Every time I see one of [the second graders] in the hallway, they always run up and give me a big hug."
Physical education is an essential component of Basis' efforts to achieve academic excellence; Heilman says the more students move, the better they learn. His five-day P.E. elective for high school students helps relieve academic pressure while simultaneously establishing essential fitness habits.
"Basis isn't all about getting good test scores," he said. "We are teaching the whole child, making strong leaders, and making fitness fun and enjoyable so they can be healthy for life."