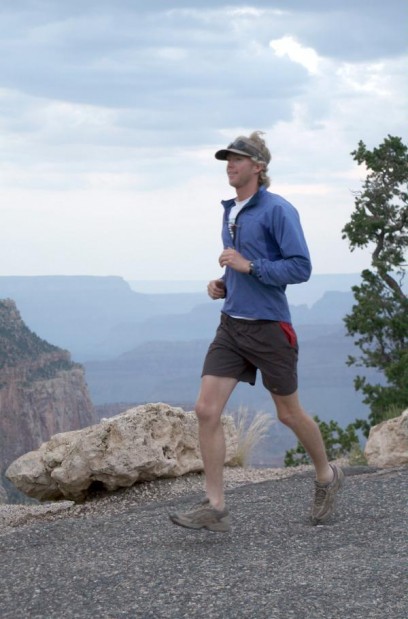 Idea: Wouldn't it be neat to run from the top of Humphreys Peak to the bottom of the Grand Canyon in less than 24 hours?
Better idea: Let's run from the bottom of the Grand Canyon to the top of Humphreys — and still in less than a day.
More than three decades after "Hole to Hump" was born and actually conquered, National Park Service employee Mathieu Brown, 33, became the latest to attempt the 100-mile, 11,000-foot elevation-change challenge last week.
He missed the 24-hour mark by just over an hour.
"My goal was to do it in less than 24 hours, because that was how it was originally conceived," Brown said. But he got lost during the night and ran an additional 5 miles. Then he sprained an ankle from running in the dark, which also affected his time.
Regardless, a little more than 25 hours after starting from the Colorado River he made it to the top of Humphreys.
Former Flagstaff resident and longtime runner and climber Scott Baxter, 62, is arguably the first — or one of the first — to complete the Hole to Hump in under 24 hours.
Of Brown's accomplishment, Baxter said, "It's neat that he did it, and my guess is he'll want to try it again and get there in under 24 hours."
Baxter, founder and owner with Lee Dexter in the early 1970s of the Alpineer outdoor gear store on South Beaver Street, said the idea was born in the mid-'60s to run from top to bottom.
Jay Hunt, a Northern Arizona University math professor, and Williams resident and excellent runner Allyn Cureton tried to do it a few times in the 1960s, but they were never able to pull off the feat.
Baxter said he heard of the run from Cureton, and with a partner named Ross Hardwick, Baxter tried the same route. They only made it about 30 miles, but a light bulb went off in Baxter's head: Why not try it bottom to top, because it's easier on the body?
In 1981, he tried it again, but at about 10,000 feet, he and his running partner were met with a blinding blizzard and horizontal snow.
"We made the bittersweet decision to turn around and admit defeat," Baxter said.
The next year, he tried again with river runner Alan Williams, and they made the run in 21 hours and 29 minutes.
But they are not considered by some to have been the first. The year before, Mike Ehlerman made it. Yet Baxter said that Ehlerman has disavowed that run because he petered out and was helped to the top by a support crew.
Baxter said Ehlerman came back the next season and made the run 30 minutes quicker than he and Williams.
But the first runners to make the top-to-bottom run successfully - - the way the run was originally conceived — and before the bottom- t- top runs, were Jim Haisley and Ken Walters.
Baxter said that over the years he's heard of a growing number of extreme runners making the journey. He said he's happy the run has not become an organized event, instead remaining an underground treasure.
Brown, a graduate of Flagstaff High School who earned his undergraduate and graduate degrees at NAU, said he first read about the race in the paper about 14 years ago.
Then, he began doing research and started hearing the name Baxter, Walters and Cureton. His mind focused on the local tradition of the run, and northern Arizona has always captured his heart.
He's lived in Flagstaff and now lives at the Grand Canyon working as a recreation planner. Running from one place he considers home to another and moving through the geography of the landscape enticed him to try, he said.
"I'm not sure if it's necessarily a smart thing to do, but for me it's a very interesting thing to do and an expression of this landscape."
The final push to do the run was a birthday event of a friend. His buddy Matt Snyder and two other friends were going to hike out of the Canyon, bike from the South Rim to the base of Humphreys, and hike to the top. They gave Brown a seven-hour head start.
His route: Take the South Kaibab Trail from the river to the rim, follow remnants of the old stagecoach route from the rim to Flagstaff, then head up the Mount Humphreys Trail.
He began on the afternoon of Tuesday, Sept. 30, and covered a large portion of the run at night, which is good for the drier, hotter sections of the terrain. He called the route "mentally challenging" because at one point a person is running almost near Highway 89 in volcanic fields at one moment, then the next moment a person is looking at Red Mountain and Highway 180.
"There's a lot of zig-zagging along," Brown said, adding that the route includes forest roads and portions of the Arizona Trail.
By 5:30 p.m. Wednesday, he and his father (who tagged along for the last leg up Humphreys) were looking down at the changing colors of the Inner Basin. On the way down, he passed his buddies coming up the trail.
Brown said he became interested in running because of his father, Doug, an economics professor at NAU.
The elder Brown, 61, likes to take on 50- and 100-mile extreme runs, and after high school, Mathieu began accompanying him on runs. Soon, Mathieu was preparing for events like the Leadville 100 in Colorado.
"He said this Hole to Hump was pretty much equivalent to the Leadville event," Doug said.
He helped his son on the route by being on hand to offer food, fluids and moral support — something he's done for his son before and his son's done for him.
"I think it's huge," he said of his son's accomplishment.
Does he think Mathieu will try it again to get in under 24 hours?
"I don't think so," Doug said. "He's the type of person who will do everything once … he'll find something else to do."
Indeed, Mathieu confirmed he has a long list of extreme events he wants to do to keep him busy.
Mathieu's wife Kirstin Heins is also a NPS employee, and he said she is supportive of his runs.
"She just thinks, you know, that's just what I do," he said, laughing. "She helped me out on the first part of the run."
"Only time will tell, but with a run like that I'm happy to have gone from the bottom of the Canyon to the top of Arizona in one run," he said, laughing.