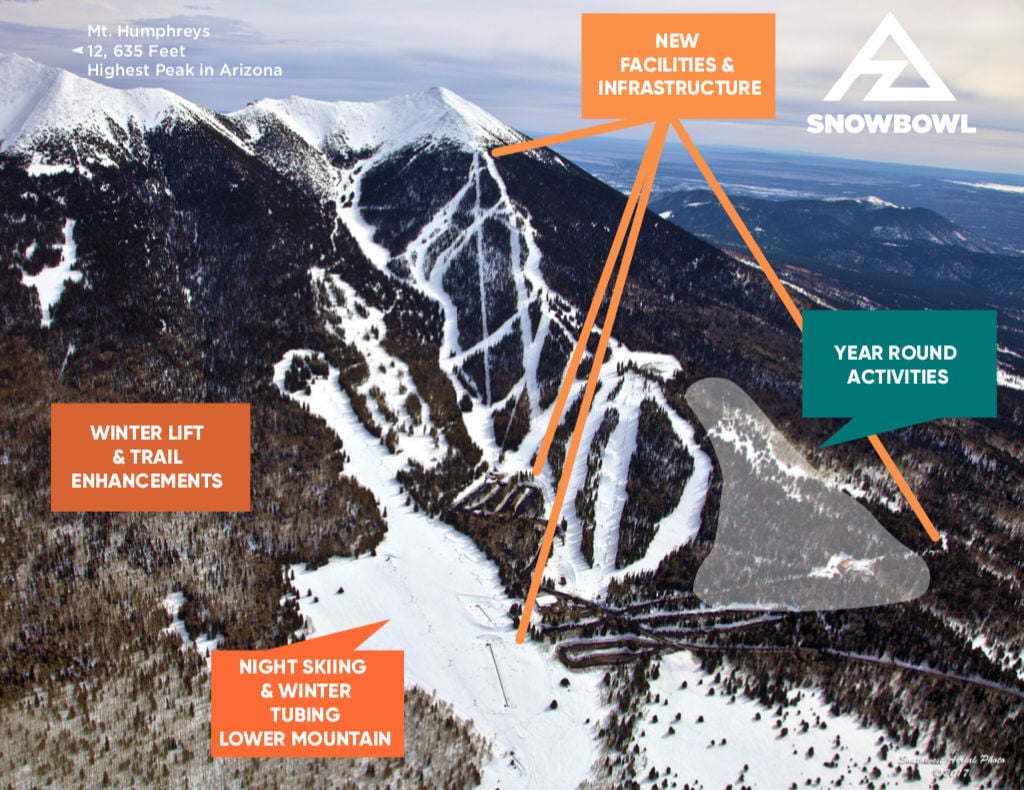 After Arizona Snowbowl had its longest winter season on record, J.R. Murray, the general manager at Snowbowl, has officially released information detailing their latest master development plan that will be filed with the U.S. Forest Service.
Murray told the Arizona Daily Sun they are intending to file their new master plan proposal this summer. Currently, their plans include expanding the services offered to their visitors without adding an acre to the Forest Service permitted land within Snowbowl's 777-acre resort. Murray also said their expansion would not require a new water agreement for more water from the City of Flagstaff.
"Flagstaff is known for its quality outdoor recreation. Land allocation for the ski area has been made and it's designated for recreation," Murray said. "We're happy with that 777 acres. Anything we propose is inside of that."
The current state of the plan is not final. Snowbowl's plan is required by their permit to use Coconino National Forest land, and will have to go through a lengthy process required by the National Environmental Policy Act, which will include an opportunity for the public to comment on the specifics of the plan before they can finalized.
Murray said they hope to offer new facilities, chairlifts, ski routes, winter tubing routes and night skiing during the winter season, and new options during the warmer months.
The new facilities were a big part for Murray, who said they wanted to address problems that resort visitors experience, including long wait times for food, lifts and bathrooms.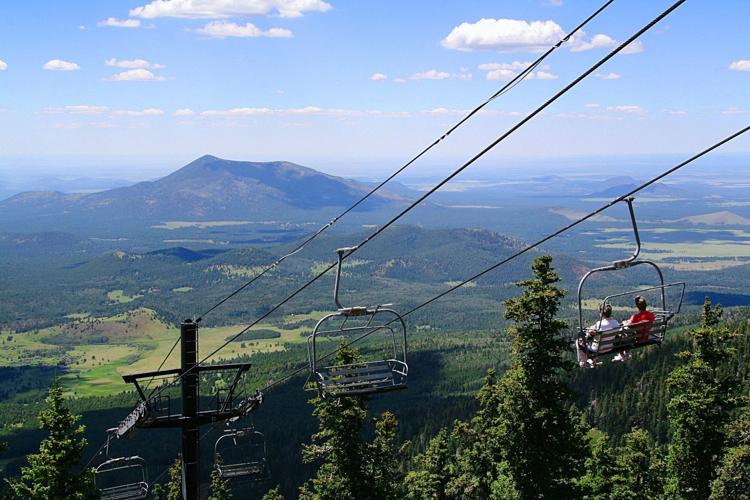 The new facilities are a part of an increase in capacity as well. Snowbowl officials hope to increase their capacity by 16 percent, from 3,870 patrons to 4,500. They reached their capacity number by computing how many people can use their services like parking lots, ski areas and base services comfortably, based on industry averages.
Part of their bid for night skiing includes lighting structures that they hope to get approved by the Flagstaff Dark Skies Coalition.
Snowbowl officials also say they have ideas for new summer season activities like "mountain biking, mountain coasters, alpine slides, zip-line tours, expanded disc golf, a climbing wall and outdoor concerts."
Adding winter tubing is an option that is on the list of their current master plan, but they are adding it to their new version. Winter tubing options were recently approved by the Coconino County Board of Supervisors at Fort Tuthill through the Flagstaff Snow Park to avoid snowplay traffic on the Highway 180 and the impacts of broken and forgotten plastic sleds in the northern Arizona forests.
Murray said they plan to provide winter tubing options in a similar fashion to the Flagstaff Snow Park.
"We would not allow plastic sleds. We would provide special tubes," Murray said. "We too have people coming up with plastic sleds, and they break, and we pick them up."
The Coconino County Board of Supervisors also approved using Flagstaff's potable water resources for snowmaking in order to ensure that no one would get sick from play on runs with artificial snow, despite public concerns over water usage.
Snowbowl currently uses Flagstaff's reclaimed wastewater for their snowmaking, and currently does not use all of the water allotted to them, Murray said.
Snowbowl has been the focus for multiple lawsuits from Native American tribes in northern Arizona, like the Navajo and Hopi people, most recently over the resort's use of reclaimed water. Many in the tribes oppose the use of the San Francisco Peaks for the resort, which has been used by Native people before the U.S. Forest Service could permit its usage.
The most recent lawsuit filed by the Hopi Tribe was denied by the majority of the Arizona Supreme Court, saying use of reclaimed wastewater does not specially harm the Hopi people's ability to use their ceremonial water bodies and objects collected during pilgrimages.
Citing a recent study from Northern Arizona University saying that Snowbowl created $58 million for the region annually, Murray said that they hope any expansion would allow the resort to continue to bring in revenue.
Snowbowl authorities said the earliest implementation of their projects could begin in 2021. After the master plan is accepted by the Coconino National Forest, the next step would follow the National Environmental Policy Act process, which involves public input.
Be the first to know
Get local news delivered to your inbox!