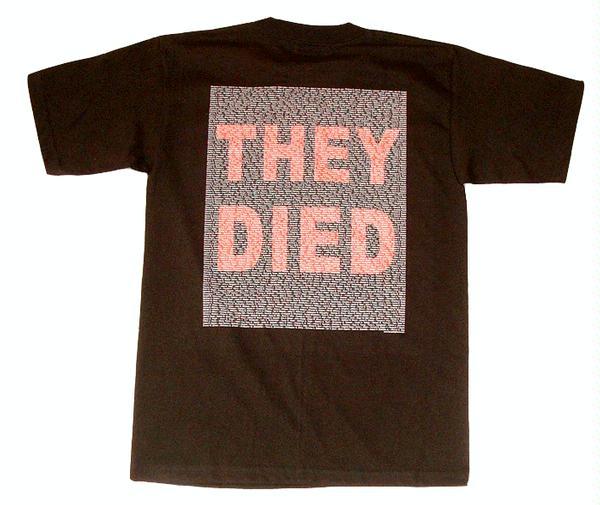 PHOENIX — A federal judge on Wednesday permanently blocked state and local officials from prosecuting a Flagstaff man who produces and sells antiwar T-shirts with the names of U.S. soldiers killed in Iraq.
U.S. District Court Judge Neil Wake said the shirts are "core political speech fully protected by the First Amendment."
Wake acknowledged that Dan Frazier sells the shirts. But he said the fact that an item is sold rather than given away does not strip it of its constitutional protections.
But Wednesday's ruling is not an absolute victory for the American Civil Liberties Union, which came to Frazier's defense after the Legislature passed a law last year specifically aimed at putting him out of business.
Wake said he was able to decide the dispute strictly on the basis of how it would be applied to Frazier.
That allowed the judge to sidestep the question of whether the law, on its face, is unconstitutional. And attorney Lee Phillips said that means it remains on the books — and might be used to prosecute someone else in the future.
The decision also leaves intact another section of that 2007 law which allows the survivors of dead soldiers to file civil suits if someone uses the names of their loved ones without permission. Wake declined to rule on that issue as he had no specific case before him on that issue.
That issue, however, could be resolved in a separate lawsuit filed in Tennessee by the parents of Brandon Reed, killed in 2004 in Iraq, who want $40 billion from Frazier on behalf of themselves and other survivors. The ACLU, which is defending Frazier in that case, too, has not yet filed its response.
At the heart of this case are Frazier's T-shirts, which have the words "Bush Lied" on one side and "They Died" on the other, all superimposed over the names of more than 4,000 soldiers killed in the Iraq war.
Sen. Jim Waring, R-Phoenix, pushed through a law making it a crime to use the names, portraits or pictures of dead soldiers to market any items without first obtaining consent of next of kin. Waring acknowledged the statute, which allows an offender to be jailed for up to six months, was aimed specifically at Frazier.
The ACLU filed suit last year after Frazier said he had been told by Flagstaff police they were preparing a report on his activities and intended to forward it to the city prosecutor's office. Wake issued a temporary restraining order blocking further action while he heard legal arguments.
In his new ruling, Wake acknowledged that commercial activities do not have the same broad free speech protections as those done without financial consideration.
And Wake acknowledged that Frazier was selling his shirts. He also said Frazier was using photos of the shirts — with the soldiers' names — in advertising on his Web site, something the law clearly prohibits.
But the judge said that doesn't mean Frazier was engaged in commercial activity.
In this case, Wake said, the T-shirts themselves and the message they bear are fully protected by the First Amendment. The judge called the Web site where they are marketed "like a street- side table used to disseminate anti-war and political messages in a variety of ways, including displaying and selling his message- bearing T-shirts."
"It is impossible to separate the political from the commercial aspects of that display," Wake wrote.
Phillips said Wake's refusal to overturn the law means others facing prosecution under the same law will have to make their own case that their activities are entitled to free speech protections. But Phillips said it should offer some legal shelter to other anti-war activists.
"Anyone else who can show they are genuine in their political motivation for the use of the names of a deceased soldier would probably be protected," he said. Conversely, someone who uses the names strictly to sell products likely could still be prosecuted.
The civil lawsuit filed earlier this year in Tennessee by Robin and Michael Read originally sought $10 million in damages from Frazier, who has placed their son's name on his T-shirts. It has since been amended in an effort to represent all of the survivors and collect $40 billion on their behalf from Frazier.