Nary a speck of white could be discerned atop the San Francisco Peaks over the weekend, at least not from the vantage point of the NAU Fieldhouse parking lot anyway.
A steady schussing of customers — many clad in T-shirts, cargo shorts and flip-flops and squinting into the sun — wielded skis and carried snowboards in the crook of their arms. Some even donned ski caps with fuzzy balls bobbing, as they headed back to their cars to stash their winter booty for the months ahead.
Last weekend, in a seasonal rite, locals and those up from the Valley partook in the 53rd Flagstaff Alpine Ski Team ski swap. Scores of winter sports items, from bindings to goggles, gloves to helmets, were on sale at discount prices — proceeds, of course, benefiting the organization that for decades has sponsored ski programs, from beginner to competitive, on the mountain.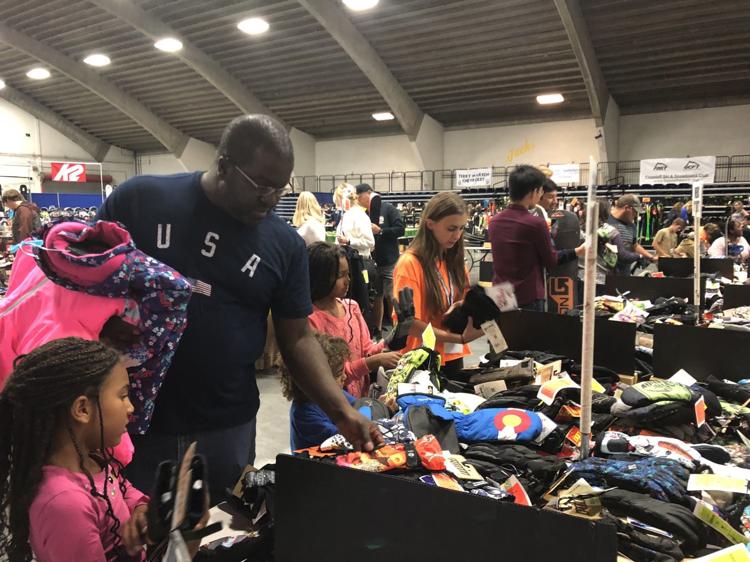 Though the annual ski swap has grown and morphed over the years — it began as strictly a true swap, locals bringing in their used equipment on consignment, and now mainly features new items from the outlet Ski Pro — it still is considered a precursor to a winter on the slopes.
And intimations of snow fever was evident among the attendees, even though the fall leaves are just now starting to turn and temperatures have remained sunny and mild.
Flagstaff resident H.L. Mullenaux, an avid snowboarder, walked into the Fieldhouse Friday night with his young son tugging at his sleeve. The two scoped out the offerings — row upon row of apparel, stacks of skis sticking up like sentinels, all manner of gloves beckoning with open hands — and left a short while later with two snowboards, as well as accessories squirreled away in a red sack.
"A Burton snowboard for $200, a Chopper, for a little kid is a pretty good deal," Mullenaux said. "On Amazon, online, you can get it for just about the same (price), but those don't come with bindings like this one. I did a lot of price comparison online before I came here, so I knew how to get the deals worth it to me here. Otherwise, I'll just buy the stuff online."
That was a common refrain from ski enthusiasts in attendance. It's a common obstacle for brick-and-mortar retailers, too. But the healthy crowd at the Fieldhouse -- the line at the checkout registers Friday night was 10-deep at some points — had to be heartening to the nonprofit Flagstaff Alpine Ski Team, which counts on healthy profits to fund its youth programs.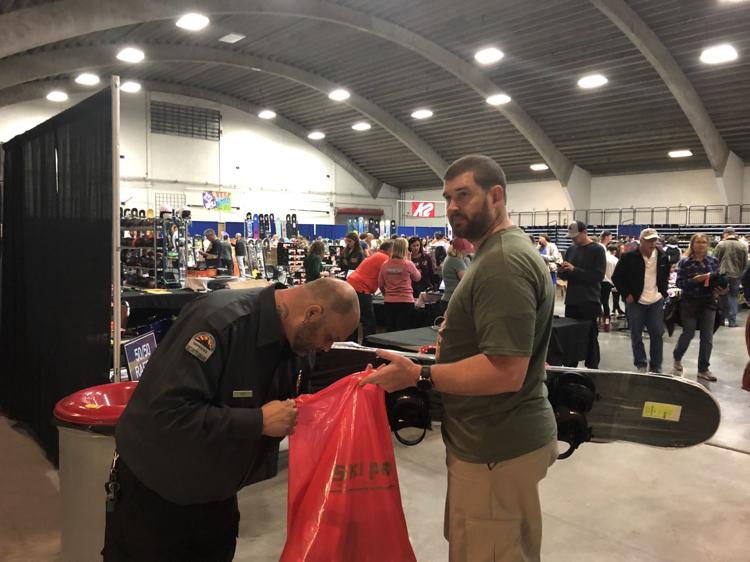 Kyle Wormsbecker, the group's program director, said proceeds from the swap began to dip considerably about 10 years ago and are just starting to bounce back.
"It was the internet, eBay in particular," he said, "Instead of waiting for a specific time and place to get gear, people found it more convenient online. But we have survived it. Ski Pro has stepped in and helped us. That's enabled us to bring in the majority of stuff. But we still take consignment, though it's definitely not as big a part as it used to be. We have a contract with Ski Pro where we work together so we can still maintain a viable fund raiser."
You have free articles remaining.
The dearth of used equipment brought in by community members on consignment was evident and turned off some longtime locals.
"It doesn't seem as good of deals as in the past," said Flagstaff customer Art Wilder, his three daughters in tow. "I don't see as much used stuff here as before. Actually, that's what I'm thinking of doing, going online. I have boots lined up, but I couldn't find anything here that was right."
Do note, however, that Wilder had three winter parkas and a pair of kids ski pants under his right arm, so he was able to find some deals.
The bump in interest on Friday's opening night perhaps could be attributed to the new venue, NAU's Fieldhouse. Wormsbecker said the club has had several sites for the swap in recent years, last year filling the parking lot of the Chili's restaurant on Milton Road. The Fieldhouse proved more spacious and comfortable.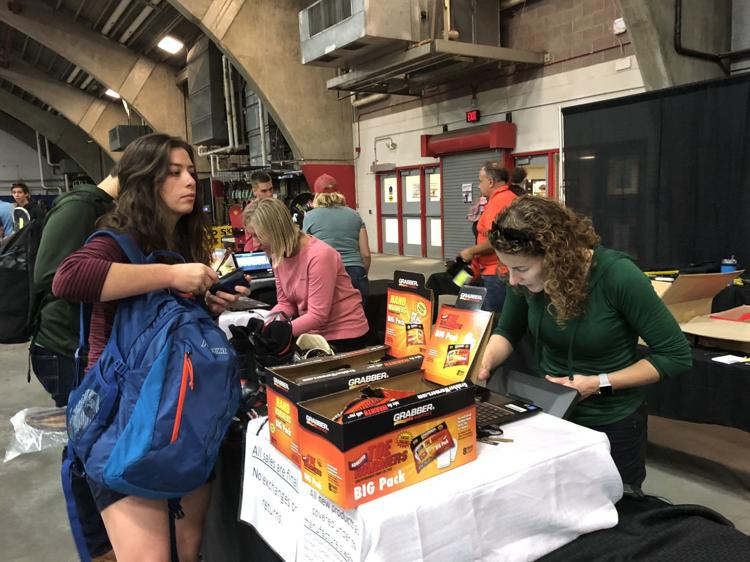 "We're really thinking and hoping that this is our home, where it'll be every year," he said. "It's nice being on campus, particularly on Parents' Weekend. Freshmen coming in — who knows where they're coming from? — they think they're coming to Arizona not realizing they're in the mountains. They might need to get gear."
In fact, students and parents did aggressively browse.
Regina Beaudry of Sierra Vista, Ariz., whose daughter Meghan is an incoming freshman, made a beeline to the ski boots fitting area. Meghan bought a pair of boots but, at last reports, mom Regina was still mulling whether to spring for a new pair herself.
"I'm very excited to be coming up to ski up here now that Meghan's a student," Regina said. "It's a great bonus for her coming here."
Meghan, for her part, sheepishly admitted the skiing played a part in her choosing NAU. "Oh, yeah, definitely," she said, laughing.
Chase Lombardi, an NAU student and Ski Pro worker fitting the Beaudry women for boots, just smiled.
"We had a great snow season last year, and that always brings the hype," he said. "You can feel it in here tonight. People are getting in the mood."