Adonis Encinas-Velarde sat on the witness stand on Wednesday afternoon and testified about the moments in the night that led up to Kinsey Beebe's death.
Encinas-Velarde, who pleaded guilty to being an accomplice to Puentes-Ortiz's crimes, testified that he was standing near Abraham Puentes-Ortiz when he raised a .45 Glock pistol and shot three rounds into the woman's head from close range.
"I can see her expression. Her expression was fear. She didn't say nothing. She was just being shot," Encinas-Velarde said as he looked toward the jury. Encinas-Velarde also said he and Puentes-Ortiz were close friends before the shooting occurred and they were taken into custody.
Encinas-Velarde said he was dating Beebe at the time of the shooting. Beebe was on the phone with her mother when she was shot, asking to be picked up from the home.
Encinas-Velarde has been serving time in a prison in Buckeye, Arizona after pleading guilty to being an accomplice to kidnapping, attempted drive-by shooting, assisting a criminal street gang and weapon violations. He appeared to testify under subpoena in the main portion of Puentes-Ortiz's case. Puentes-Ortiz has pleaded not guilty to 13 charges by a grand jury including the first- and second-degree murder of Beebe, kidnapping, and a drive-by shooting on behalf of a gang.
Puentes-Ortiz could face life in prison if found guilty for the charges against him. Encinas-Velarde was sentenced to 12 and a half years behind bars after pleading guilty.
In the trial so far, prosecutors have argued that Puentes-Ortiz was a "wannabe gangster" who was acting crazy on the night of the shooting, while Puentes-Ortiz's lawyer argued that there was not enough evidence to convict his client.
Encinas-Velarde walked through the courtroom to the witness stand wearing a blue Coconino County Sheriff's Office jumpsuit with cuffed wrists and ankles. The crowded courtroom sat in silence and watched him as he was escorted by a deputy to the stand.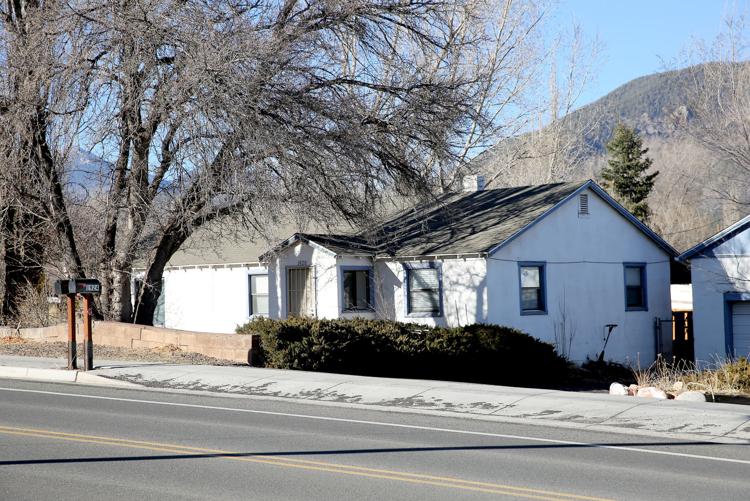 When the two men were in the backyard on the night of the shooting in February 2018, Encinas-Velarde said Puentes-Ortiz asked him to shoot him, and handed him a gun to do it.
"He told you to shoot him and what did you do?" Barker asked.
You have free articles remaining.
"I told him I'm not gonna do that, and I saw things were a little out of hand," Encinas-Velarde said. "Every time he handed me the Glock I would take the bullet out of the chamber so it wouldn't go off accidentally."
Barker asked Encinas-Velarde to describe how Punetes-Ortiz was acting that night. He described the defendant as being upset, even though he could not say Puentes-Ortiz looked visibly upset.
"He's the type of guy who didn't want to show his emotions," Encinas-Velarde said.
Legal defender Joseph Carver focused on Encinas-Velarde's decision to leave the house voluntarily with Puentes-Ortiz.
Encinas-Velarde testified they got into Puentes-Ortiz's van and drove around aimlessly. Encinas-Velarde said he was crying while riding in the van and debated shooting Puentes-Ortiz, but ultimately decided against it. Encinas-Velarde said Puentes-Ortiz drove home to pick up magazines for an AR-15 and drove up to a home, planning to commit a drive-by shooting in the hopes of hitting someone from a gang who had a hit placed on their name.
Encinas-Velarde said he took the gun from Puentes-Ortiz while they were in the van and fired the AR-15 twice at the home, saying he hoped it wouldn't hit anyone. The three people inside, none of which were the target, were not hit in the shooting.
After firing two shots, he stopped, and told Puentes-Ortiz the gun wasn't reloading correctly.
"I was just arguing with him, and said your gun's messed up. That's about it," Encinas-Velarde said.
Carver brought up that after Beebe was shot and Encinas-Velarde fired the weapon, he brought up the fact that Puentes-Ortiz did not hurt Encinas-Velarde.
Encinas-Velarde's testimony occurred right after the attorney's opening arguments in a trial that is expected to span three weeks and see the testimony of others in the home and evidence experts.
Before the case began, Carver successfully argued for a portion of Puentes-Ortiz's testimony to be excluded from trial, citing Miranda rights violations.