Parents – audible sigh – they can be so hard to please sometimes. They mean well, of course they do, and only want what they think is best for their children. So Estephany Campos could understand why her loving parents, Juan and Maria, raised skeptical brows when their daughter, so smart and diligent and with a master's degree and all, decided to up and move from Los Angeles to Flagstaff and become a forest ranger.
Can you say culture shock?
The Campos family lived in South-Central L.A., perhaps the most urban part of an uber-urbanized city. The family worked hard and long hours, Juan in construction and Maria running her own day-care center. They had neither the time nor inclination to venture forth into the outdoors and commune with nature.
The mountains? That was a two-hour drive on clogged freeways. The beach? An hour away. Only Estephany, their youngest child, made beach runs, but she didn't like all the sand. The family's big outing, she recalls, was to the flea market. There were parks near her house but, as she confided, "especially in the '90s, it was not recommended to be playing outside for too long."
But then Estephany, in her mid-20s and gainfully employed as an arts outreach educator at the Los Angeles County Museum of Art and other venues, planned to chuck her own burgeoning but time-intensive career for a khaki-and-green ranger's uniform in a mountain town, Flagstaff, with trees almost as tall some L.A. skyscrapers?
Really, what could she be thinking?
Simple. Campos was thinking of how exposure to forests and deserts, lakes and rivers, the so-called Great Outdoors, had changed and expanded her life and appreciation for the natural world often ignored in the daily grind. She was thinking about how grateful she was that, in college a few years earlier, friends had taken her on her first camping trip and got her hooked, thinking how other Latinos like her were missing out on such experiences due to a lack of exposure and access, affordability and perceived cultural barriers.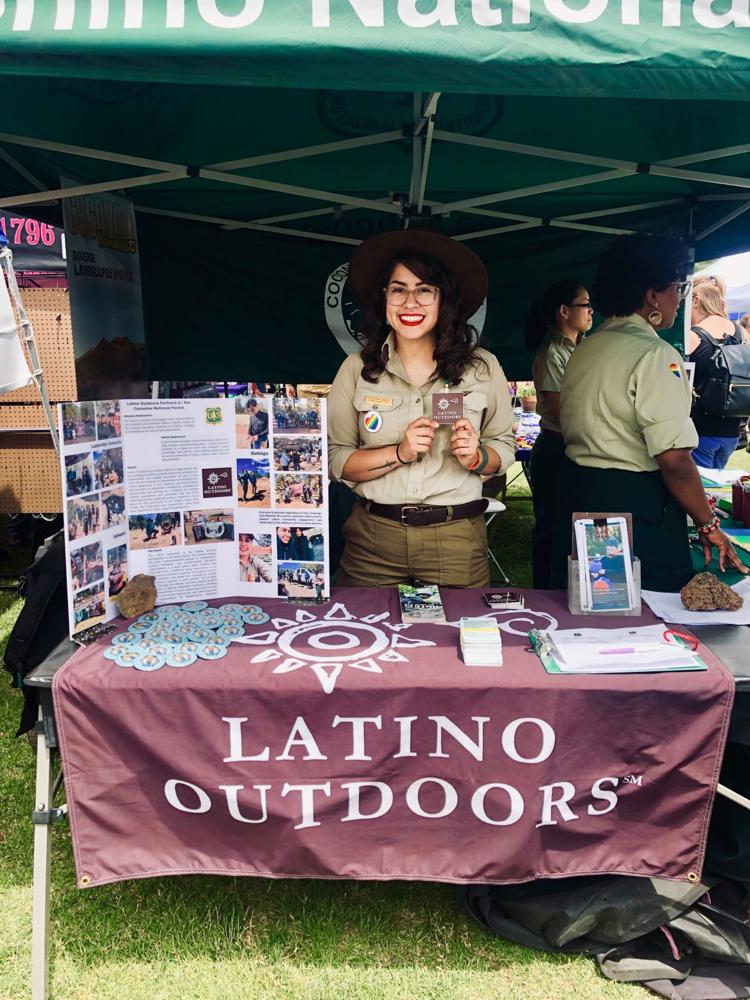 She thought she could make a change by taking dual tasks as the lead interpretive ranger for the Coconino National Forest and a program coordinator for Latino Outdoors, a nonprofit group working to increase minority participation in outdoors activities. She knew there was a dearth of Latinos taking advantage of public lands, but didn't quite realize that extent in the inequality — according to U.S. Forest Service and National Park data, 88% to 95% of public lands visitors are white, though whites make up only 63% of the population.
In two years on the job in Flagstaff, Campos, now 29, has made some inroads reaching out to what she affectionately calls "her people." Not as much as she would like, but progress nonetheless. In 2018, she won a National Forest Regional Forester's Diversity & Inclusion Award for her efforts, which includes the annual Latino Conservation Week in July.
Her biggest victory, though? It might just be winning over her parents.
"My family didn't find any importance in the outdoors," she said. "My parents (emigrated) from Mexico, and my mom was like, 'I lived the camp life, why would I want to go camping now?'"
But when Juan and Maria came to Flagstaff for a visit in 2017, shortly after Estephany's arrival here, she took them into the forest. She took them to the Snowbowl, to the craters and monuments, to Sedona. They were dazzled.
"I showed them my world and they said, 'Now we get it,'" Campos said. "My dad, he hadn't swum in 20 years. I mean, he lives in L.A. near the beach and it wasn't until 2017 when I brought him here that he got in the water (in Sedona). My dad couldn't get enough of the water."
Her parents' newfound appreciation of the outdoors only cemented Campos' belief that if Latinos had the exposure and resources to visit public lands, they would be just as enamored as the millions already flocking there.
Well, perhaps. But Campos admits hasn't had as much luck with her older brother and sister.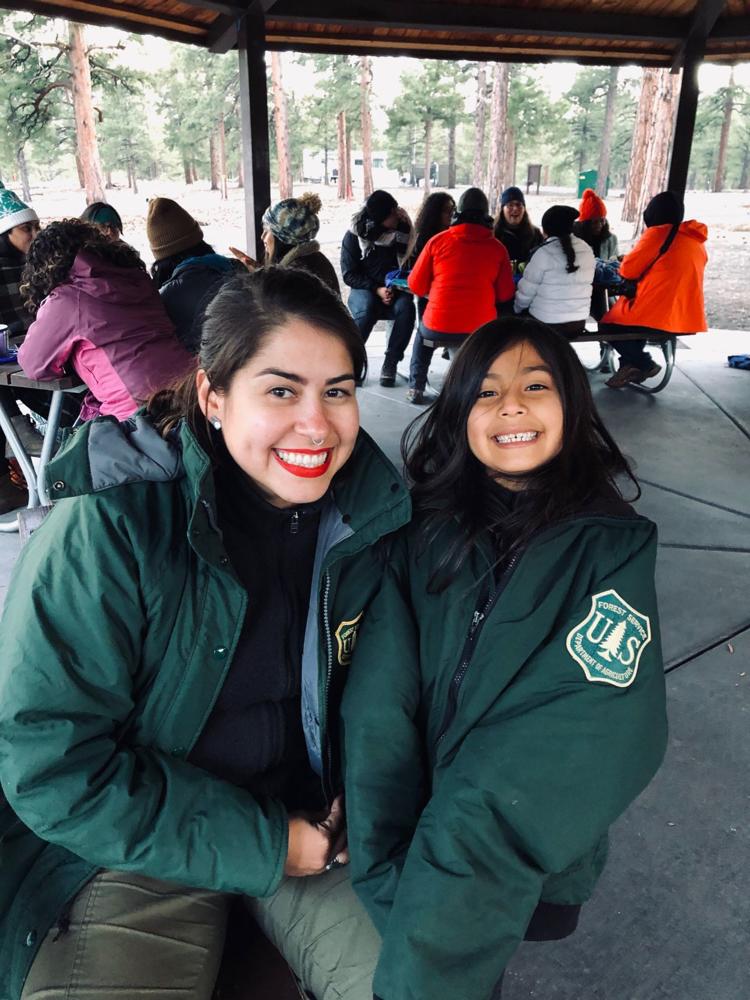 You have free articles remaining.
"My sister visited (Flagstaff) once," she said. "I took her camping once and she never wants to do it again. My brother, same. Not interested. Like, if there's a cabin and a fireplace involved, he's in. My brother's into politics and my sister is a social worker. Not outdoors (people)."
Still, Campos remains undeterred in her quest — alongside other ranger duties — to introduce more Latinos to the outdoors. She has set up booths at many community events, got the Forest Service to rent a space in the Sunnyside neighborhood to bring the message to people where they live. She has given presentations at schools such as Killip Elementary, 50% Latino. She has hosted bilingual hikes, easy and accessible, such as a trip to Elden Pueblo.
Her success rate: "It's been challenging. This year's (Latino Conservation Week) was kind of a bust. Folks didn't come. It's time. Parents don't have the time. Either they're working all the time and come home tired with more work to do, or they want to do something else."
Campos, though, remains optimistic. Her friend and coworker, Forest Service archeologist Dagmar Galvan, says Campos' extroverted personality, commitment to inclusivity and compelling personal story may, in time, bring more converts.
"I believe that gives her an advantage in outreaching to Latinx families that have never spent much time in national parks, national forests and public lands," Galvan said. "I believe this allows her to empathize with families that have never had an outdoors experience. It also gives her the patience to talk to families and individuals that are hesitant to take the first step to the outdoors."
Campos' impetus to keep trying stems, in part, from her memory of her eye-opening first exposure to camping. She was an art major at University of California, Riverside and had befriended people to whom camping was, in a phrase, second nature. They wanted to take her to the Sequoia National Forest for a weekend.
"They had been Boy Scouts growing up," she said. "They had everything ready to go camping. I had just bought my Walmart tent, my Walmart hiking boots. I didn't know anything about what kind of gear. They had to help me set up my tent.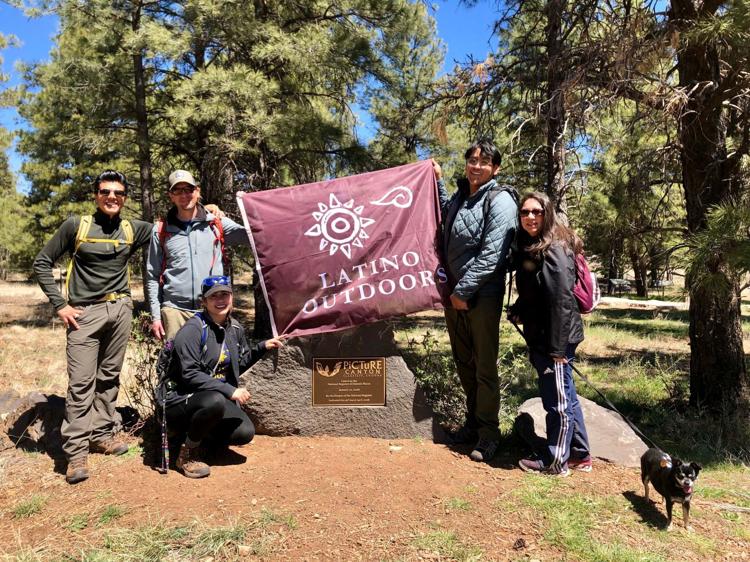 "My favorite part was that it was near water. Growing up, I used to be at the beach and that was great until I met fresh water (the Kern River) and thought, 'This is so much better. There's no sand involved. I can swim all day and not come out sandy.'
"We camped at Limestone Campground and there's this rock there known as Crocodile Rock, which looks like a crocodile's head. Someone painted red eyes on it, which now I'm like, not cool, you shouldn't do that. But then, I thought it was cute. The whole trip made an impression, waking me up in the outdoors. It was a whole other world for me."
After getting a graduate degree from Los Angeles' Otis College of Art and Design in Public Practice, Campos made it a priority, despite working four teaching jobs, to venture into nature at least twice a month. She got her L.A. friends, Latinos all, hooked as well. Their go-to destination: Joshua Tree National Park.
"It was like nothing I'd ever seen before, an alien feeling there," Campos said. "We'd climb rocks, not like pros, just to feel like kids again. My parents were like, 'Why are you wasting time camping. You should be working more hours.'"
But it was Juan and Maria who, in a roundabout way, gave Estephany her first exposure to the wider world at age 7. They sent her for an extended stay with her grandmother in the Central Mexico state of Aguasclientes.
"It was a ranch in the middle of nowhere," Campos said. "Cactus. Dirt. Rocks. Mountains. I rode horses, hung out with the pigs. I'd go hiking, but I didn't know it was hiking back then. I was just wandering out in the wilderness. I loved it."
Now, to help others like her do the same, if only for an afternoon's walk along the Mount Elden foothills.