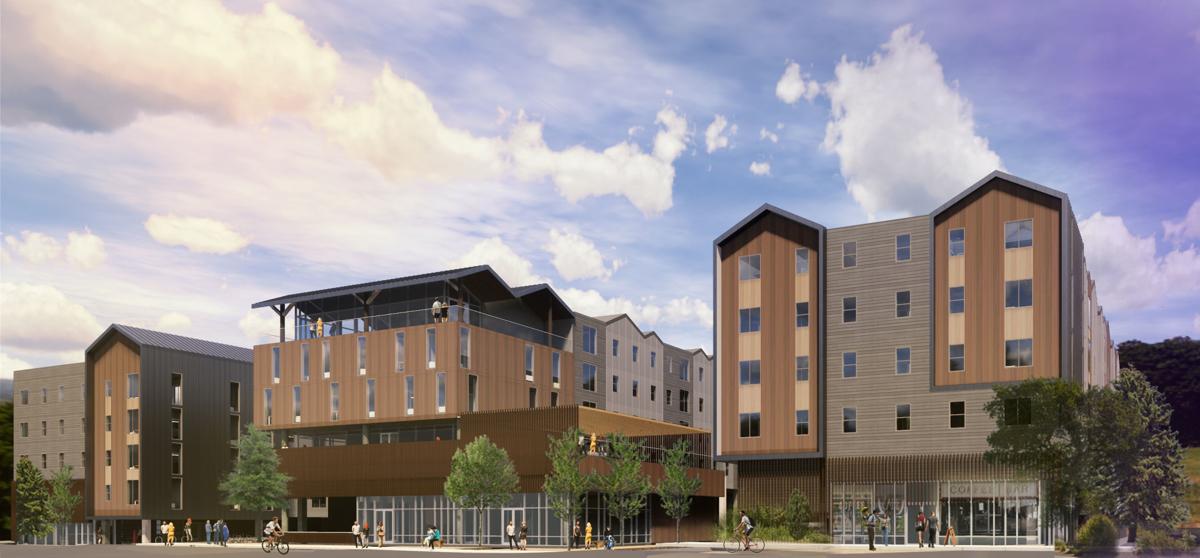 This month saw the demolition of two hotels on Milton Road to make way for a new 588-bed, student-focused housing development.
The two-acre area at 910 S. Milton Road, which was previously home to the Econo Lodge University and the neighboring Travelodge, will now see construction of a development being called the Uncommon Flagstaff.
The development by the Chicago-based CA Student Living will be six stories and 388,403 square feet, according to city documents.
Uncommon is planned to open shortly after construction finishes in fall of 2021 with pre-leasing available beginning fall of 2020, President of CA Student Living J.J. Smith said.
Smith touted the development's location saying it will be "just steps away from Northern Arizona University."
Uncommon will also include 6,607 square feet of retail space split into three locations along Milton.
Smith said although they don't have any tenants set to fill those spaces yet, they have received interest from some businesses and documents submitted to the city floated the possibility of those spaces hosting cafes, gyms or bike stores.
The 588 rooms will be distributed between 180 apartments according to city documents.
Of those apartments, 100 will be four bedrooms and 11 will be five bedrooms. The development will also include 22 studio apartments, nine one-bedroom units, 12 two-bedroom units and 26 three-bedroom units, according to the city.
Each bedroom will also have its own bathroom.
The development will have 381 parking spaces according to city documents, although 15 of those spaces will be meant to serve customers of the retail businesses once they open.
Smith would not answer questions as to whether they planned to rent by the room or by the unit, but according to city staff, the developer has not submitted an application to rent by the room.
It is most common for developments focused at students to rent by the room, allowing for multiple students to rent rooms in a single apartment unit.
Smith did say they would be renting in a way that complied with the city's ordinances and standards.
Similarly, Smith avoided answering any questions on what rent prices at the Uncommon might be when it opens, only saying prices would be comparable with rental rates in other student focused developments in town. Depending on the size and style of the apartment, rents at similar developments in Flagstaff have ranged from $700 to $1,300.
"[Uncommon Flagstaff will have] fully furnished units featuring wood-styled flooring; kitchens with custom cabinetry, quartz countertops, stainless steel appliances and upgraded options for under cabinet lighting and backsplash; in-unit washer and dryer," Smith said.
Smith added apartments will also include flat-screen televisions and shower heads with Bluetooth speakers in some upgraded units.
Residents of Uncommon will also have access to amenities within the building, including a rooftop terrace and resident lounge, a fitness center, a ground floor coffee bar and an outdoor hot tub and fire pits on the third floor of the development.
Uncommon Flagstaff joins a number of other student-focused developments including the Commons at Sawmill, the Standard and the Hub.
It does not appear the developer is involved in the city's affordable housing program, but Smith said they do plan to work with Mountain Line to provide bus passes for residents. For how long bus passes will be provided to residents is yet to be decided.
Updated at 10:33 a.m. on October 24.
Adrian Skabelund can be reached at the office at askabelund@azdailysun.com, by phone at (928) 556-2261 or on Twitter @AdrianSkabelund.
Be the first to know
Get local news delivered to your inbox!