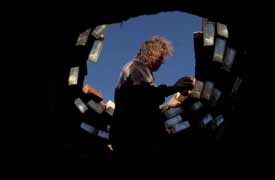 TUCSON (AP) — For three years, three months and three days, they were silent.
Cloistered in the mountains near Bowie, a tiny southeast Arizona town, Geshe Michael Roach and his spiritual partner, Christie McNally, fueled their vision for what is now the Diamond Mountain University and Retreat Center by maintaining a silence that was broken only when they chanted.
It was grueling at times. Gestures as simple as moving a coffee cup came to mean everything, especially when frustration set in.
Looks and other actions became profound.
But the stillness was good.
The pair said they communed with the animals that shared the area — jack rabbits, coyotes, birds, even rattlesnakes. They learned much about each another and even more about themselves.
And they learned more about a key goal of going into a retreat — how to respond to life with wisdom, a reaction achieved by cleansing the self of negative emotions, including jealousy, anger, pain and fear.
"I think retreat will be the next big thing for Americans, like yoga," said Roach, 52, a Tibetan Buddhist monk and founder and spiritual director of the center, which sits on 1,200 acres northeast of Bowie, about 120 miles east of Tucson.
"Because of all our connectivity — cell phones, computers — there will be a reaction," he said. "It will damage hands, eyes and backs. Our dream is to prepare ourselves. … I have a dream where people are begging you to take away their cell phones."
Diamond Mountain began with a vision in 1993, when Roach and six others began meeting in a basement in Hell's Kitchen in New York City.
Since then, half a million people have been through Diamond Mountain programs, located in 25 cities around the world.
But home base is now in Arizona, where Roach envisions using donations to build 50 small "kiva" retreat structures for the expected influx of what he predicts will be an onslaught of Americans craving stillness.
Students are coming from around the globe to study there already, and some are starting to apply his teachings in Tucson.
Roach doesn't expect all future visitors will complete three years of silence, the traditional length of a long retreat. Sometimes it takes only a weekend to find great insight and even success in reaching goals, he said.
"If your intention is pure, you do prayers and really visualize, it can materialize," he said.
A graduate of Princeton University, Roach at one time was enrolled in an Episcopal seminary, but he found himself drawn to Eastern religion, and he began studying it in 1972.
He was ordained as a Buddhist monk in 1983 and is fluent in the Tibetan language.
In 1986, he founded the Asian Classics Input Project, which preserves classical and sacred Buddhist texts and puts them on a free Web site.
At the encouragement of a teacher, in the 1980s Roach decided to apply Buddhist principles to real life and went into business. As one of four core employees at Andin International Diamond Corp., he helped take the jewelry company, which started with a $50,000 loan, to annual sales of more than $100 million.
Roach gave away his shares in the company before going into his silent retreat in 2000, the same year his book, "The Diamond Cutter," was published. The book applies Buddhist strategies to managing businesses and making money.
Diamond Mountain University charges no tuition and is able to be financially viable because when there's a need, the money always comes, Roach said.
The center aims to give students "everything you need to lead a wise and good life and to become nothing less than a being who can go to all worlds and serve all living creatures, all at once."
During retreats, practitioners rise around 3:30 a.m. and pray, visualize and meditate much of the day. They don't eat until 1 p.m. and use afternoons to memorize text and do yoga.
"Stillness has the same effect on the body as food, as does sleep," Roach said. "In America's future, retreat houses will be needed as people are going to crave stillness."
Be the first to know
Get local news delivered to your inbox!