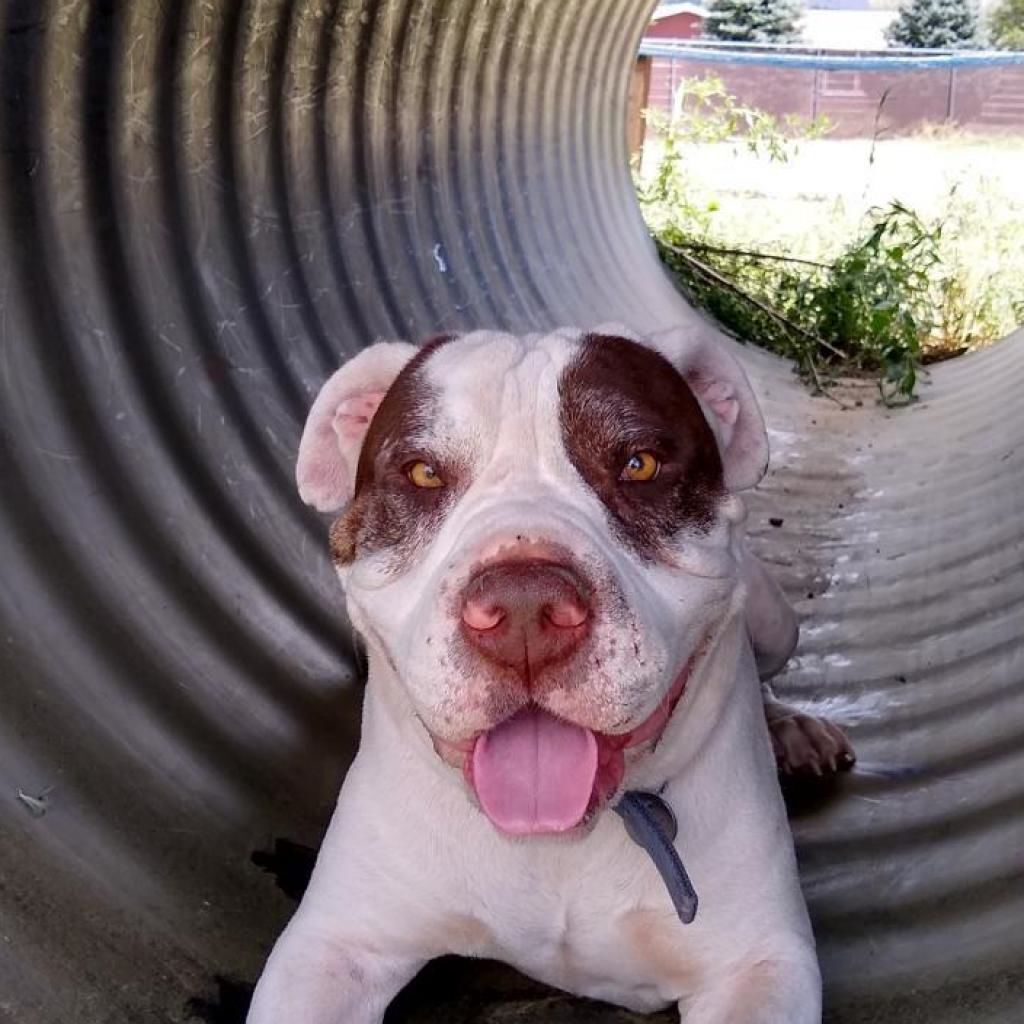 Say hello to our BIG friend, Bentlay! With the giant noggin of a Pit and the adorable wrinkles of a Shar-Pei, this 6-year-old boy is a unique beauty. You might not guess it from his perpetual smile, but Bentlay's life has been anything but easy!
Bentlay's story started with the nice people at Yavapai Humane Society. As a young pup, he lived there for over a year before a family fell in love with his squishy little face and took him in. His family loved him and cared for him as best as they knew how to, but living outside with five other dogs can be a difficult place to learn your manners! Bentlay tried his best to learn tricks (He knows shake!), how to play, and how to share. Sharing was always a little tough for him. If you've ever lived in a house with 5 siblings, maybe you can relate! So after four years, his family decided that if Bentlay couldn't learn to share his toys, he would have to go. And that's where we come in!
Bentlay was brought to High Country Humane. Our vet staff and animal care staff help care for his allergies and bad knees. They got to know him and advocated for him to adopters! In less than a month, Bentlay found his furever home and was whisked off to his happily ever after! Except, of course, it wasn't a happily ever after...
Our staff spotted Bentlay several times hanging out with homeless groups in Flagstaff. Though homeless dogs can be as loved and taken care of as dogs in homes, we know that with all of Bentlay's special considerations that just wouldn't be the best life for him. We were so relieved, but sadden when he came back to us. It turns out his new owner gave him to a few people "to protect them" and never came back for Bentlay. So he is back here at the shelter with us and we couldn't be happier for another chance to make sure his happy ending is the right one this time!
Bentlay is smart as can be, easy-going, and just loves people! He would be fantastic in a home with respectful and patient doggy siblings (but he does have a tendency to chase kitties). He loves snuggles and would love a couch potato household with some fun sprinkled in! If you can find it in your heart to help this boy find his furever family, please come meet Bentlay today!
As with all High Country Humane's animals, Bentlay is current on his vaccinations and comes with a free lifetime microchip registration. Stop by to meet him at our adoption center. We are open 7 days a week from 11 am to 5 pm, no appointments necessary! Check out more info, all our adoptable animals, and more on our website at highcountryhumane.org."
Get a dose of adorable in your inbox
Receive local adoptable pets PLUS updates for pet lovers in your inbox every week!