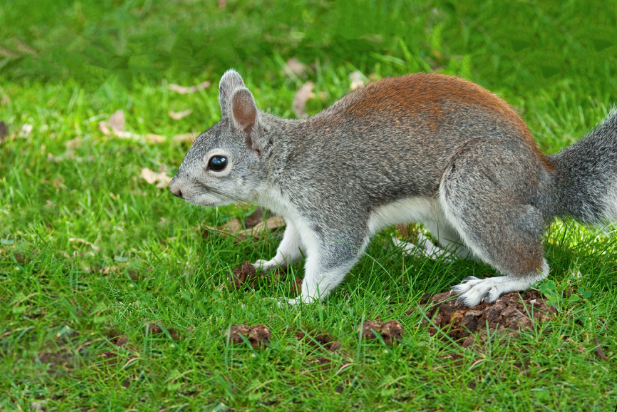 Our extended family has so many biologists that we have always said our wedding seating arrangements would have worked just fine with a biologist side and an "other" side rather than the usual bride and groom sides. During a recent Zoom call with my husband's family, our discussion turned to various issues we're having with wild animals at home.
By unanimous vote, the winner for best story was our sister-in-law. She was in her kitchen in Gainesville, Florida when she saw an eastern gray squirrel at her birdfeeder, stealing all the seed and preventing the birds from eating. She grabbed the kitchen sink sprayer that has regularly been effective as a squirrel deterrent and sprayed it. Rather than run away, that darn squirrel ran in her direction toward the open kitchen window and urinated through the screen and into her house.
Here in Flagstaff, we have not had issues with squirrels at home, but we do know how troublesome interactions between people and squirrels can be at the Grand Canyon.
One of the first things our kids learned in school about the natural world here in northern Arizona is that squirrels are the number one cause of emergency room visits by people who have come to see our local wonder of the world. They also learned not to blame the squirrels. Often, people are feeding squirrels (forbidden because it is dangerous to people and bad for the squirrels) or attempting to take selfies with them. A good guideline is that if you are close enough to a squirrel for a selfie, you are too close.
Not only are most visitors unaware of the dangers posed by squirrels at the Grand Canyon, they are often in the dark about the diversity of squirrels there. The biting ones are rock squirrels, but perhaps the best-known local member of this group of rodents is a tree squirrel called Abert's squirrel. They are also called tassel-eared squirrels because of their distinctive long ear tufts.
The variation among the nine subspecies of Abert's squirrels is most apparent in their coloration. Seven of them are predominantly gray, but two are brown or black. Some of them have red lines down their backs, and some have white eye rings or white tails. Abert's squirrels are dependent on Ponderosa pines, eating seeds from inside the cone, inner bark from twigs, and fungi that are associated with the trees. The subspecies evolved when populations became isolated after the end of the last ice age. Ponderosa pines live in cool climates, and many forests are now isolated in areas of high elevation.
Many consider the Kaibab squirrel to be the most beautiful of the subspecies. It has a black or dark gray belly, a broad reddish-brown patch along the back, and a white tail. The Kaibab squirrel lives only in a very small area of Ponderosa pine forest near the north rim of the Grand Canyon around Jacob Lake, so my sister-in-law will never have to worry about being bothered by one in Florida.
Karen B. London, Ph.D. is a Certified Applied Animal Behaviorist, Certified Professional Dog Trainer, author, and an Adjunct Faculty in NAU's Department of Biological Sciences.
Get a dose of adorable in your inbox
Receive local adoptable pets PLUS updates for pet lovers in your inbox every week!