A cross-eyed brown pug named Tipsy gives a cautious glance around as a team of animal rescue volunteers place kennels and pet supplies on the driveway of longtime Flagstaff resident Katie Harris.
Harris is the founder of Mountain Girl Rescue, a 501c3 nonprofit that finds unwanted dogs, places them in local foster homes and then transports them to new "forever homes" in Canada.
"Our intention is to end suffering and the causes of suffering," Harris said.
Dan Weecks, a private pilot from Phoenix and founder of the YouTube series Puppy Pilots, and copilot Nikolas Karahalios had rescued Tipsy from Arkansas about a month earlier. Weecks held the frightened animal for the whole flight back to Arizona. He stops for a cuddle before returning to work helping Elli Smith, founder of Sky Sanctuary Rescue in Phoenix, arrange kennels next to a huge, white transport van outside Harris' house.
In a few hours, Tipsy will join 51 other formerly stray dogs on a 12-hour drive to Montana, where another animal rescue nonprofit will be waiting to take them the final leg into Canada.
"Most of these dogs are already pre-adopted," Smith said. "They already have applications and people fighting for them. Here, that dog would sit at the shelter for six months. That's why this is so important. Every dog we get out of here doesn't just save that dog, but it also saves another dog in the shelter because that dog gets adopted instead of one of these ones."
The rescue transports a large number of adult Chihuahuas and pit bulls at risk of being euthanized at animal shelters throughout the Southwest, or "rez dogs" – stray dogs from the Navajo Nation. In Canada, Harris said, there is high demand for the breeds that tend to fill up animal shelters in places like Arizona.
"Here, they're like a dime a dozen," she said. "There, they are a novelty."
'KIND OF AN ACCIDENT'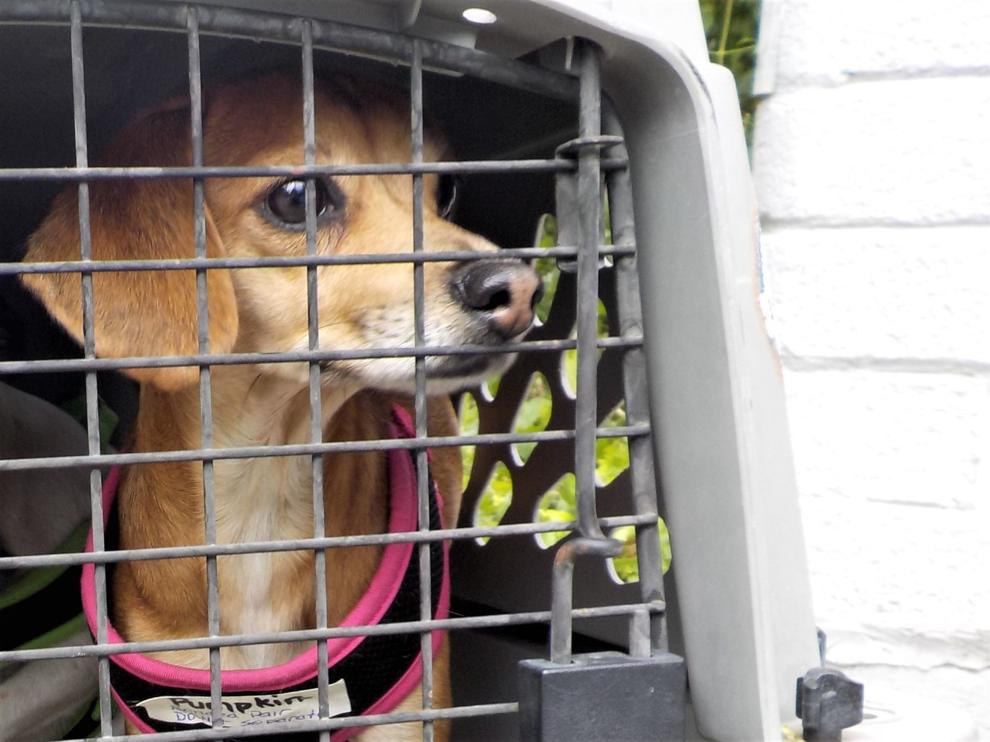 Mountain Girl Rescue works with more than a dozen animal rescues in the United States and Canada to find unclaimed dogs, transport them and get them adopted. The organizations also vet up to 10 prospective adopters per dog so each one goes to the best home.
"It was kind of an accident," Harris said. "I wasn't planning on starting a rescue at all."
It was a feline that lit the spark that would become Mountain Girl Rescue. One day in 2015 while she was on a break at work, Harris saw a post on Facebook for a white cat.
"I die at 5 a.m.," said the post.
Harris made her first trip from Flagstaff to the Maricopa County Animal Care and Control office in Mesa to save the doomed cat.
While she was waiting in the Maricopa County Animal Care and Control lobby, Harris met a woman who ran an animal rescue in the Phoenix area and was trying to find a way to save a pit bull from the euthanasia list. Harris offered to foster the dog for the weekend.
"It was the biggest pit bull I had ever seen," Harris said. "It was obvious somebody had cropped her ears with scissors. It was this horrible, crude crop job. And there was just row after row after row of dogs like this. It was overwhelming."
Harris soon started fostering dogs for multiple animal rescues. She ended up with three feisty foster Chihuahuas that were having no luck getting adopted. Then, she saw a Facebook post saying people in the Pacific Northwest love Chihuahuas. Harris decided to take her foster dogs to a rescue there so they could be adopted.
"It started like, OK, here's a way for me to get my fosters adopted out," Harris said. "When a few people heard I was going, they were like, 'Can you take my dogs?'"
There were 17 dogs on that first transport in the fall of 2015. Since then, she and her network of fellow rescuers have run a transport every six to eight weeks at a cost of about $1,000 per trip, and saved more than 2,000 rescue dogs. Most of the transportation expenses and shelter fees come from the rescuers' own pockets and from online donations.
NOWHERE TO GO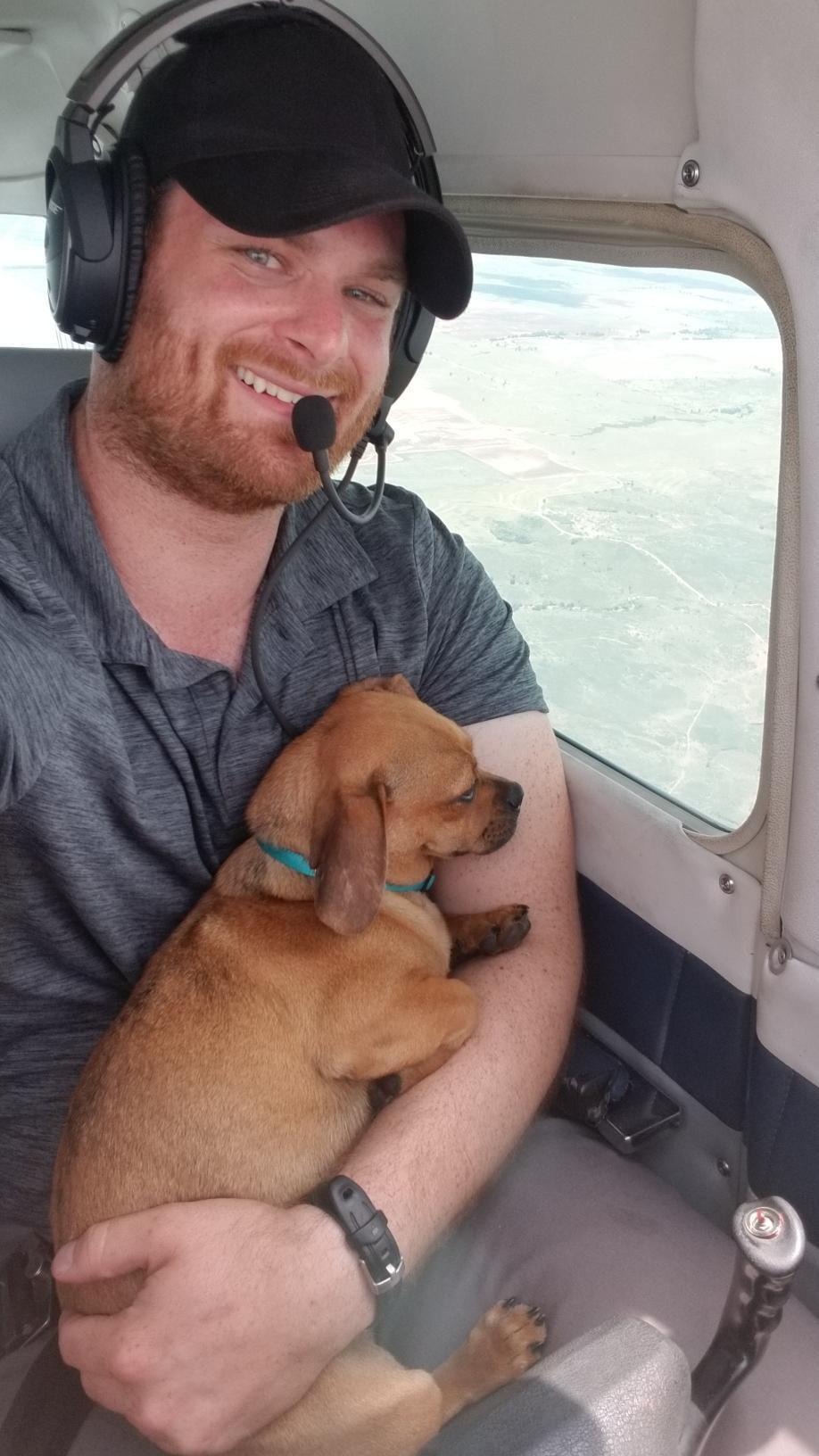 Smith, who humanely traps stray dogs in Maricopa County, always tries to find their owners through social media, and occasionally is able to reunite families with their long-lost pets. More often, however, the owners cannot be found. She typically brings 15 to 20 dogs from the Phoenix area for every transport, and about 30 more come from northern Arizona.
"After you trap them, there's nowhere for them to go," Smith said. "Phoenix is so saturated with dogs that we started looking for outlets outside of Phoenix for them to go to. That's when I met Katie."
Harris took a couple of Sky Sanctuary's dogs on a transport to their new homes in 2017. A year later, Smith is the one who drives the dogs from Phoenix rescues to Harris in Flagstaff to get them on the Canada transports.
All the dogs Mountain Girl Rescue transports across the border have to be vaccinated, licensed and accompanied by health certificates to cross state lines, as well as comply with the Canadian Federation of Humane Societies' strict rules. The rescue pays the fees to get the dogs out of shelters and veterinary fees – usually $100 to $150 per dog, which covers spaying or neutering and a rabies shot.
Before a transport leaves, veterinarians check every dog for signs of illness, injury or maltreatment. They also verify that the dogs are going to be transported humanely. Each dog has to be clean, hydrated, alert and in an appropriately sized crate.
"If you went into any Humane Society, it's the same quality of service," Weecks said.
The pups also spend about four weeks with their American foster families, who observe their temperament and keep an eye out for any unforeseen medical problems to make sure the dogs are truly ready to be placed in new homes.
Mountain Girl Rescue has anywhere from 12 to 50 foster homes throughout Arizona at any given time, with numbers fluctuating throughout the year. New foster homes are always in demand, especially in the summer and over the holidays.
Harris pays most of the bills running her own landscaping company. The flexibility of her schedule allows her to run Mountain Girl Rescue. But there have been challenges. Currently, her house acts as a staging ground for the dogs being transferred from their foster homes to the transport vehicles. In July, Flagstaff Animal Control issued a citation to Harris after they got a complaint that she had too many barking dogs at her residence. Harris said Mountain Girl Rescue's board of directors is already raising funds to find a solution to the problem.
"We have outgrown my yard," Harris said. "I definitely don't want to upset any of my neighbors. We know that we need to move to a larger facility."