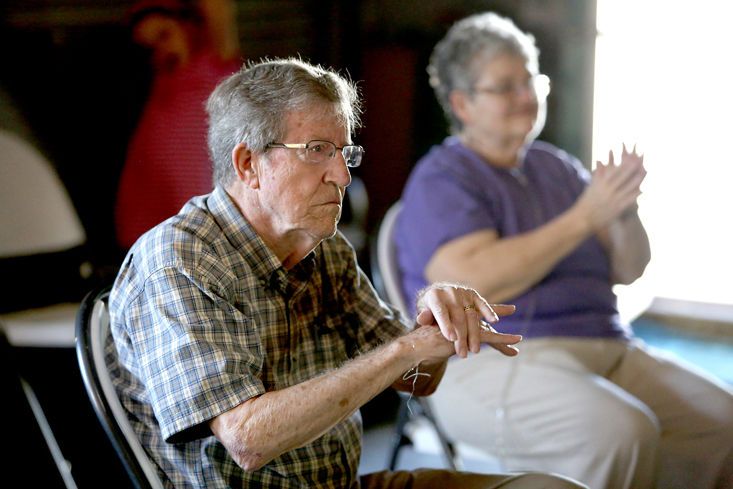 "We're going to be hawks today and we're flying through the Grand Canyon," said Sarah Thomas, Canyon Movement Dance Company instructor. 
She and 10 dancers took a seat in a circle of plastic folding chairs. The series of hand gestures mimicked birds of flight, and the smiling dancers followed slowly in staccato sequence.
Some moved freely, twisting and turning their fingers like hawks on a breeze. Others moved in jagged rhythm with the flowing music and reached their arms as high as they could go — barely to the shoulders.
These are not professional dancers. Instead, they live with or are affected by Parkinson's disease. Parkinson's is a degenerative neurological disorder that kills dopamine receptors in the brain. Motor functions — tremors, loss of balance and stiffness — are the first to go, but secondary effects like depression are part of the cycle.
Since July 7, Canyon Movement Dance Company has been teaching members of the Flagstaff Parkinson's Support Group and their caregivers about basic movement principles. Armed with professional training from the original New York City group, they borrow elements of jazz, modern and interpretive dance in step with classical and rock 'n' roll tunes.
Linda Webb's Chesapeake Bay-area accent still hangs tough. She shows up to class every week with enthusiasm.
In February 2004, Webb was a teacher. She stumbled around her classroom and had trouble with her left hand. Her doctor recommended carpal tunnel surgery from which she never recovered.
Webb recounted the day her life changed: "(The neurologist) opened the door and he called my husband in and I thought, 'Oh my god, I'm gonna die.' He said, 'I want to let you know you have Parkinson's.'"
She took her prescription slip and left, not knowing a thing about the disease until she researched online and immersed herself in support groups. She co-coordinates the Flagstaff branch with fellow dancer Jean Patchin.
Webb said with an active lifestyle, the good days outweigh the times when the medication cocktail wears off.
"It requires tremendous effort," she said. "It's not comfortable and it hurts. It's like having rigor mortis."
Parkinson's sufferers are always tired. The brain is overworked from sending signals that never connect. Webb combats the disease through exercise like tai-chi and dance class on Mondays and tango on Wednesdays. "You can't control life, but you can control your reaction to it and your attitude toward it," she said.
Accomplished dancer and Canyon Movement Director Gina Darlington saw her father suffer through the later stages of Parkinson's. She said it was hard to watch when his medication wore off exposing the full scope of his symptoms. He died eight years ago.
Darlington attended a conference that mentioned Dance for PD-New York City's flagship group, led through David Leventhal and the Mark Morris Dance Group with the Brooklyn Parkinson's Group. The Arizona Arts Commission funded a trip for Darlington and three instructors to attend Leventhal's sessions and come home with a pilot program.
Darlington described a training video where a heavily affected Parkinson's suffer gets up to dance. 
"You'd never know," she said, but noted the positive effects aren't permanent.
Studies show exercise is an incredibly effective combatant to the disease. In Monday's class, dancers eke out movements at first, but twist and row down the river with ease halfway through.
Gordon Holt's baritone humming kept perfect time as he picked up his leg to dip his toes in the Colorado River.
"It's just a different way for your brain to process things, and so for him that makes it easy to move because his brain is singing along," Darlington said.
"(David Leventhal's) group in New York City, in Brooklyn ... had six students for the first year. Six," she said. "We've got six people with Parkinson's and their caregivers that come regularly. I feel like we're a huge success ... If you affect two or three people, isn't that successful?"
In July, the city of Flagstaff provided additional funding to continue the program Darlington said provides a higher quality of life and keeps people moving.
She added, "If we can just provide an opportunity for people to have an hour where they're singing along with the music or they're rowing along ... it's a place to just get out of your Parkinson's."
Canyon Movement Dance Company's Dance for Parkinson's class is held at the Flagstaff Aerial Arts Studio, 401 W. Santa Fe Ave. No. 2, Mondays from 10:30 to 11:30 a.m. People living with Parkinson's, caregivers and friends are all welcome to attend. This class session ends Aug. 25, with another eight-week session picking up in Sept. 8.